I haven't been posting continuously in a while, but i'm always constantly reading updates on everything that relates to the #Hive ecosystem, #leofinance #stemgeeks and other communities.
In this case, started to develop a bot to control hive-engine coins, the reason for this is because currently the hive-engine platform is very slow to load with a bad internet connection.
Currently have few options for the bot but among them it allows you to configure the Hive user to see your balance and generate a link to perform token transfer.
Hace un tiempo que no realizo publicaciones continuamente, pero siempre estoy constantemente leyendo las actualizaciones con todo lo querelaciona al ecosistema de #Hive, #leofinance, #stemgeeks, #ctp y otras comunidades.

En este caso comencé a desarrollar un bot para controlar las monedas de hive-engine, el motivo de esto es porque actualmente la plataforma de hive-engine es muy lenta para cargar con una conexión a internetm mala.

Actualmente le tengo pocas opciones al bot pero entre ellas permite configurar el usuario de Hive para poder ver tu balance y generar enlace para realizar transfencia de token.

Bot Options
To configure the user, the "Setting" option must be selected, after that it will ask you to enter the user with @.
Para configurar el usuario se debe seleccionar la opción "Setting", luego de eso te pedirá que ingreses el usuario con @.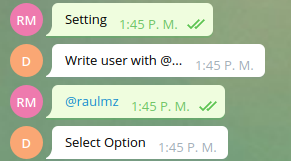 After you configure the user you can view your hive-engine balance, there the bot will list all your tokens with the amounts.
Luego de que configures el usaurio puedes visualizar tu balance de hive-engine, allí el bot te listará todos tus token con la cantidades.

To transfer the tokens to another hive user, configured the option "Send Token", which asks you to select the token to transfer, the user and the amount. As seen in the following image
Para transferir los token a otro usuario de hive, configuré la opcion "Send Token", el cual te pide seleccionar el token a transferir, el usuario y la cantidad. como se ve en la siguiente imagen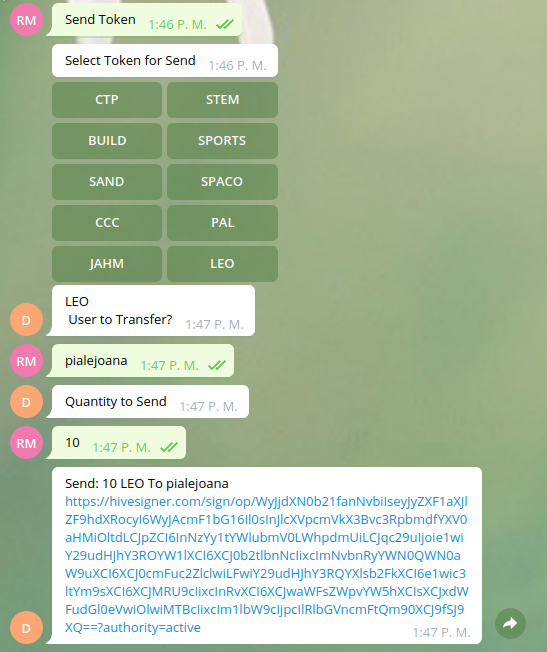 Finally, it generates the link to Hivesigner, with the data previously indicated.
Finalmente te genera el enlace a Hivesigner, con los datos previamente indicados.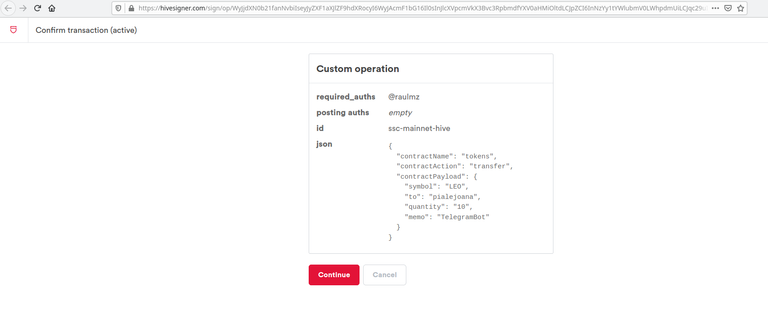 An option that I currently configured as a utility is the "Token List" that allows you to see a list of tokens ordered by price change.
Una opción que actualmente configuré de utilería es la de "Token List" permite ver una lista de tokens ordenados por cambio en el precio

For now the bot continue developing, I have a couple pending options:
Swap token for SWAP.HIVE
Withdrawal
Stake
Por ahora el bot lo sigo desarrollando, tengo un par opciones pendientes:

Cambiar token for SWAP.HIVE
Retiro
Estacar
Posted with STEMGeeks