Hello friends, today we are going to be checking out the Raspberry Pi 400 Kit which is the Raspberry Pi inside the keyboard.
One of the biggest things that we try to do with the Raspberry Pi is try to find places to put it in... Which is either behind a monitor, inside a laptop or anything that we could find... Even inside a keyboard and Raspberry Pi Foundation has done it! They put the Raspberry Pi officially inside one keyboard.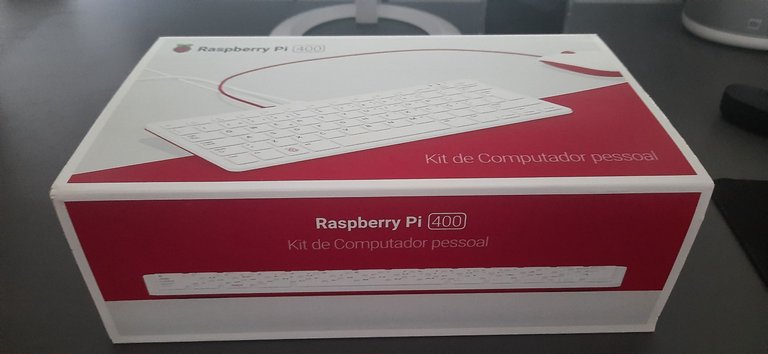 Now my biggest problem, because i do a lot of Raspberry Pi projects, is the amount of connections i have to do before even getting the Raspberry Pi up, which is installing the keyboard, the mouse, ethernet adapter, power supply and then the screen. All this stuff adds up and after all the connections you still got to find space for the keyboard and the mouse... And then it technically takes more space than to actually use this product itself.
Since i had this Raspberry Pi 400 is all i've been using and i can't believe how much space it saves just to have the Raspberry Pi inside this keyboard.
They have multiple models of this Raspberry Pi 400 version. This one that i have is actually 4GB on the Raspberry Pi 4 but they also have different keyboard layouts. So if you're in UK or India or something like that, they do have different keyboard layouts. I am using the PT (Portuguese) keyboard layout.
Inside you're gonna find the keyboard itself and it is so pretty and i gotta say this has some weight to it and definitely grips on the bottom so it doesn't feel like a toy and it feels like it's not gonna move around when you type. It feels well built.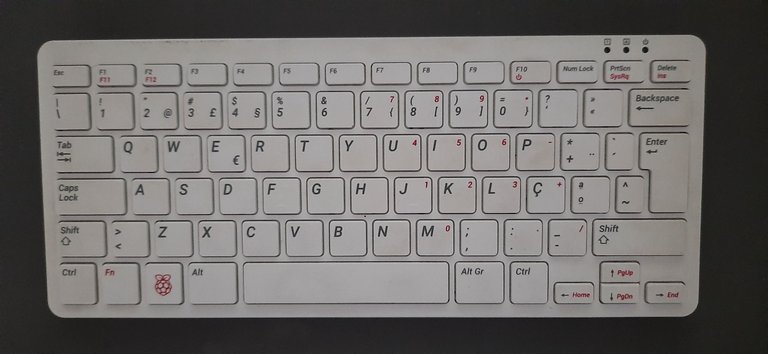 Inside the box we have the power adapter for the keyboard, the Raspberry Pi official mouse and also the Micro HDMI to a full size HDMI little cable and then underneath is what makes this box feel as big as it should be is because of this official Raspberry Pi Beginners book. This makes this whole kit worthwhile because the amount of tutorials and what you can learn from inside this book is astounding! They could teach you how to use the hats, how to use the gpios and it actually shows you how to do Scratch programming as well.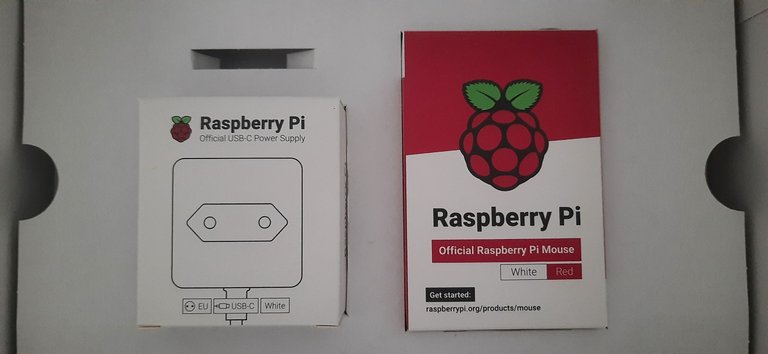 If you ever want to get into it this whole kit that you get together including the book is a very good present because this shows them how to actually use the Raspberry Pi.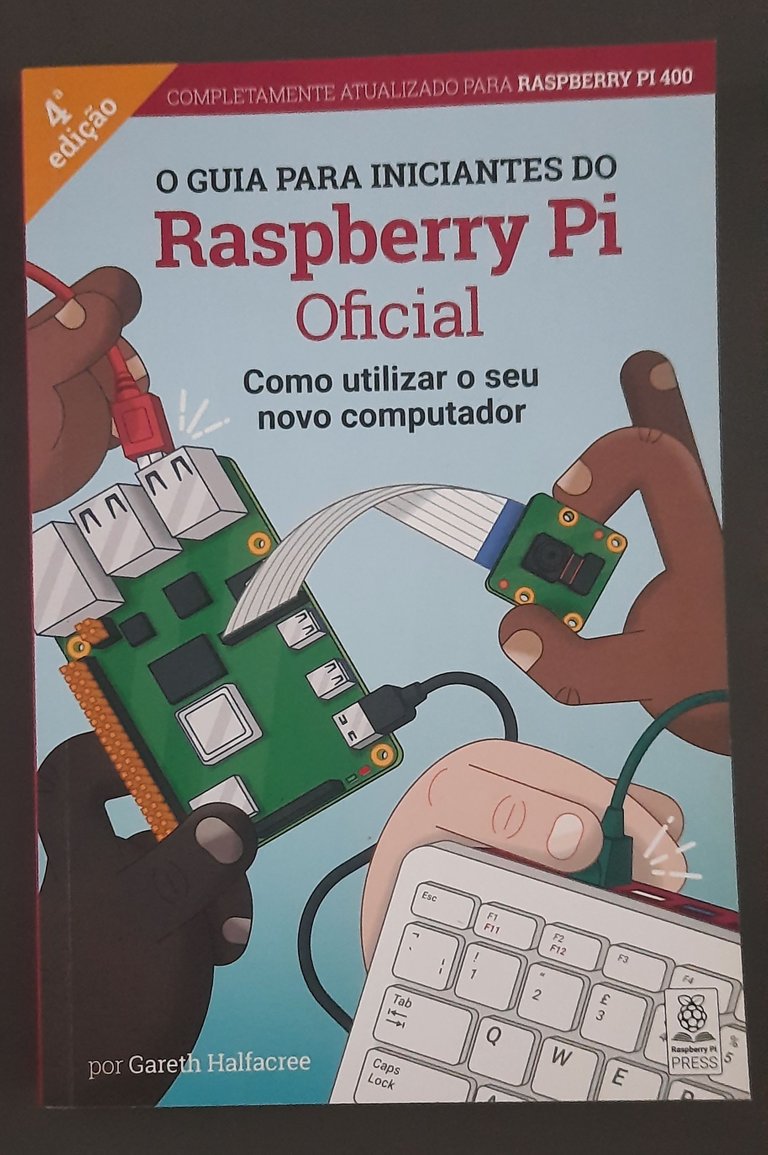 Now let me show you the connections on the Raspberry Pi. In the back of the keyboard is where all your connections happen so you got the 40 pin gpio, the SDcard the 2 HDMI ports, USB-C power connector, two USB 3.0, one USB 2 and then the Ethernet adapter. Obviously still does have Wi-fi and Bluetooth so you don't need to connect to ethernet if you don't need to but ultimately that's where all your connections are.
On 40 pin gpio you could use with a ribbon cable where you could plug into the 40 pin to a breadboard.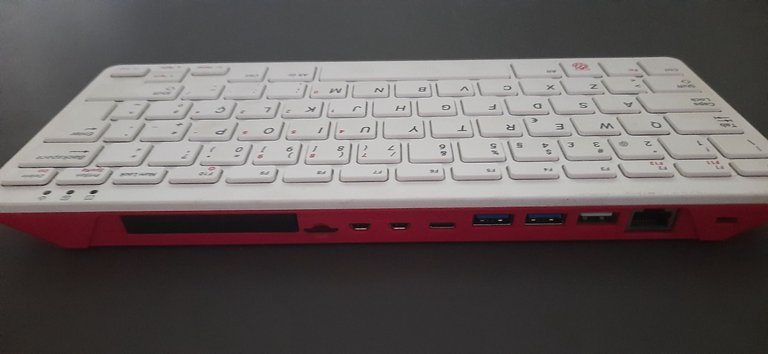 The keyboard itself has a pretty good typing and it's spaced out. It's like a laptop keyboard and it's not too loud, it's not too clicky and it's got like a little tactile feel so it's pretty good. You also have a power indicator on the top and that also is an activity indicator so as the Raspberry Pi is doing stuff this will actually actively blink. You have your CAPSLOCK and then your Number locks on top.
The mouse will actually plug into the USB 2 and it's white at the one side and red at the other side and fits very well on the hand.
And now all you need is the power and the HDMI and you're good to go!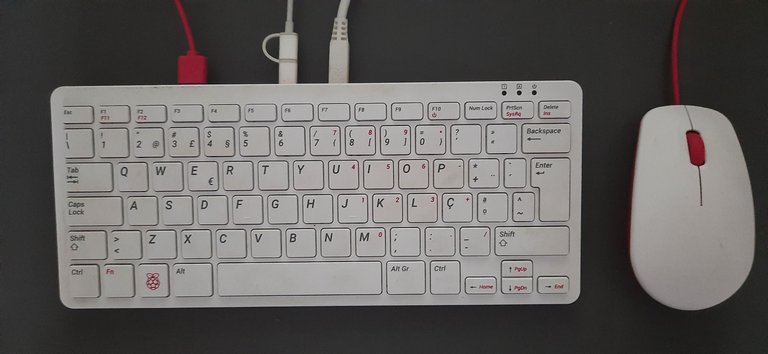 That's all i need as far as space goes connecting this Raspberry Pi so here we are everything's hooked up to my monitor and it's connected you can see on the back and i only have three plugs connected and technically if you didn't want to use the Raspberry Pi mouse and wanted to use some bluetooth mouse it'll be two connections and the bluetooth mouse.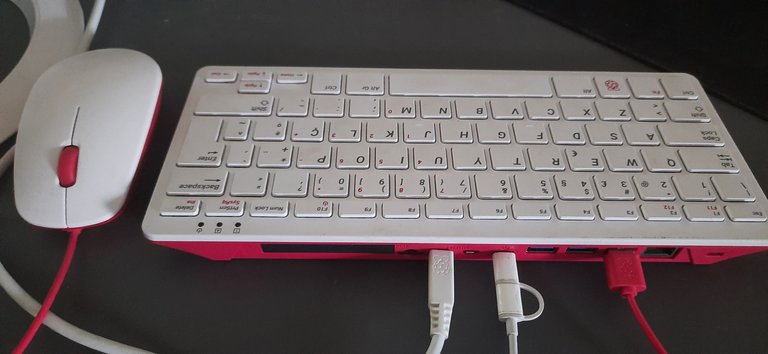 It's comes with Raspberry PI OS or Raspbian and it works really good! The version that they have installed which comes with the 32GB SDcard is considered the Lite or light version because it's actually missing the game section and some other stuff but you could always get that back by going into Preferences - Recommended Software and in there you will actually see all the software that you could install like the full desktop version. You can also dowload the official Raspberry Pi OS versions from the official website (https://www.raspberrypi.com/software/operating-systems/) and burn the image in the SDcard using the Pi Imager.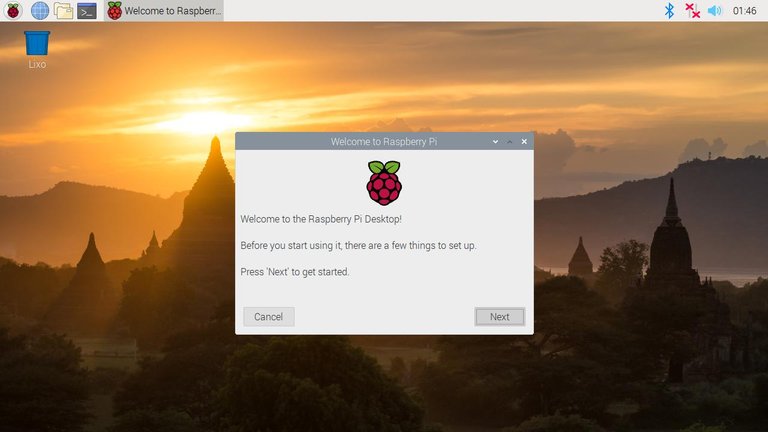 In conclusion i really like this keyboard it's actually really small you could actually pop it into anywhere and it's not a mess to hook it up and hook a keyboard and mouse together. The price is around $100 dollars so it's not very expensive. So i really do enjoy using this Raspberry Pi 400.
Another thing that you could actually do with this is turn this into Retropie machine and hook up two Super Nintendo controllers using the USB 3.0 ports in the back and this would be a pretty cool gaming machine that you could plug up to a monitor and it's like small form factor still and you get the keyboard, so technically that's another controller.
Its a great present to your kids because this whole kit is very complete! You basically have the Raspberry Pi, the keyboard, mouse and the book that it comes with that teaches you so many things you could do with the Raspberry Pi.
This whole kit is actually a really good gift component for anybody who's actually trying to get into STEM!
I hope you enjoyed and if you have any questions about this kit leave it down in the comments below and let me know.
Thank you all!