Bounce Ball Game with ESP32 Microcontroller + Board Review
---
Hello Hive community and welcome to my new video this weekend!
Today i have something interesting... I want to present you this ESP32 board, which is of course Arduino compatible. It can be programmed with MicroPython and some other languages but in my experience, ESP32 boards work faster when running programs written in c.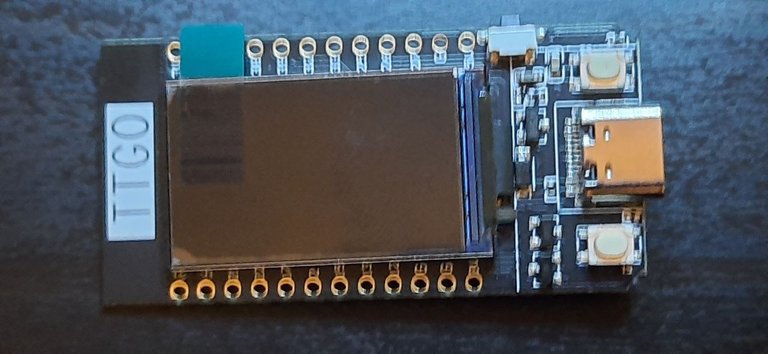 I bought this board because it have built in color display and the resolution of display is 135px by 240px and also because most of my projects have some display. It also have a built in two buttons, so i decided to try this simple game. (You can find many games for all displays for Arduino and ESP32 boards on the internet).
I think this is great board and i think lots of people will use it because the integrated display, because the speed and price. You can also buy this board for cheap on internet (around $20).
This board have also a connector to be powered with a lithium battery. A little cable is included in package...
Now let's talk more about this game... When i was kid i played similar game like this one, but i forgot name of that game...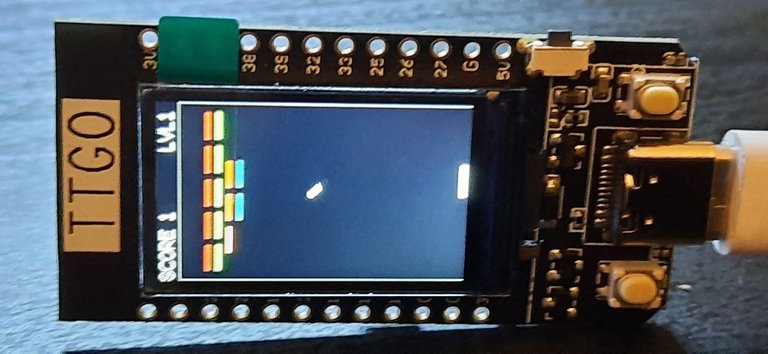 This game is very simple! It is something like Pong, it have levels and in each level the game is faster and harder. If i die or if i miss this ball, Game Over screen is shown here. I can also check my score and level to play game again. I only need to press the right button, which is of course, reset button.
This is my first color game with this kind of microcontroller and i love how it works. I'm planning to try more complicated games soon, and i will also try to add more buttons to this board... I will also show you in the future, my weather station, which is also made using this ESP32 board. This project can show me the time and the weather in particular city. All data is from internet because ESP boards can connect to internet using wi-fi connection.
You can find the code of this game on my Github https://github.com/ptmaker/Bounce-Ball-ESP32.
Just open the file BounceBall.ino with your Arduino IDE, compile and upload it to your board.
If you need to install TFT libraries for display or the ESP32 board in your Arduino IDE, just follow the steps described in my last video The Resistor Calculator with ESP32.
Feel free to use it and play with it. You can modify and you can also comment your improved version of the game if you want.
That's it for now... Thanks for watching and don't forget to follow me because there will be many interesting projects and games this winter in future videos.
Thank you for your time!
---
▶️ 3Speak
---
---