Hello friends, today i'm not talking about microcontrollers as usual, but about my investment project for the HIVE/STEM community.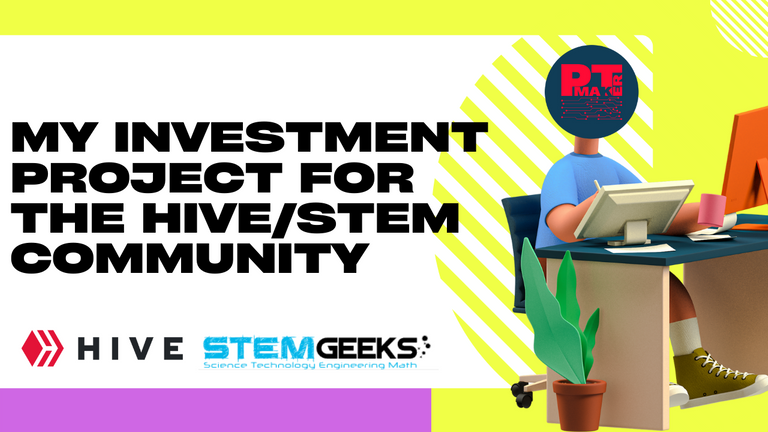 As you may know, my articles have been related to microcomputers and microcontrollers and are usually published in the STEM community, as the content is related to that community. The HIVE/STEM community has welcomed me very well and made me feel welcome and recognized for my work. I have received many votes and comments on my articles, which i always try to respond to and thank each one of them.
Because I was so well received and because i love this community, I decided not only to continue to create good content for it, but also to invest in the community, as a way of thanking everyone who participates in it.
Investment in STEM Tokens
I decided to invest some of my Hive rewards in STEM tokens. I bought just over 4000 STEM Tokens which i immediately staked on my account. I noticed that with this number of tokens i would be in the Top30 of the STEM Richlist, but for some reason i still don't appear there. I don't know what the update time is but after a few days it still hasn't updated. Nothing that bothers me because the intention is not to appear on the list but to reward those who participate in the community.
That's my main goal!

Investment in STEMM Miners
As you may know, the STEM community has mining tokens, the STEMM. As i learned, these tokens give rewards in STEM every hour, to whoever has them in the Hive-Engine wallet.
As my goal is to get more and more STEM, so as to increase the value of my vote, I decided to place a buy order and get some STEMM miners. As soon as i have some and start receiving rewards from them i will stake them and thus increase my contribution to the community.
Investment in Hive Power (HP)
As you may have noticed, i still have a low Hive power so my vote value is very small, despite having received HP delegations from my friends @doze and @cryptosimplify to which i am very grateful for their support.



So i decided to lease Hive on Dlease and thus increase my voting power and the number of votes i can give but also the amount i receive in curation, so that i can reinvest in more Hive power.
Whoever has some HP available and wants to lease me, I will thank you. I'm offering just over 9% APR which considering the other offers i hope it's a good value.
Curation Trail
In order to be able to vote for the best articles in the community, I decided to follow the @stemcuration voting trail. As it is not possible for me to read and vote for the best articles regularly, this was my solution. So it is possible for me to contribute to the community on a regular basis, trusting my vote to the trail, which I know will vote for the best articles and the well being of the community.

Future plans
My future plans are to continue to support this community and its users. Both in the Hive and STEM community.
Whenever i know of something i can contribute and/or invest in, i will gladly do so.
If you know of anything i can contribute to, please let me know.
Finally, i would like to thank everyone who has supported me, both in the Hive community and in the STEM community. I hope i don't disappoint you in the future and i will always do my best to bring you the best content so that together we can learn and grow.
I will try to publish articles more regularly and whenever possible to interact with the community.
Thank you very much to everyone and to this wonderful HIVE/STEM community!