So this year, Santa looked a little bit different...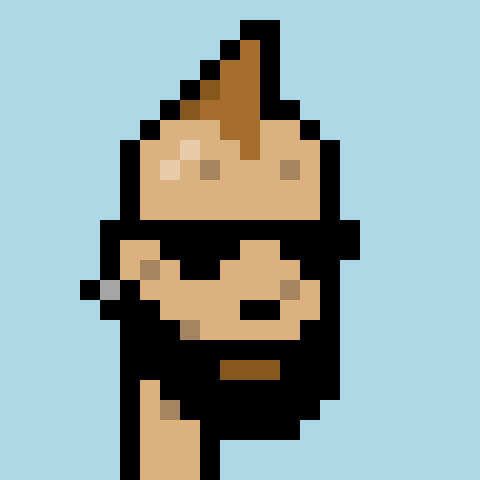 The other day I had happened to notice an interesting post by @themarkymark. Apparently @themarkymark had set up an alt account called @dougs-stash into which he deposited 100 Hive to be a reward for anyone that could find the key from solving a puzzle from clues found in the post. Of course there is nothing more the OldGuy likes better than free money and an interesting puzzle so I thought I would just sniff around a bit. I went for the low hanging fruit first and checked out social media for Doug Stash. There I I learned there is a YouTube video about Doug Blanchard/Stash. Well Doug Stash is on Facebook and has a pit-bull. Oh I almost forgot, Douglas Blanchard (his full name) sells some art on Fine Art America lol.
Well that was a dead end! So I thought I would google the public keys. Of course at the this time I had no idea how deep this would end up. You got to start somewhere and I thought this might do the trick... Ha not even close!
Enter the Cicada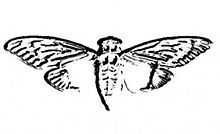 Or more aptly Cicada 3301
So the OldGuy has never been the sharpest tack in the drawer, but it doesn't take me too long to realize when I am out of my depth. I know I needed help, but it is Christmas so who can I rope into helping me.... Oh well, yes of course, Ben, @benjamintaylor my son that I feed and that is studying computer science and needs cash as much as I do lol.... So I show him the post and he zeros in on:
Doug is a programmer and he knows all sorts of neat tricks to hide data where no one else can find it. He also knows all the protocols TCPIP, NFS, IPFS, UDP.
So Ben starts telling me of some bizarre happenings that started around 2012. A group called Cicada 3301 started posting these challenges that relied on cryptology and steganography to solve. Most of us know basically about what encryption is, while steganography is hiding data in pictures... BINGO!
There are not many obvious clues but there is this picture...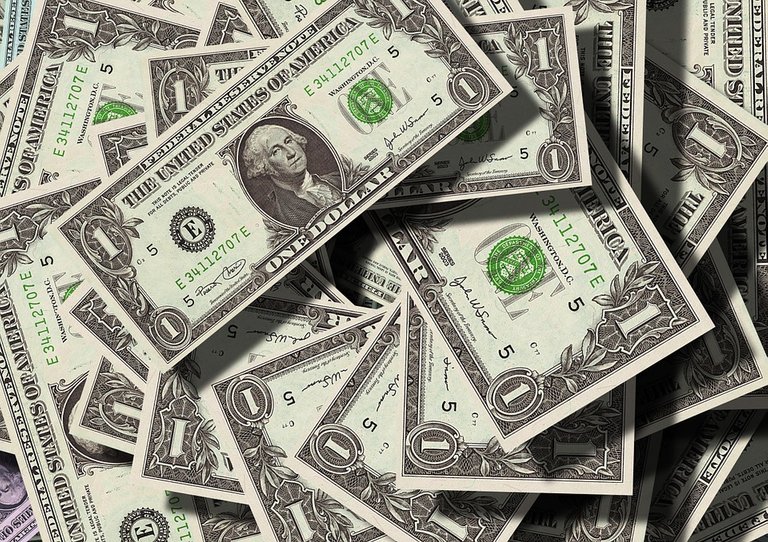 So let's have a look... Oh this is a clue alright! Look what the picture was named: "redherring" lol. Ok for someone to change the name to that, I knew we were on the right track!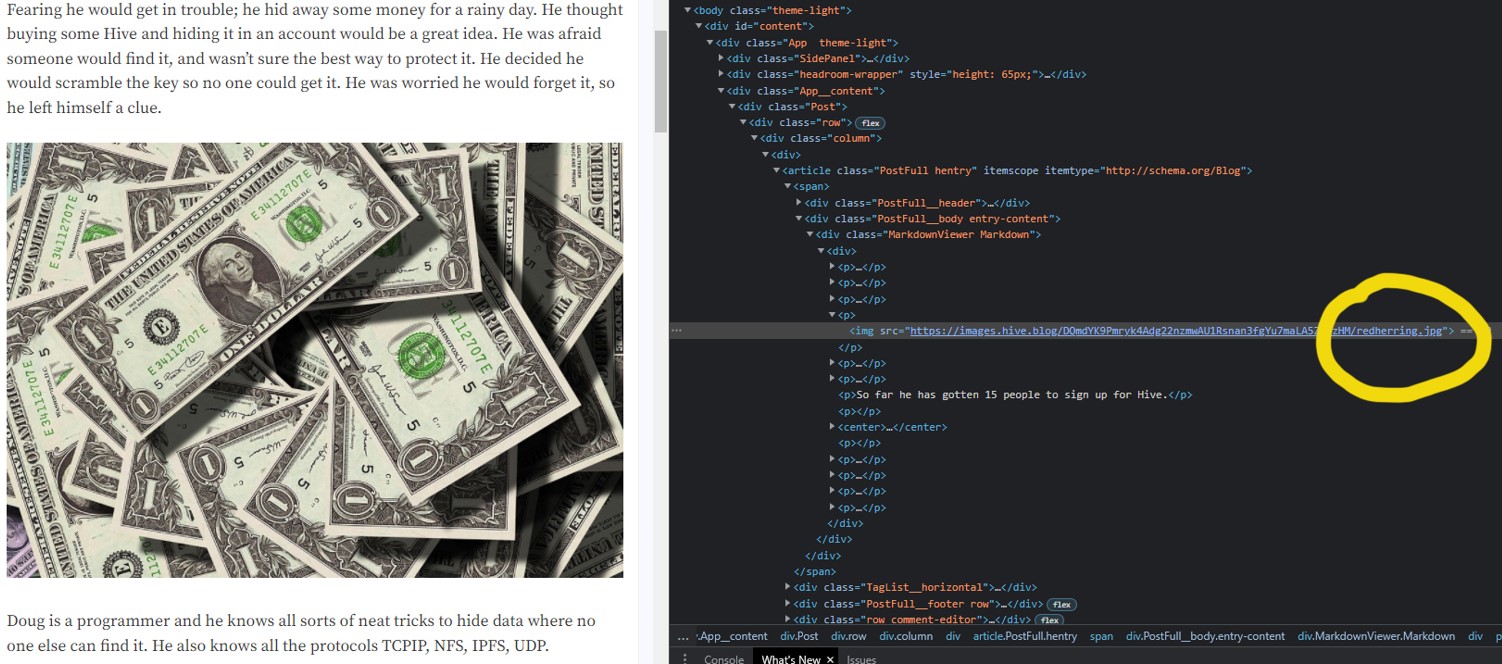 So if that was in fact a red herring, the next image to inspect was:
The Hive banner?!?!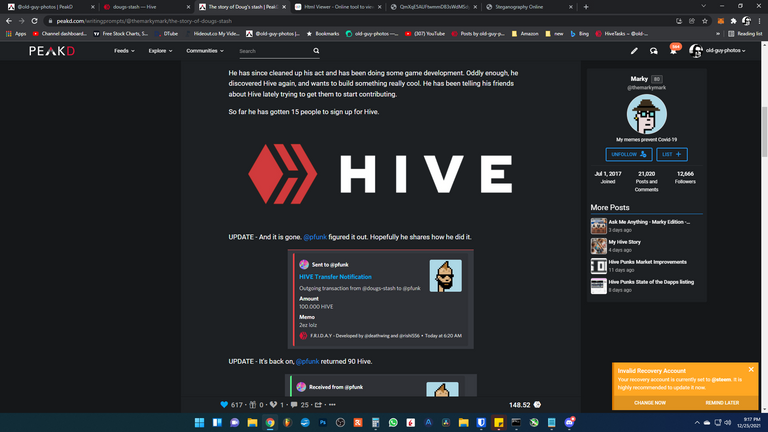 Looking at the page source code we noticed that Hive blog pictures are hashed beginning with "DQm"


However, we know most IPFS start with a hash of "Qm...", but this seemed different.

So we decided to enter this hash into an IPFS gateway because Doug says he is adept at using IPFS and got: Not one but two images!!! Oh yeah now it is on like Donkey Kong!

Here is the second image: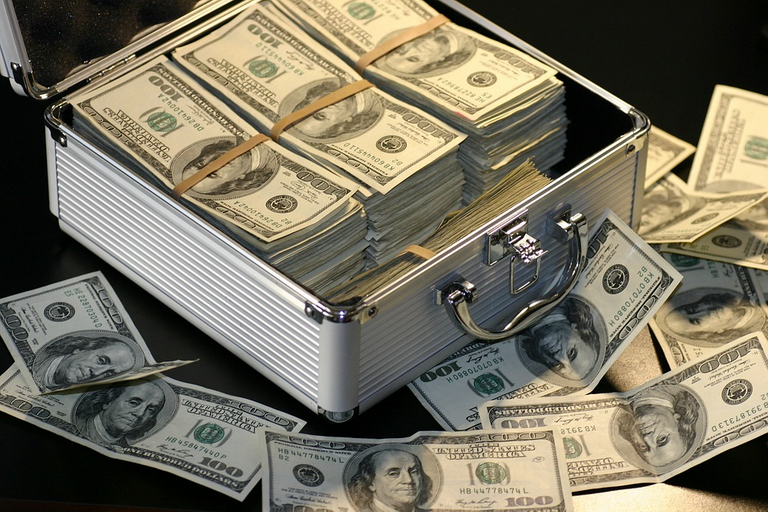 Steganography To the Rescue!
Ok now we are on to something! Now Doug was pretty braggadocios about knowing how to hide data. In fact he said, "Doug is a programmer and he knows all sorts of neat tricks to hide data where no one else can find it." Well @benjamintaylor told me that steganography is a way used to hide data in other media like text or images. So we decided to load this image into a steganography decoder and we say this: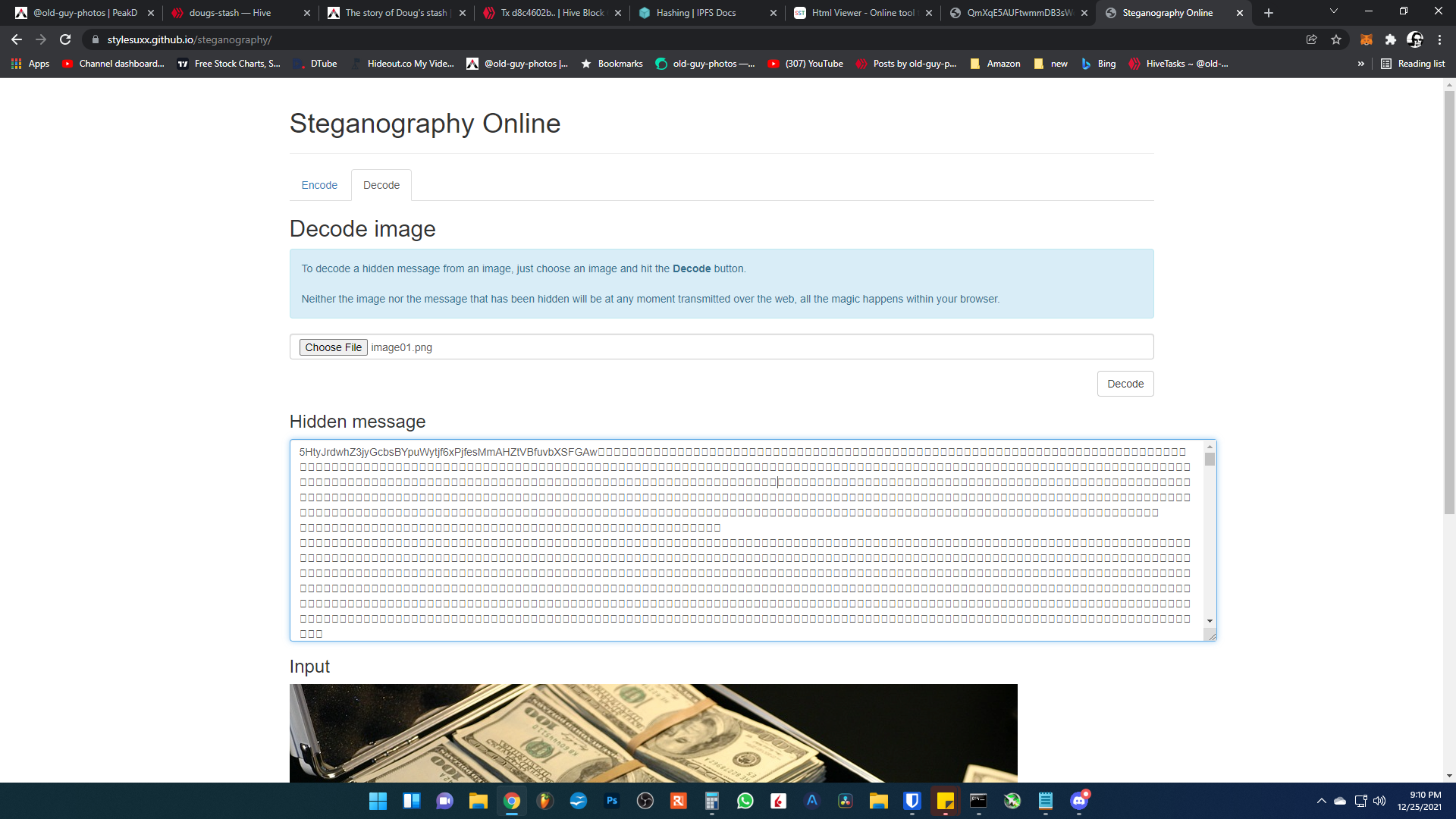 You Know What That Means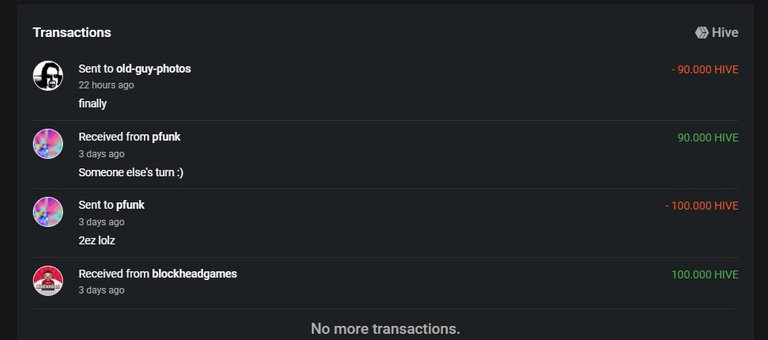 You can see @pfunk made the score first. @benjamintaylor and I would like to say thanks for returning the bulk of the prize to motivate us to keep going on this quest!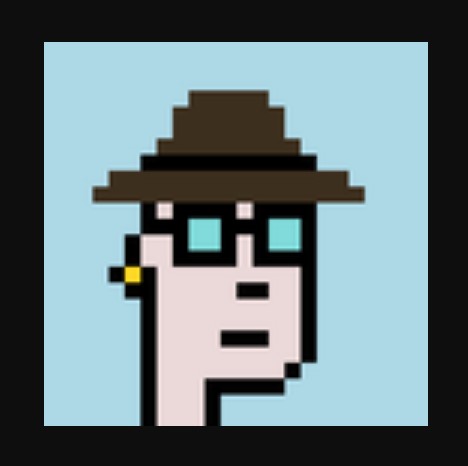 @benjamintaylor and I would like to express our gratefulness for the time and effort that you put into producing this quest. I have to say we had a wonderful time bonding over this as we worked on our ideas side by side. The time we spend working on this just flew by! The challenge itself was an awesome gift and we much appreciate it. We didn't win a million bucks, but we felt like a million bucks when we won!
Posted with STEMGeeks