Background
Back in July 2020, a church in Sydney was the center of a mini outbreak of COVID-19. Sydney at the time only had a handful of cases in the community (very low incidence for a city of 5 million people), so almost all attendees of the church that contracted the virus could confidently be linked to the church.
This provided an opportunity for some unique research because CCTV footage was available, and it was reasonably certain that all people that attended contracted COVID-19 because of attending the church as opposed to picking it up elsewhere. The individual was also Identified that was infected before attending the church as well.
Whilst it wasn't widely known at the time the exact reasons, but NSW (a state of Australia) introduced tough regulations preventing singing at schools and churches. You can read about it in this news article
https://www.npr.org/sections/coronavirus-live-updates/2020/07/17/892189590/australian-state-orders-no-dancing-no-singing-no-mingling-to-halt-covid-19
These restrictions remained in place until the end of March 2021, and were lifted as NSW had 50+ consecutive days of no locally transmitted COVID 19 cases. The media release is below:
https://www.nsw.gov.au/media-releases/covid-19-restrictions-to-ease-but-compliance-must-increase
CDC Report
The Center for Disease control and Prevention (US Government department) used the data from this event in July 2020 in Sydney, Australia to study how the virus can spread in places of worship with singing. The diagram from their report below shows just how far the virus can spread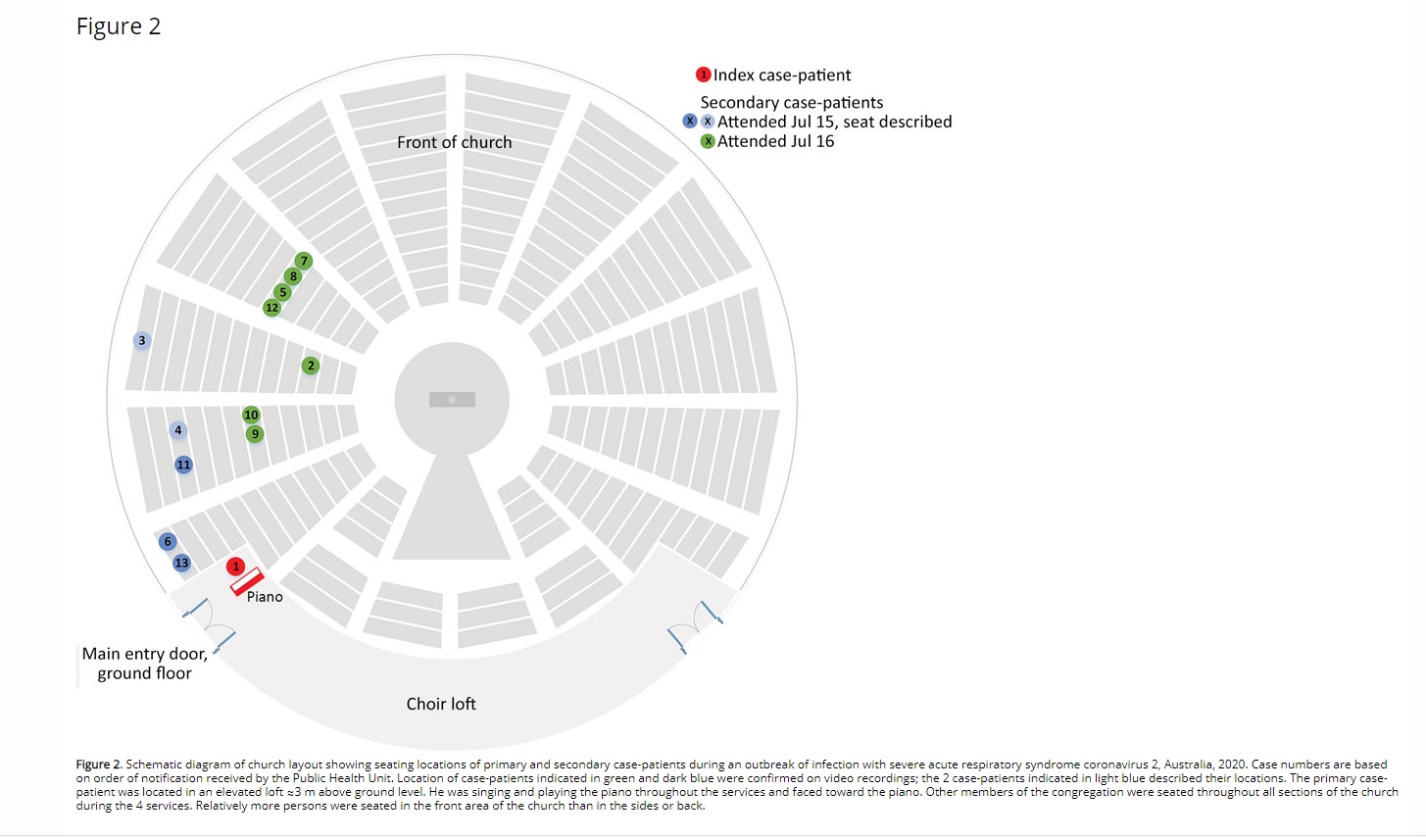 As can be seen from the diagram, the virus spread significant distance in an environment where there was singing, and as a result the conclusion was that singing is a high risk activity, and this meant that restrictions were put in place in NSW. These restrictions were just one of a suite of measures backed by science and research that helped successfully control the pandemic. Its good to see politicians listening to the science no matter how unpopular that is.
Source: Epidemiologic Evidence for Airborne Transmission of SARS-CoV-2 during Church Singing, Australia, 2020
https://wwwnc.cdc.gov/eid/article/27/6/21-0465_article
Posted with STEMGeeks