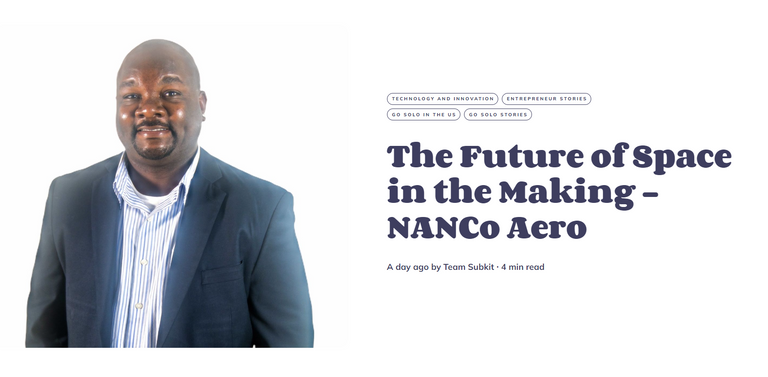 Interested in starting your own entrepreneurial journey in technology & innovation but unsure what to expect? Then read up on our interview with Barry Barron Jr., Director Of Operations of NANCo Aero, located in Houston, TX, USA.
What's your business, and who are your customers?
Founded in 2021, NANCo Aero is a privately held, modern technology company providing advanced air mobility products and services to commercial, small businesses, government, and nonprofit organizations. Our products include advanced air vehicles and drones built with durability and safety features, unlike those of others. Our services include innovative research & development, new product development, and skills and technology consulting. The accumulation of our technologies and designs is the RIVIR aircraft.
The Rapid Intervention Vehicle for Immediate Response (RIVIR) is a UAV to directly address the needs of first responders, emergency services, search and rescue, and public safety organizations. The RIVIR aircraft is specifically designed to reach areas other aircraft cannot and perform operations in these modern times where quickness and agility are required. The RIVIR aircraft is a hybrid eVTOL (heVTOL) to provide more power and a longer range in comparison to other eVTOLs. The RIVIR heVTOL system also delivers a carbon-neutral footprint by capturing the carbon exhaust and recycling it.
The RIVIR aircraft can carry up to 800lbs of payload or transport up to 4 passengers over urban and rural areas. All RIVIR aircraft can be tailored to the buyers' specific requests.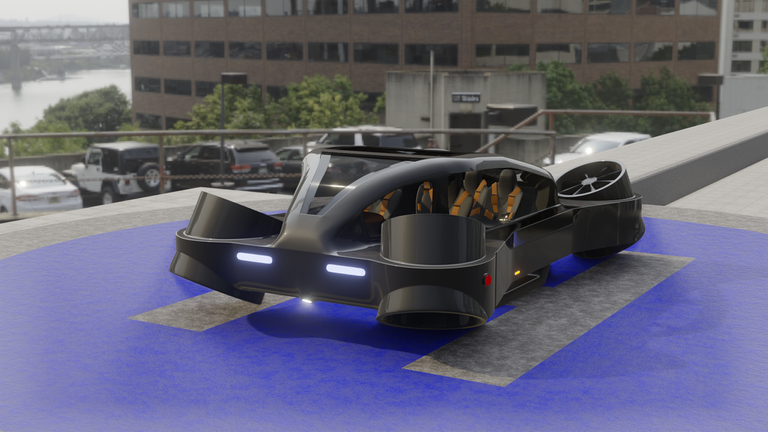 Tell us about yourself
So I am a US Navy Vet. I worked for 8 years on Satellite comms and navigation systems on the Boeing 707 aircraft, for the VQ-4 squadron, at Tinker AFB, Oklahoma. I am originally from Houston, Texas, and my trajectory into aerospace actually started in the 6th grade. My 6th-grade teacher invited a guest speaker from NASA one day. His name was Willie Williams.
I will never forget it because he had the same name as a classmate. He said he worked on Satellite communication for NASA. He made such an impression on me that from that day forward, I wanted to work for NASA and work on satellite communications. I went to a high school for Engineering and then to the Navy. I thought that would be my best way into NASA, and it would cover college.
I had two sisters that would be in college at the same time as me. I figured it would be easier on my parents if I covered college myself. However, in the Navy, after working for some years, my passion changed, and I wanted to be in business. I went to Embry-Riddle Aeronautical University for Professional Aeronautics with minors in safety and management.
After my end of service, I landed in the power industry due to the aviation industry being heavy with Baby-boomers. I really disliked the power industry and continued to look for ways out.
Finally, I met Shern Peters, my CEO, and CO-Founder. We were both in the NAACP entrepreneur incubator for separate businesses. About a year or two later, we would reconnect through a mutual friend who would tell me that Shern was starting an Advanced Air Mobility company and building "flying cars." I was hooked because I knew the possibilities of such an endeavor and the chance to work for myself instead of others people.
That is definitely what motivates me every day. I wake up happy knowing that the efforts and work put forth will directly benefit me. It enhances my self-esteem and self-worth. But more than just me, I know I'm helping Shern and his family, the team members and their family, and then the transportation of the world. I know things are not going to be the same when our products get to the masses.
Regardless of the time, it takes to come to the past, I know that our technologies and aircraft are the future of Aerospace.
What's your biggest accomplishment as a business owner?
Our biggest accomplishment was building our first prototype and seeing our technology fly for the first time. This was proof that not only were we ready for this industry, but also we had gathered the knowledge and skills to create aircraft of this magnitude.
What's one of the hardest things that come with being a business owner?
The hardest thing for our company has been in acquiring investors. We have bootstrapped and have been supported by friends and family to get us this far. It's hard to sell a vision to others. Even if they understand the vision, that doesn't make them inclined to put forth their time or resources. Getting investors to believe in the team and the plan has been more difficult than building the technology itself.
What are the top tips you'd give to anyone looking to start, run and grow a business today?
Having passion is the most important part of attracting resources. People are the main resource, and they care only as much as they see you care. The more you work hard, the more they will be compelled to help you. No one helps those that do not help themselves.
Understanding that you need a supportive team. No one is self-made. We all need good help.
You must have a plan! Your plan and vision are the guides for your resources and immediate team. Without a plan, there is chaos and minimum growth.
Is there anything else you'd like to share?
The Future of Aerospace is Now. NANCo Aero is poised to help the world with its RIVIR technology.
Where can people find you and your business?
Website: https://www.nanco.aero/
Facebook: https://www.facebook.com/NANCoAero/
Instagram: https://www.instagram.com/nancoaero/
Twitter: https://twitter.com/nancoaero
LinkedIn: https://www.linkedin.com/company/nancoaero/
We would like to also thank SubKit for this opportunity by linking them in this post: https://gosolo.subkit.com/nanco-aero/