I was blessed with a gift on Sunday. A local Ham Radio operator passed away and wished that his radio go to a deserving Ham. My elmer VE3GSO was in charge of dealing with the Ham Shack contents and was kind enough to ask me if I would like the radio and power supply, I gladly accepted. Here is a picture of the radio and power supply.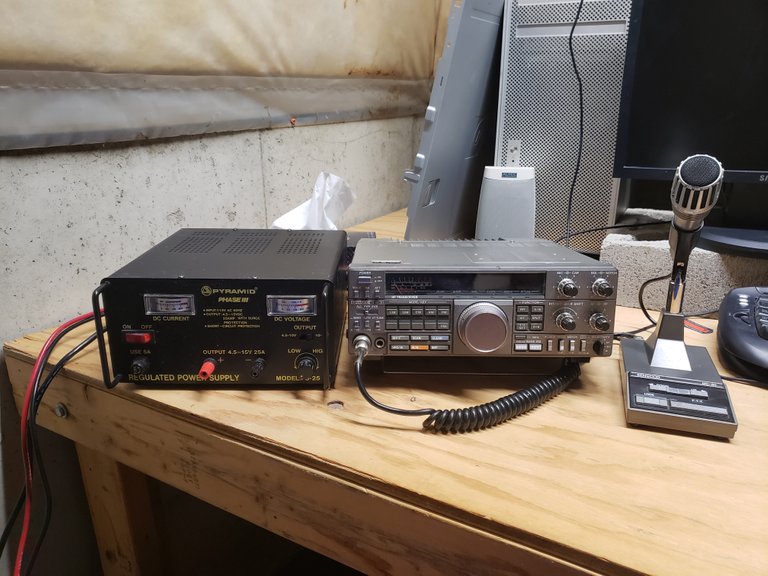 On the advice of my elmer I put the radio on a adjustable power supply and slowly brought the voltage up over the course of an hour. As this is a 30 year old radio a little TLC was required. Everything worked as expected and I put the covers back on.
Monday night I decided to to temporarily connect my new radio to my homemade 40M EFHW antenna. I was just going to scan the band and see what I could hear. I was listening to some conversations and at 02:40 UTC I heard a conversation that was ending and one of the Ham's called CQ, which means he was looking for someone to make a contact with. I decided what did I have to loose, I keyed the mike and responded to his CQ. He answered and we chatted for a couple minutes and exchanged call signs, signal reports and locations.
My first QSO (contact) was with NM4W Wil in southern Georgia in the US. I was quite pleased as my first time on my new to me HF radio I made my first ever HF radio contact. As it was late and I had to work today I called it a night. Well my HF radio journey begins.
73
Posted with STEMGeeks