I am trying to post on a more regular basis. Since most of my day is research oriented it seems like a good idea to do some general posts about work. ^-^
Cellular automata
I have been doing some applied research work on cellular automata recently. You can think of these as pixels on some regular grid which change their state over time. How they change is based on the state of their neigbours. Below is a one-dimensional automata which evolves over time. So the change of color means a change of state. In the above there are only two states: yellow and purple.

A more well known cellular automata is Conway's game of life. You can see some pretty gifs if you click the link.
You can also use these to model more advanced phenomenon like interaction of different type of cells:


The above gif is based on code by Tsuyoshi Hiroshima. Here we have two types of cells the grey and dark grey ones. These are again subdivided in cells given by the red line which each consist of a collection of pixels. Their behaviour follows a special energy law which they try to optimise . This optimization makes them move.
These types of models are more qualitative than quantitative since they are not really directly based on physical laws. But in the context where the overall dynamics is the most important feature they absolutely worth studying.
Image magick
Image magick is a command line image editing converting tool that I have been using more and more recently (https://imagemagick.org/). I use LaTex to make presentations which is something like a special html for scientific research. One of the issues with LaTeX is that you cannot properly integrate gifs. So the way to go is to breakdown the gifs to frames and and then compile them within the Latex environment to a gif. This can be done like this magick convert -coalesce *input.gif output.png. The star is a wild-card so you don't manually have to insert the frame number. It is also perfect for creating gifs convert -delay 20 -loop 0 *input.jpg output.gif. If you feel like a fancy owl you can morph them into each other: convert -resize 200x200 owl1.jpg owl2.jpg -delay 20 -morph 10 animation2.gif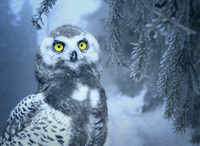 https://pixabay.com/photos/owl-burrowing-owl-bird-animal-3649048/
https://pixabay.com/photos/owl-snow-snow-owl-bird-eyes-3184032/