Hola Hivers, el post de hoy trata de como realice mi marcha analítica y por qué la realice así. Fue mi práctica final y unas de mis favoritas, me hizo recordar porque elegí está carrera y por qué la amo tanto💕
Hi Hivers, today's post is about how I did my analytical walkthrough and why I did it this way. It was my final practice and one of my favorites, it made me remember why I chose this career and why I love it so much💕.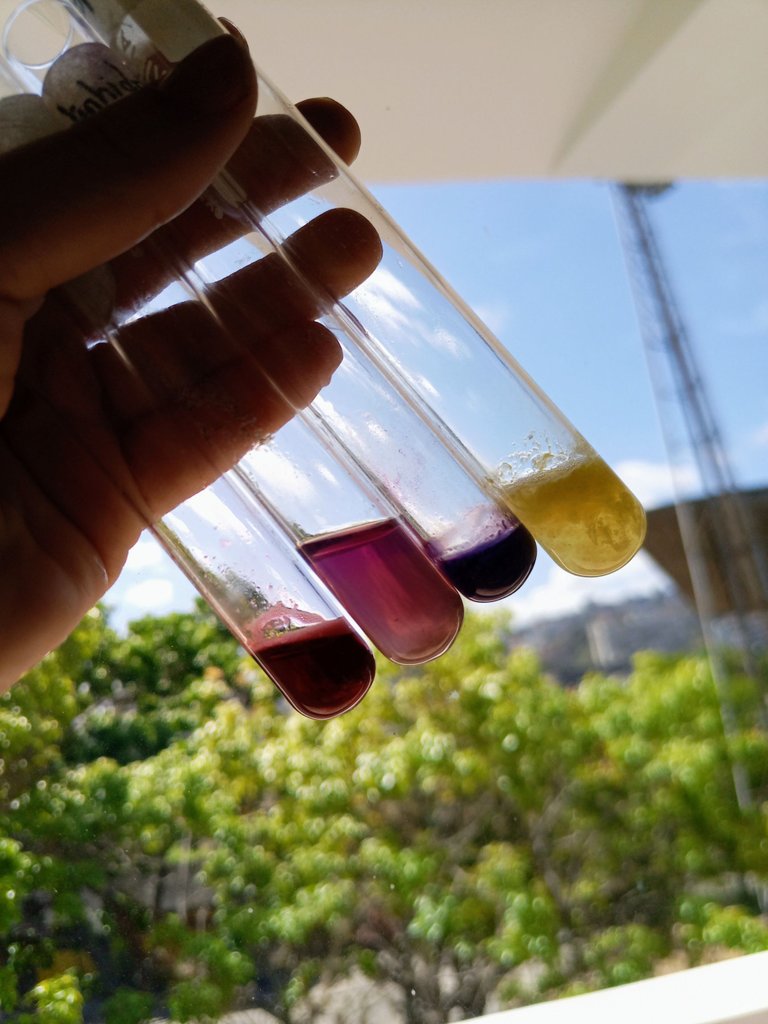 Primero quiero destacar que los espacios de la escuela de Bioanalisis de la Universidad Central de Venezuela fueron remodelados y eso nos alegra muchísimo ya que podemos trabajar en mejores condiciones ❤️
First of all, I would like to highlight that the spaces of the Bioanalysis School of the Universidad Central de Venezuela were remodeled and that makes us very happy because we can work in better conditions ❤️

¿Que se debe tomar en cuenta?|What should be taken into account?
| Primero se debe tener en claro en qué grupo se sospecha que está nuestra muestra desconocida y que queremos identificar; en este caso se tomó en cuenta que la muestra desconocida contenía Macromoléculas, por lo que las pruebas tanto específicas como generales fueron incluidas en el esquema, justo como lo ven en la foto | First, it must be clear in which group our unknown sample is suspected to be and what we want to identify; in this case it was taken into account that the unknown sample contained Macromolecules, so both specific and general tests were included in the scheme, just as you can see in the picture. |
| --- | --- |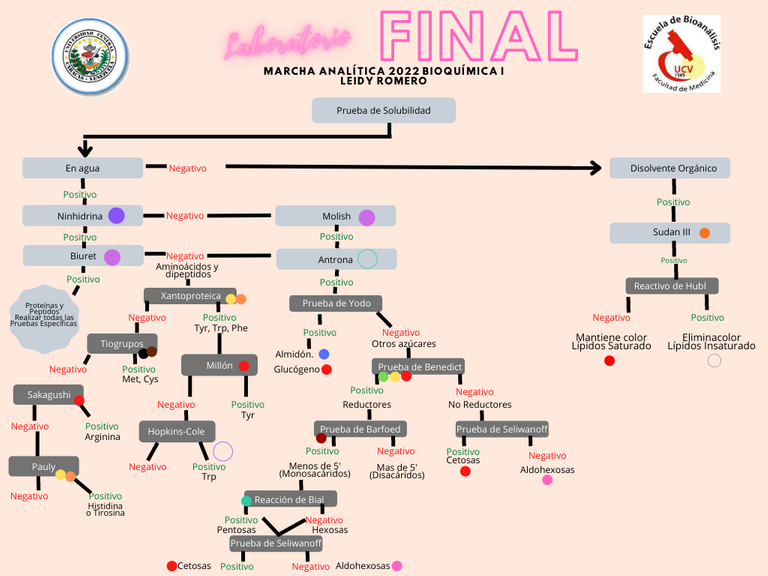 | Es de suma importancia ver la cantidad de muestra que se posee y si es necesario dividir a la mitad la cantidad de muestra y reactivo a utilizar en cada experimento | It is of utmost importance to see how much sample you have and if it is necessary to divide in half the amount of sample and reagent to be used in each experiment. |
| --- | --- |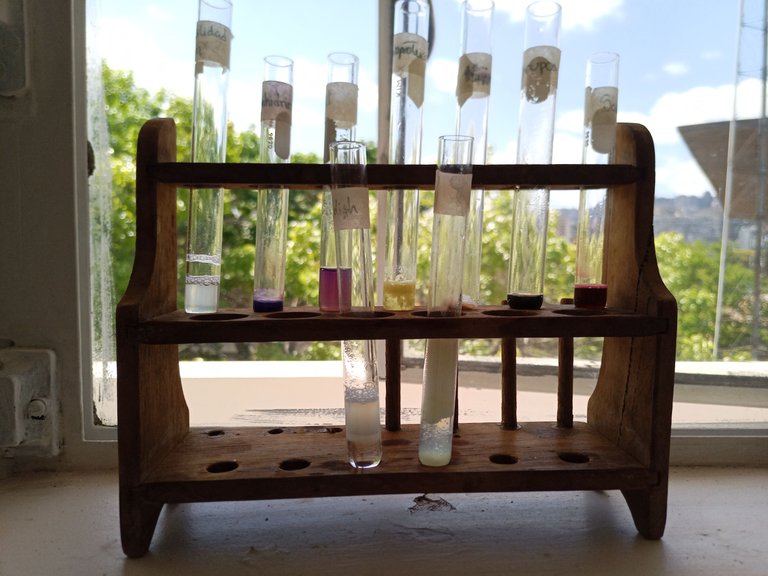 | Se inicia con una prueba de solubilidad que permita visualizar si la muestra es soluble o no en agua o disolventes orgánicos; cuando se realiza una prueba de solubilidad nos proporciona una gran información ya que esto nos permite descartar o no las diferentes Macromoléculas, por ejemplo: los lípidos no son solubles en agua, por lo que si la muestra es soluble en la misma sabemos que no se trata de un lípidos y evidentemente se descarta realizar pruebas de lípidos para la muestra. Así que una prueba de solubilidad en agua es muy útil y es recomendable en cuanto a Macromoléculas y otras sustancias | It starts with a solubility test that allows us to visualize if the sample is soluble or not in water or organic solvents; when a solubility test is performed it provides us with great information as this allows us to discard or not the different macromolecules, for example: lipids are not soluble in water, so if the sample is soluble in water we know that it is not a lipid and evidently it is discarded to perform lipid tests for the sample. So a water solubility test is very useful and is recommended for macromolecules and other substances. |
| --- | --- |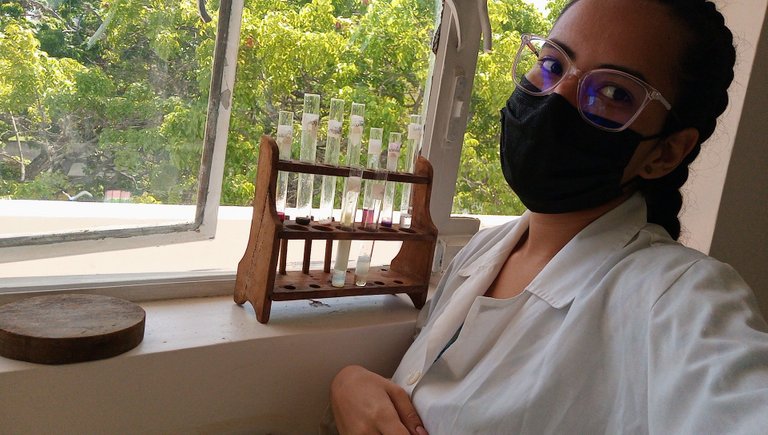 | Luego es importante realizar pruebas generales, ya que está no nos va a decir que contiene la Macromolécula pero si nos va a evidenciar que tipo de Macromolécula se encuentra dentro de la muestra desconocida, ahorrando tiempo y además reactivo | It is then important to perform general tests, since this will not tell us what the macromolecule contains, but it will show us what type of macromolecule is found in the unknown sample, saving time and reagent. |
| --- | --- |
| Una vez identificada la Macromolécula se pueden realizar las pruebas Específicas para saber la composición de la misma. Recomiendo siempre, que si una prueba te da positiva no tiendas a realizar otra para "asegurar" ya que esto puede causar confusión y reportar resultados dudosos | Once the macromolecule has been identified, specific tests can be performed to know the composition of the macromolecule. I always recommend that if a test gives you a positive result, do not try to perform another test to "make sure" as this can cause confusion and report dubious results. |
| --- | --- |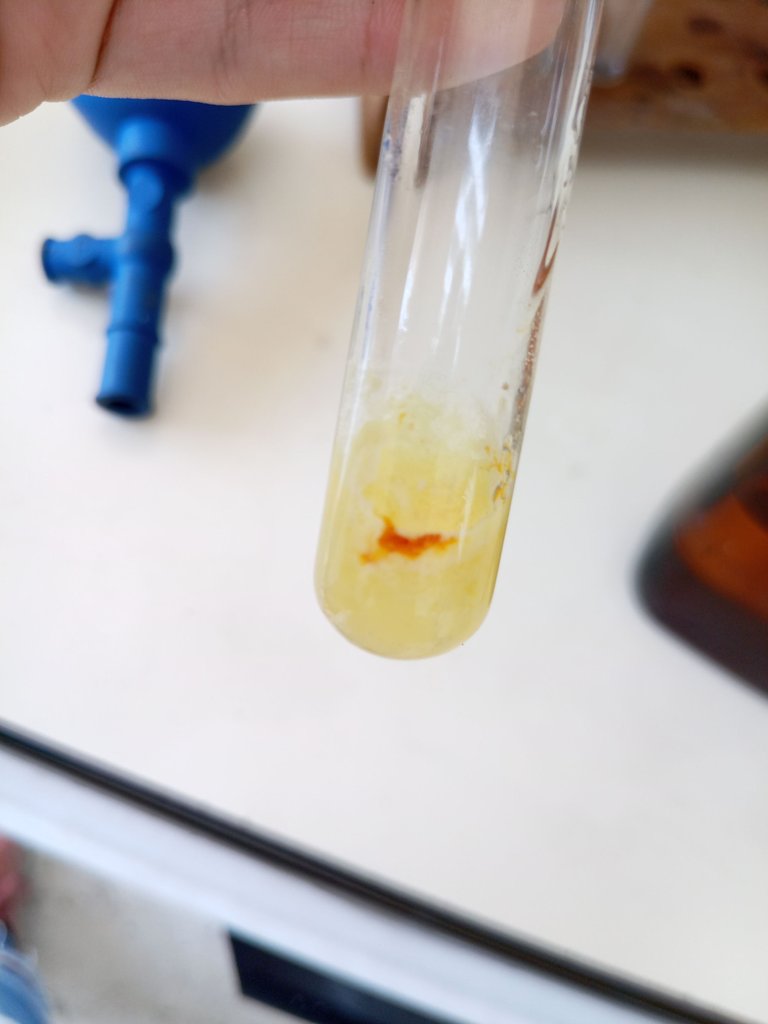 | Otra recomendación es que tengan los conceptos teóricos muy claros, además siempre leer la práctica antes de realizarla, busquen videos para ver los procedimientos y como deberían ser los resultados (si son más visuales) los ayudará mucho para confirmar los positivos y negativos. Es importante que también usen las cantidades que están establecidas, y en caso de usar menos muestra, hacer los respectivos cálculos matemáticos que queden proporcionales a los que están originalmente, Es decir, si dice 4ml de muestra y 6 gotas de Reactivo, dividen a la mitad ambos quedando 2ml de muestra y 3 gotas de Reactivo. | Another recommendation is to have the theoretical concepts very clear, and always read the practice before doing it, look for videos to see the procedures and how the results should be (if they are more visual) it will help a lot to confirm the positives and negatives. It is important that you also use the quantities that are established, and in case of using less sample, make the respective mathematical calculations that are proportional to those that are originally, i.e., if it says 4ml of sample and 6 drops of Reagent, divide in half both leaving 2ml of sample and 3 drops of Reagent. |
| --- | --- |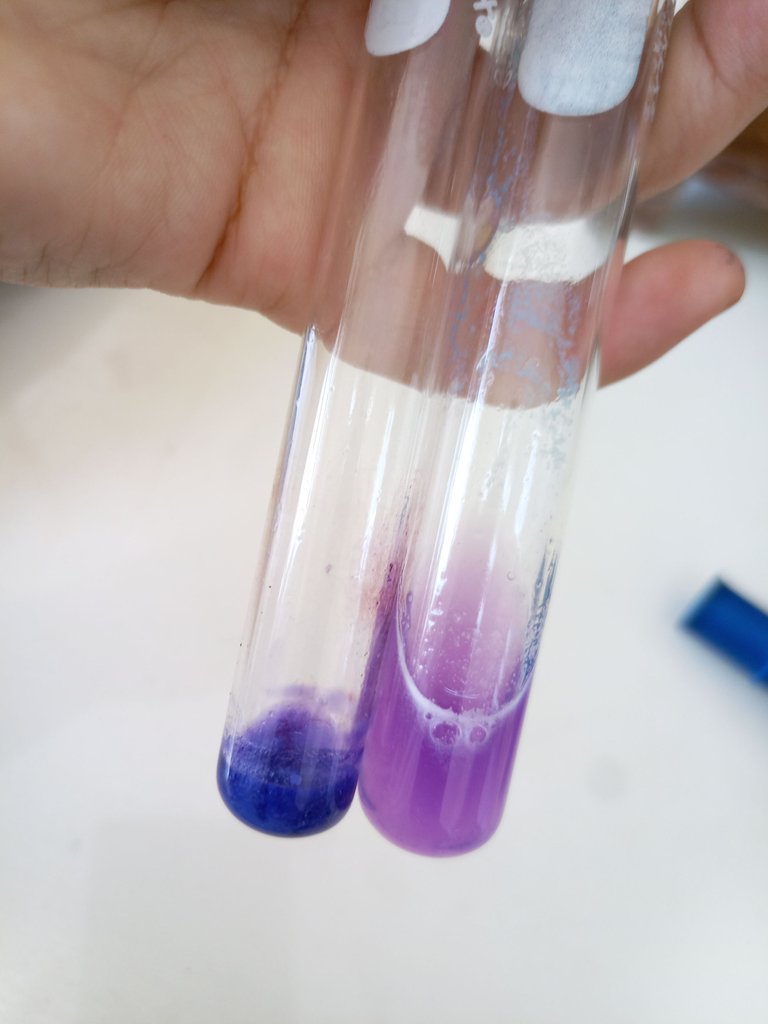 | Finalmente recomiendo que coloquen en cada prueba el color que deberían obtener para evitar confusiones y así llevar una práctica plena; también recuerden concentrarse mucho | Finally, I recommend that you place in each test the color that you should get to avoid confusion and thus to have a full practice; also remember to concentrate a lot. |
| --- | --- |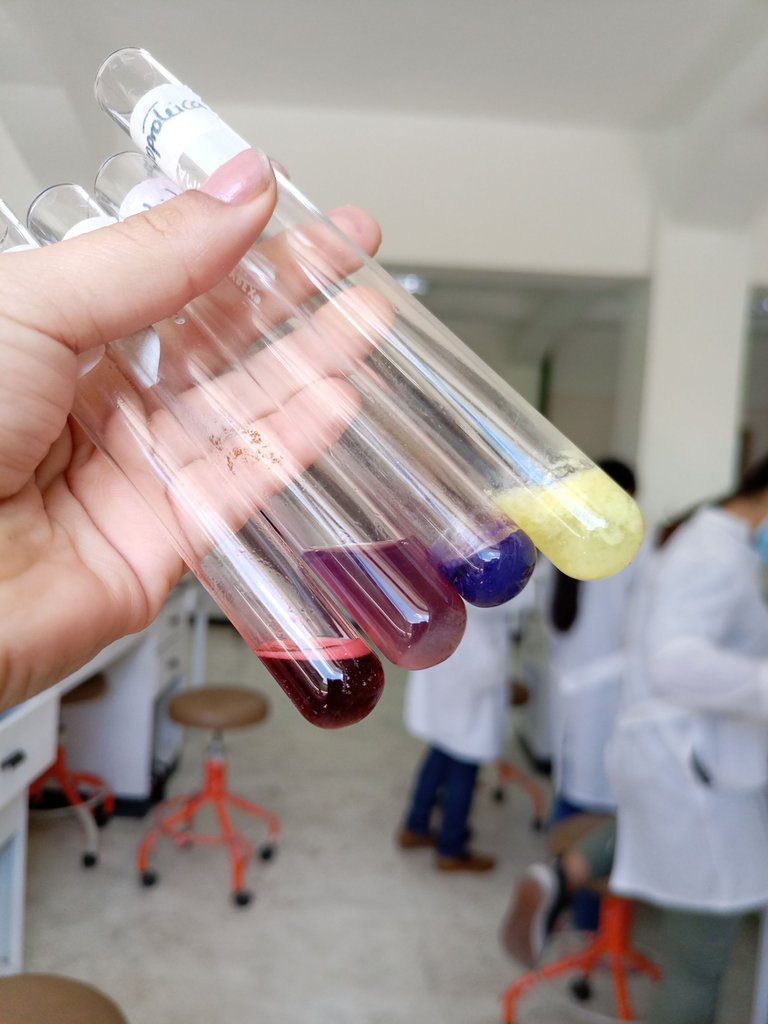 Recuerden que nada es imposible, los límites los colocas tu♥️ nos vemos en un próximo post
Remember that nothing is impossible, the limits are set by you♥️ see you in a future post

Decorative and informative gifs made on canva.com
Lab sample gif made with Gif Market app
Translator DeepL.com
Text owned and written by me
Photos of my property until proven otherwise
Schematic made by me in Canva.com