Bone conductive headphones are listening devices that deliver sound directly to the inner ear, bypassing the eardrums. While they have their roots in the hearing aid industry, the underlying technology has slowly but steadily gained traction for specialized usages, for example in noisy environments such as aircrafts and racing cars.
Despite being called "headphones", bone conductive hearing devices have little in common with the more common earbuds and over-the-ear cans (either open or closed): with it, transducers are used to send vibrations through the cheekbones and jaw towards the inner ear - directly to the nerve terminations responsible for the sense of hearing. These vibrations are then seamlessly converted by the brain into the listening experience without any involvement of the eardrum.
Downsides of bone conductive headphones
Due to its mode of operation, bone conduction presents some peculiarities which may represent a hindrance.
The most relevant is that they don't isolate from environmental noise. There are many designs and types but they all position the transducers over the user's cheekbones; therefore, nothing is covering or obstructing the ear while wearing bone conductive devices. Because of that, one can hear every sound from the surrounding environment while using them as if no device was being worn.
Secondly, the audio quality of bone conductive headphones is lower compared to standard headphones. In particular, bone conduction does not deliver bass frequencies, which results in a somewhat flat and dull sound; however, wearing earplugs while using them will significantly improve the listening experience, as it will turn the external ear into a makeshift resonation chamber.
Last but not least, this technology is not suitable for acoustic noise-canceling, as that is based on generating and emitting a sound wave with the same amplitude but with an inverted phase to the original sound. As no sound waves are involved, this cannot be achieved.
Benefits of bone conductive headphones
The unique design has also some interesting perks.
As previously highlighted, bone conductive headphones do not require plugging anything inside (or wear anything over) the ear, which results in a non-invasive, airy, and lightweight experience. They don't isolate from the surrounding world, and that allows using them in environments that require awareness such as open streets and while operating machinery.
The most common design has transducers resting over the cheekbones supported by a flexible neck arc, which won't easily move or fall while moving or performing activities such as workouts.
As it is bypassing the eardrum, bone conduction enables a full listening experience to people suffering from partial or total hearing loss; subjects who have unilateral hearing loss can enjoy an immersive experience with stereo sound. As a matter of fact, the technology was originally developed for hearing aid devices as it delivers a very effective experience while being completely non-invasive.
Bone conduction has gathered a loyal customer base with everyone who may find headphones to be cumbersome or uncomfortable. People performing sport and dynamic activities enjoy the lightness and superior stability of a neck arc, which resolves the limitation of earbuds moving out of place or falling off the ear.
Finally, bone conduction integrates well into wearables such as sunglasses and headbands, turning technology into fashionable items that are suited for a modern and active lifestyle.
How much should one spend on bone conductive headphones?
Even though bone conductive transducers have become affordable and there is a good variety of offers from several brands, good quality models are not cheap. Reference products like the Aftershokz Trekz Air retail officially for EUR 120, and the more affordable Openmove model (also from Aftershokz) is listed for EUR 90.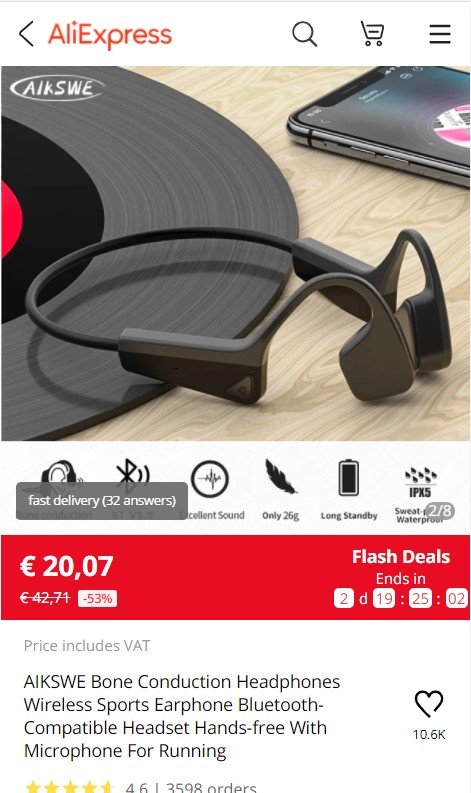 The AIKSWE V11 that are tested in this review retail for EUR 20 (twenty), including 10-days tracked shipping, on Aliexpress. Scope of this article is to verify if they are any good, and how they compare with a benchmark product that costs 6x as much.
Packaging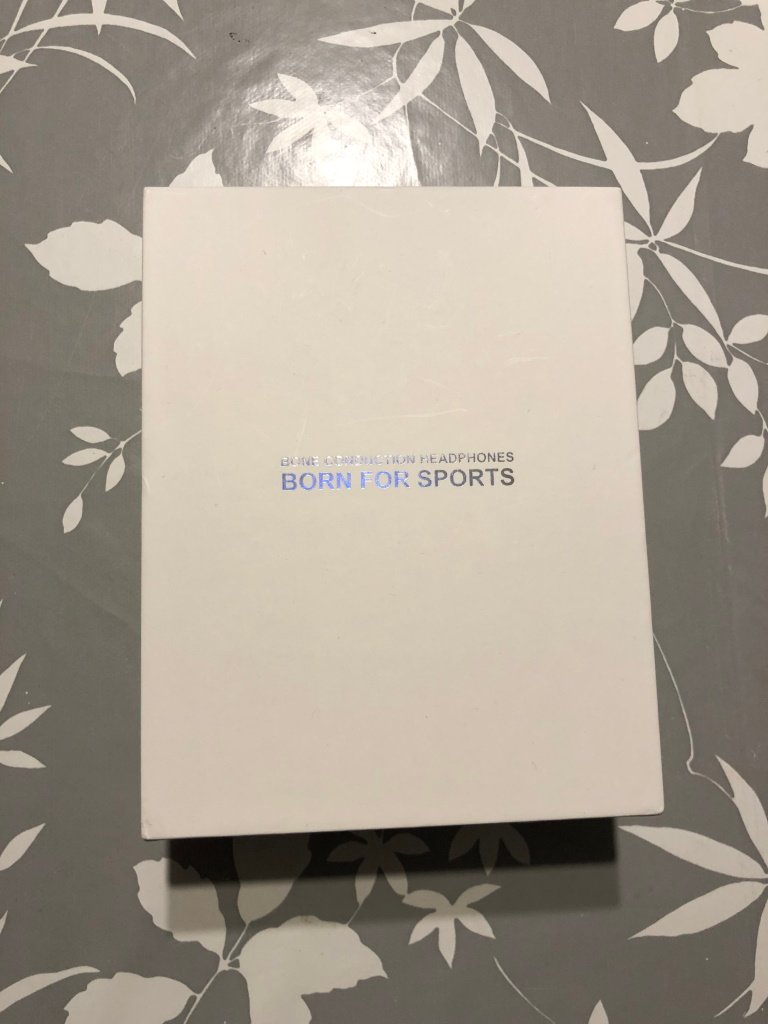 After unwrapping the customary Aliexpress plastic bag (and a healthy amount of pluriball for which we applaud the seller) we are welcome by a glossy white cardboard box, that carries the signage "Bone Conduction Headphones - BORN FOR SPORTS" in printed mirror finish. The package quality is surprisingly high, with a very neat surface finishing, sturdy materials, and precise tolerances which - as daring as it may sound like - are a remarkable callback to Apple products.
Inside the box, there are the headphones, safely housed by a carved-out board of layered foam - yet another unexpected high-quality detail. There also is a quick guide card (in Chinese and readable English), a small box that contains the charging cable (USB-A to USB-C), and a pair of foam earplugs. The manufacturer clearly knows its product and cares for a good experience, as described above wearing earplugs may greatly enhance the music listening experience.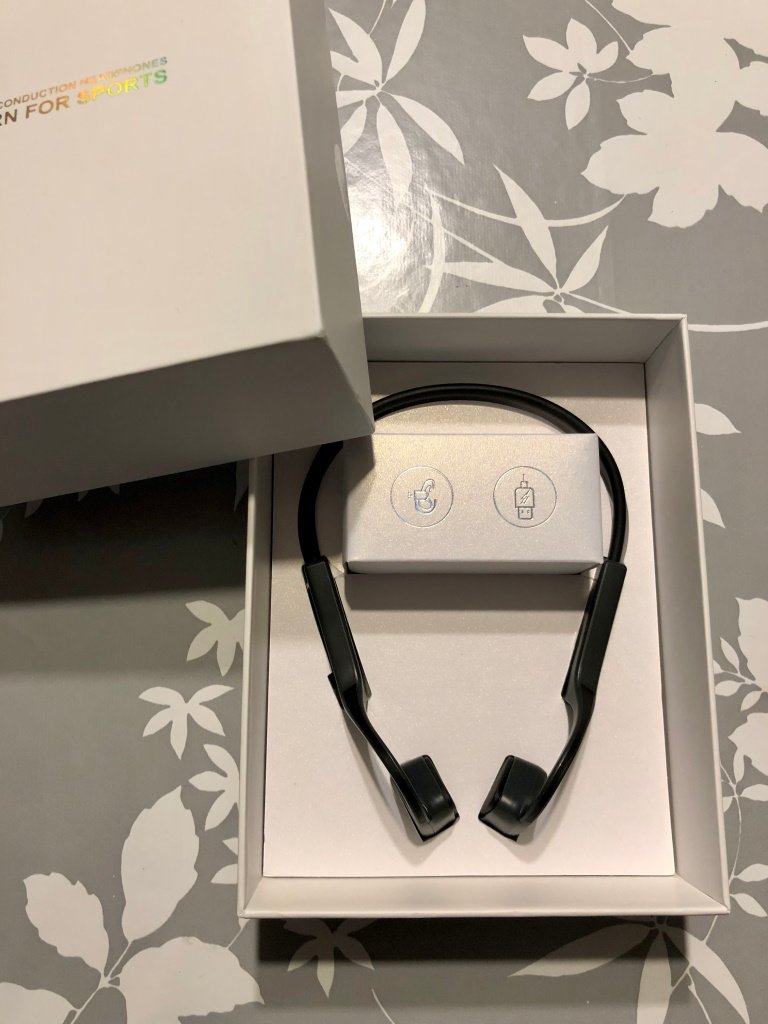 For a product this cheap, the packaging quality and care to detail are nothing short of amazing.
Materials and look-and-feel
Already at first sight, there's little doubt the AIKSWE V11 is paying more than a tribute to the super popular Aftershokz Trekz Air; that is not necessarily a bad thing, as their design is functional and well tested. The difference between the €120 Aftershokz and their €20 Chinese homage however becomes apparent the very moment the AIKSWE are taken out of the box: where the Trekz Air is using high-quality silicone for the neck arc and soft-touch finishing for their slick shaped transducers, the V11 offers a spartan but functional neckband made of rubber-coated flexible polymer (advertised as "memory titanium wire"), and boxy transducers that do nothing to hide their crispy plastic casing. For comparison, handling the Trekz Air gives the tactile feedback of a luxury German sedan while the V11 feels like touching the dashboard of a Toyota Corolla from the 90s.
Fortunately, the V11 also provides the same level of functionality and reliability.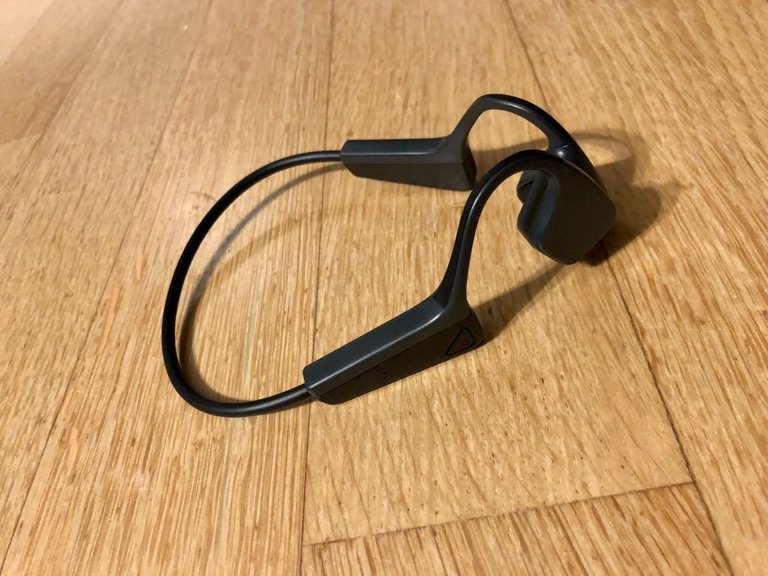 Wearing the V11 is easy and intuitive, and anyone can quickly find a comfortable fit with the over-the-ear support snugly wrapping in place. The headset can be worn comfortably for extended periods and remains safely in place even when performing workouts and intense activity.
Setup
Setting up the V11 is a pretty straightforward and reliable process that can be easily executed following the steps detailed in the quick start card. Bluetooth pairing and connectivity from power-off have proven to be fast and reliable with all testing devices, including several Windows and Linux laptops and the iPhone.
Usage
Upon pairing the V11 correctly exposes its capabilities for voice and music and both the stereo and AG Audio profiles, and during operation it reports its battery level to the connected source. All basic commands for pause/play, next/last song and phone answer/hang-up are available through the single button positioned on the right side.
The audio quality for music reproduction is on par with most commercial-grade bone conductive headphones, which means average at best with little to no bass frequencies; however, while this is far from hi-fi, the same is true for all bone conductive devices including those that cost several times more, which makes the V11 quality/price ratio shine in comparison.
Phone calls on the other hand are crisp and loud and the built-in microphone provides good clarity: considering this device can be purchased for €20 while Apple's own wired EarPods retail for €29, it is easy to make some conclusions.
At this point is important to highlight there are dozens of headphones on Aliexpress that claim to feature bone conduction for this amount of money or even less while being nothing more than glorified earbuds, but the AIKSWE V11 are real and work exactly as advertised. This alone is a remarkable result for a device that costs one-sixth (16%) of the reference mainstream product.
The internal battery is recharged via USB-C and has been tested to last several hours of continued usage, as advertised. Up to 2 hours may be required to charge a completely depleted battery, yet topping up from partial discharge is much quicker.
Conclusions
It was difficult to quantify a Chinese headset that promised to work on a technology commonly priced five to six times more.
However, from the sleek packaging to the economical yet decent materials and good manufacturing, reliable setup and operation, and finishing it all with a solid audio performance that actually makes use of bone conduction, the AIKSWE V11 have vastly exceeded all expectations.
With a current (at the time of writing) retail price of €20,07 (or even less during one of the ever-frequent sales on Aliexpress) they are an amazing proposition, and a highly recommendable purchase for anyone who is looking for bone conductive headphones and doesn't want to pay a premium price for the most popular high street brands.
Disclosure: this review is not sponsored by the product manufacturer, there are no affiliate links, and the seller did not receive a copy before publication. All items under review are directly purchased at retail price, and evaluated accordingly.