In my last post, I talked about file handling along with simple code that will read characters from your file but in this post I am going to use another mode i.e. write mode. It will allow a text to be written to your file from the python program.
f = open("Written Text.txt", "w")

f. write("This text was written from Python Program.")

f.close()

As of now, there's no such file Written Text.txt in my directory. Executing above program will automatically create a new text file with that name. See below:

If I run this program, a new file will be created and that content will be written there.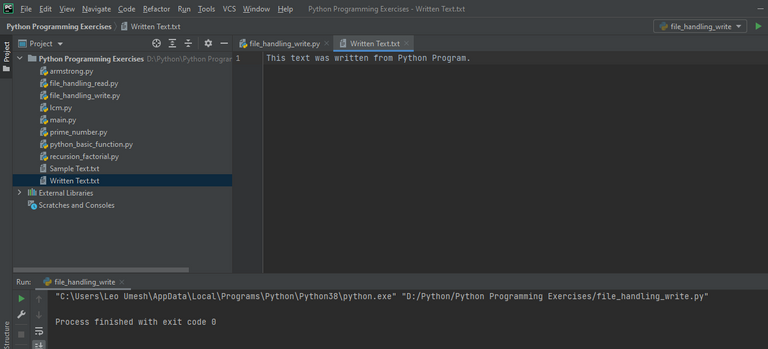 If you write one more lines f. write("This is write access mode.") to the above code and then run it, you will see the following output.

Other way to do the same can be done in the following ways.
f = open("Written Text.txt", "w")

content = ["This text was written from Python Program.", "This is write access mode."]

f.writelines(content)

f.close()

If you run your code and check the Written Text.txt file, you will see the same output as above code. To make each sentence appears in new line. You can use \n. For example:
f = open("Written Text.txt", "w")

content = ["This text was written from Python Program.\n", "This is write access mode.\n", "This is File Handling Example."]

f.writelines(content)

f.close()

The output of this code is: