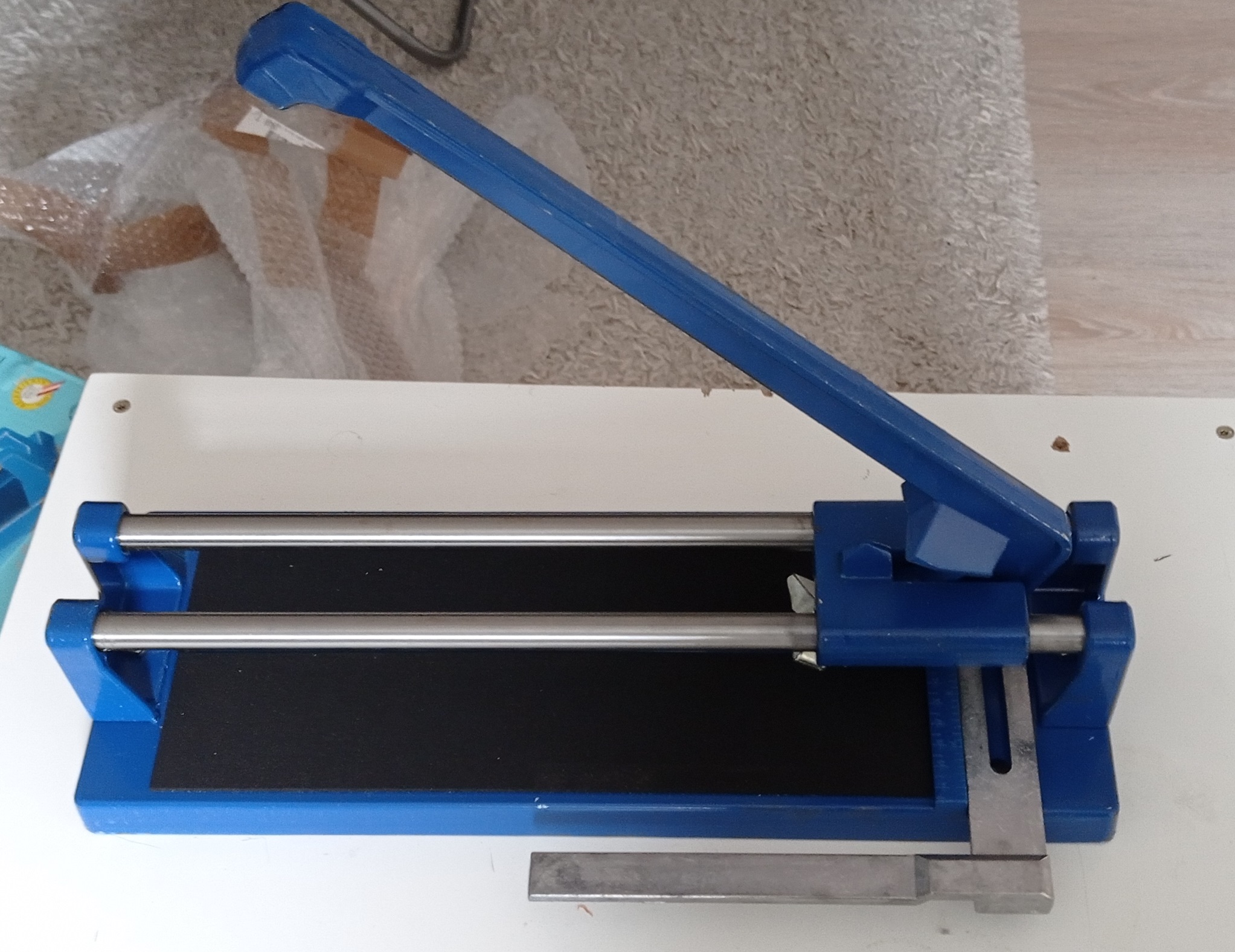 I am currently in the process of completing my canoe, during this project I realized that printed connectors take a relatively long time.
In the event that I want to build another canoe or implement other projects with the pipe, I have considered making connectors from the pipe myself.
This is not only cheaper, it is also much faster.
The idea is to cut the pipe lengthways, so you can either insert it into another pipe or cut it into strips, which you then bend, for example. Get 90 degree angles.
I had already experimented a bit with leftover pieces and was convinced of the idea.
The pipes have to be cut straight over the entire length, I quickly realized that this could be difficult without a guide.
I then considered which tool could be converted for this purpose ...
I then came across a tile cutter relatively quickly, as the cutting tool is guided linearly on 2 rods.
I then looked out and was able to buy one for little money.
The construction is very simple, I only had to print 2 blocks to get the rail system higher.
There are also 2 holes in the blocks, through each of which a threaded rod is passed, on which the pipe is then positioned at the end.
Unfortunately, I didn't have any screws that were long enough, so I welded nuts onto a piece of threaded rod and was able to try out my new welding machine right away.
Then I mounted the blocks and fitted the two threaded rods with shrink tubing.
Then the arm with the cutting tool had to be changed, there was a kind of hammer that I didn't need, which is why I sawed it off.
I then tried the first cut with the original cutting wheel, unfortunately without success, the wheel is intended for cutting tiles and not suitable for plastic.
I then had the idea to simply use a cutter blade, which I could install in the middle of a screw, some washers and some shrink tubing.
Now the pipes can be cut very cleanly, I am very satisfied and the whole thing was very cheap.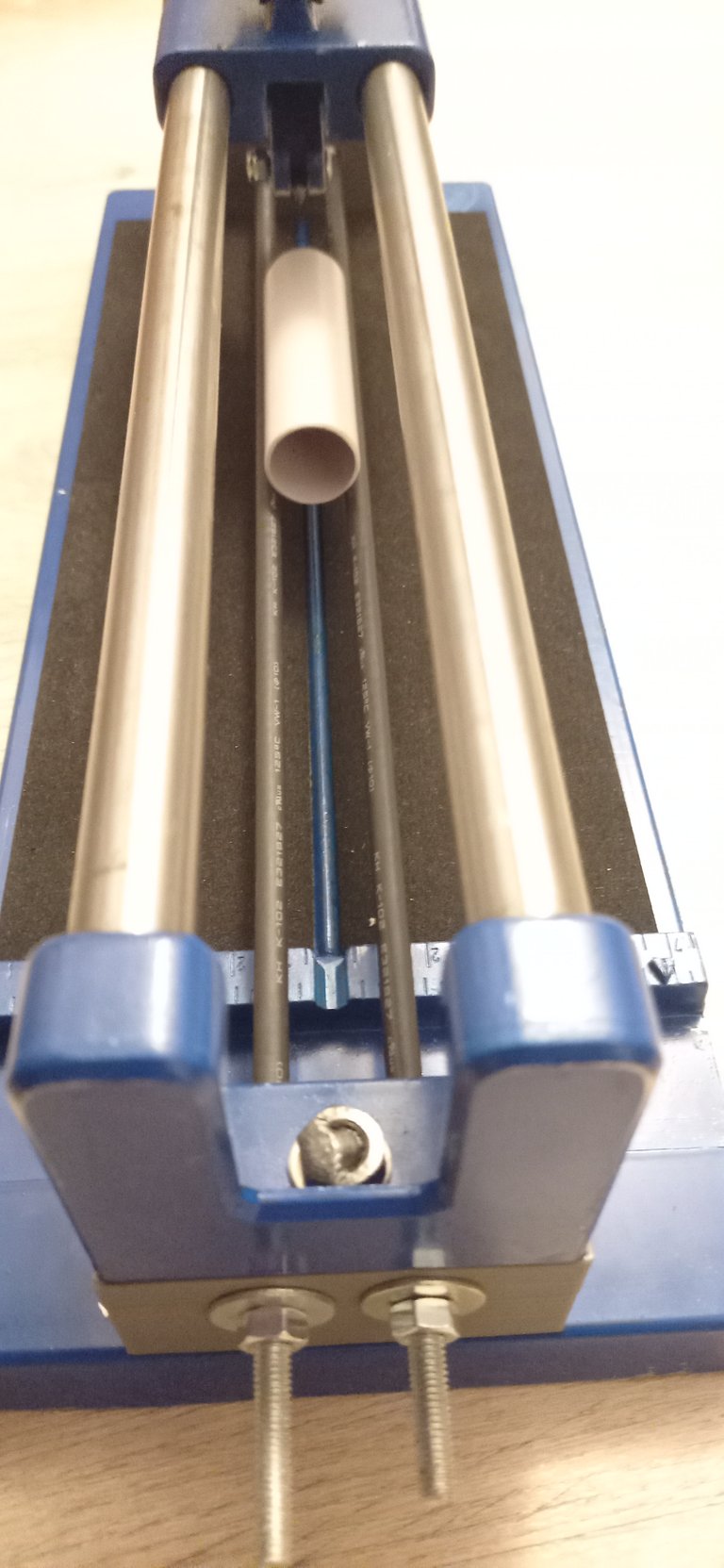 Derzeit bin ich dabei mein Kanu fertig zu stellen, während dieses Projekts ist mir klar geworden, das gedruckte Verbinder relativ viel Zeit benötigen.
Für den Fall das ich noch ein weiteres Kanu baue oder andere Projekte mit dem Rohr realisieren möchte habe ich mir überlegt, Verbinder aus dem Rohr selbst herzustellen.
Das ist nicht nur günstiger, es geht auch deutlich schneller.
Die Idee ist, dass Rohr der Länge nach aufzutrennen, so kann man es dann entweder in ein anderes Rohr einsetzten, oder in Streifen schneiden, die man dann biegt um zb. 90 Grad Winkel zu erhalten.
Ich hatte mit Reststücken schon ein bisschen experimentiert und war von der Idee überzeugt.
Die Rohre müssen über die komplette Länge grade geschnitten werden, mir wurde schnell klar, das dies ohne Führung schwierig werden könnte.
Ich habe dann überlegt, welches Werkzeug man für diesen Zweck umbauen könnte...
Ich bin dann relativ schnell auf einen Fliesenschneider gekommen, da das Schneidwerkzeug linear auf 2 Stangen geführt wird.
Ich habe dann mal Ausschau gehalten und konnte für kleines Geld einen erstehen.
Die Konstruktion ist sehr einfach, ich musste lediglich 2 Klötze drucken, um das Schienensystem höher zu bekommen.
In den Klötzen sind zusätzlich noch 2 Bohrungen, durch die jeweils eine Gewindestange geführt wird, auf denen dann am Ende das Rohr positioniert wird.
Ich hatte leider keine Schrauben die lang genug waren, also habe ich Muttern auf ein Stück Gewindestange geschweißt und konnte so auch gleich mein neues Schweißgerät ausprobieren.
Dann habe ich die Klötze montiert und die beiden Gewindestangen mit Schrumpfschlauch bestückt.
Anschließend musste noch der Arm mit dem Schneidwerkzeug geändert werden, dort befand sich eine Art Hammer, den ich nicht benötigte, weshalb ich ihn abgesägt habe.
Ich habe dann den ersten Schnitt mit dem originalen Schneidrad versucht, leider ohne Erfolg, das Rad ist zum schneiden von Fliesen gedacht und nicht für Kunststoff geeignet.
Ich hatte dann die Idee einfach eine Cutter Klinge zu verwenden, diese Konnte ich mir einer Schraube, einigen Scheiben und etwas Schrumpfschlauch mittig einbauen.
Jetzt lassen sich die Rohre super sauber schneiden, ich bin sehr zufrieden und das ganze war sehr günstig.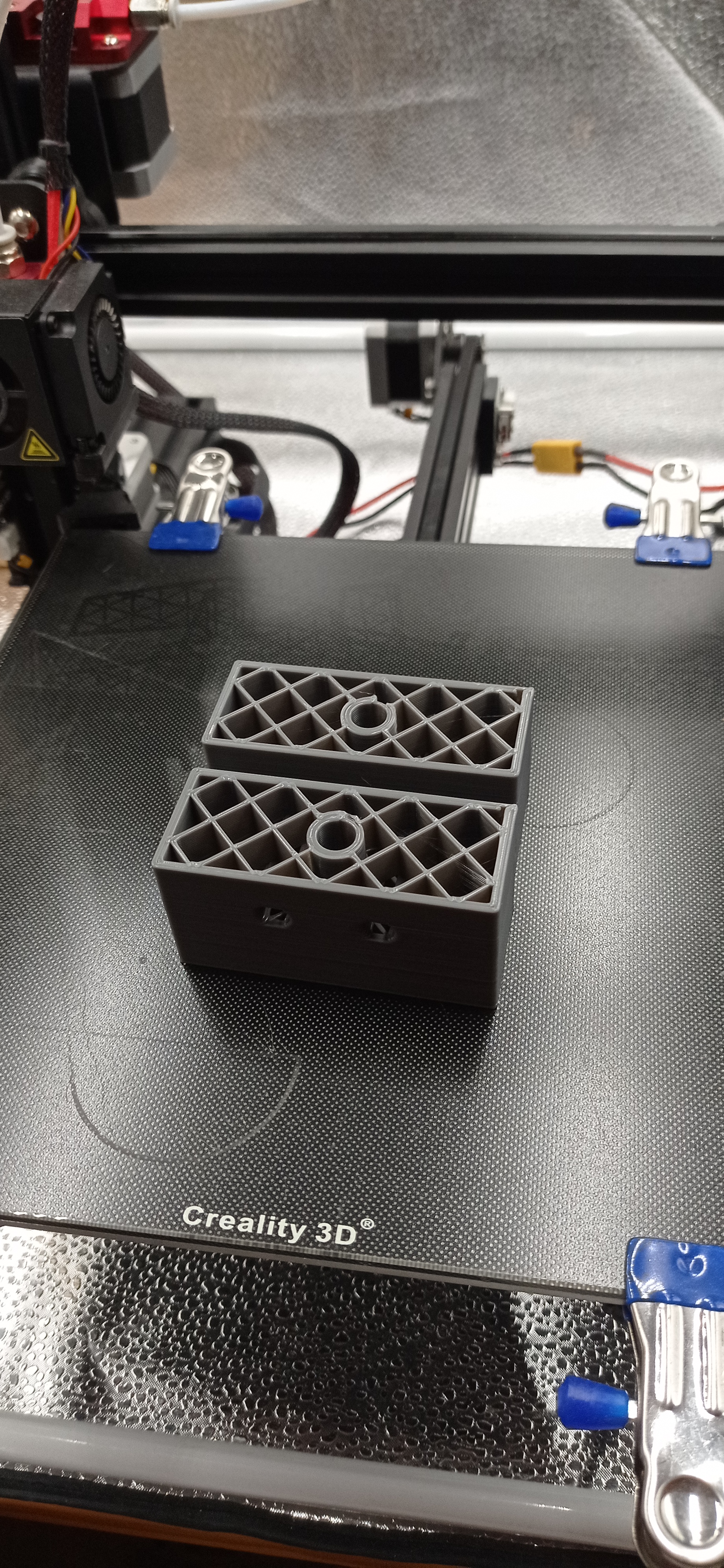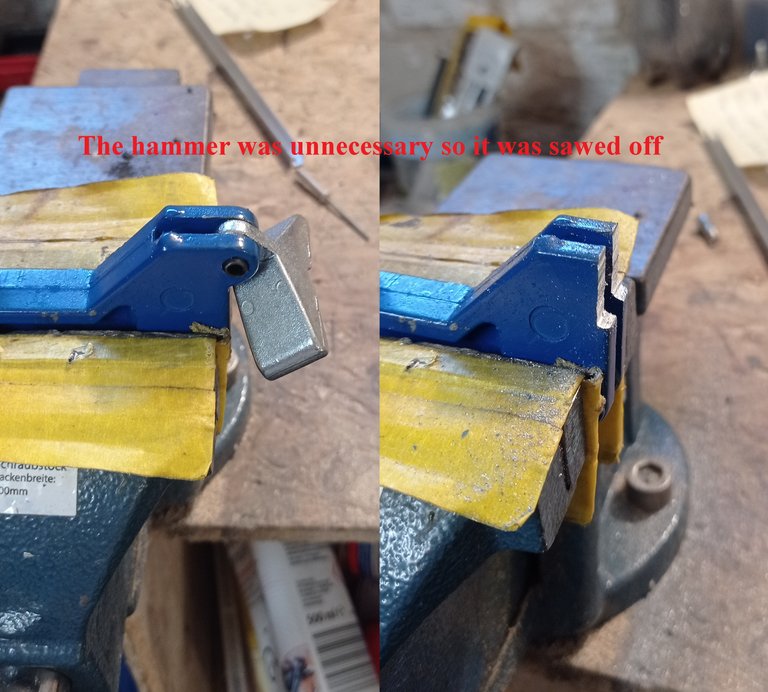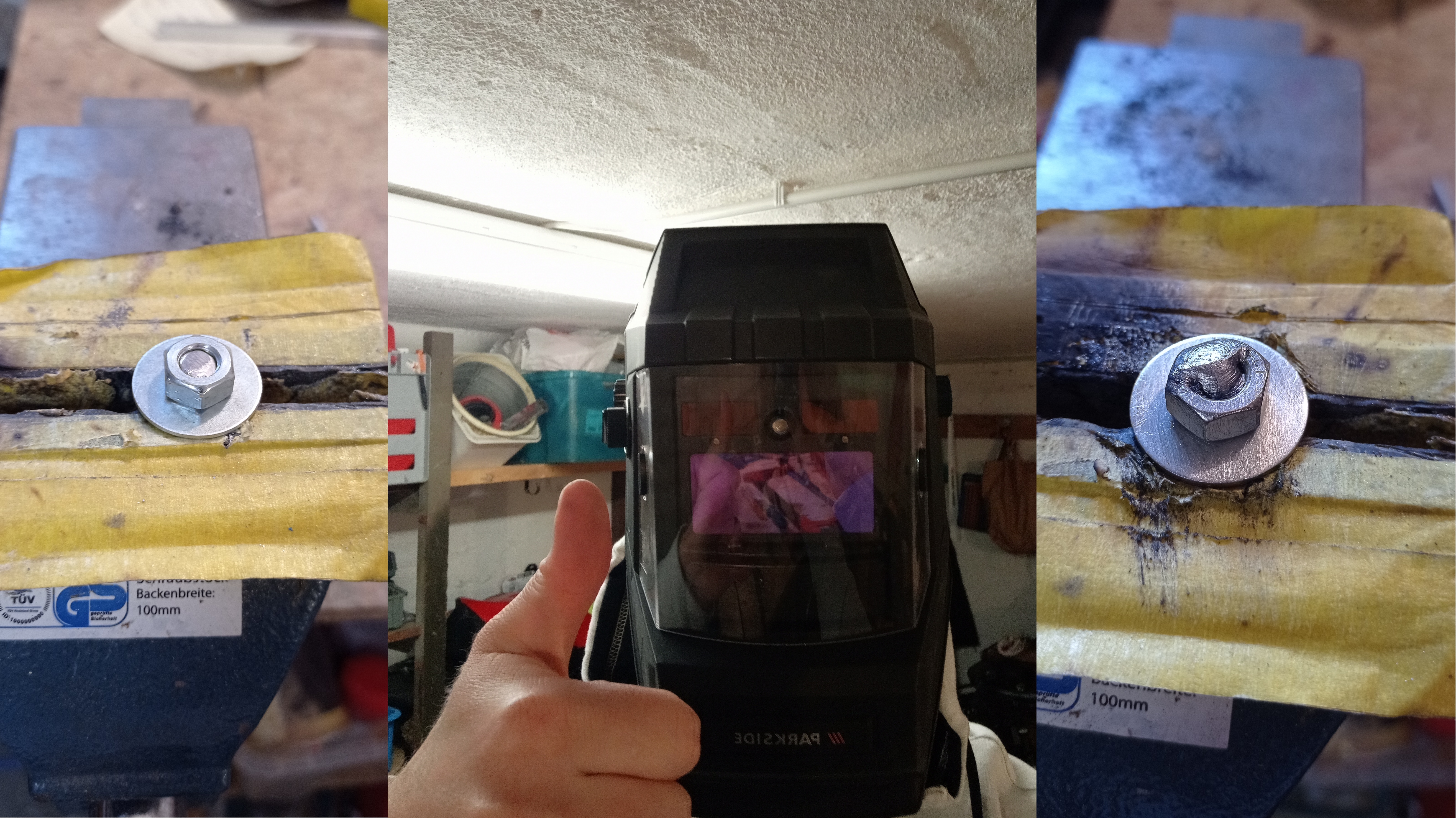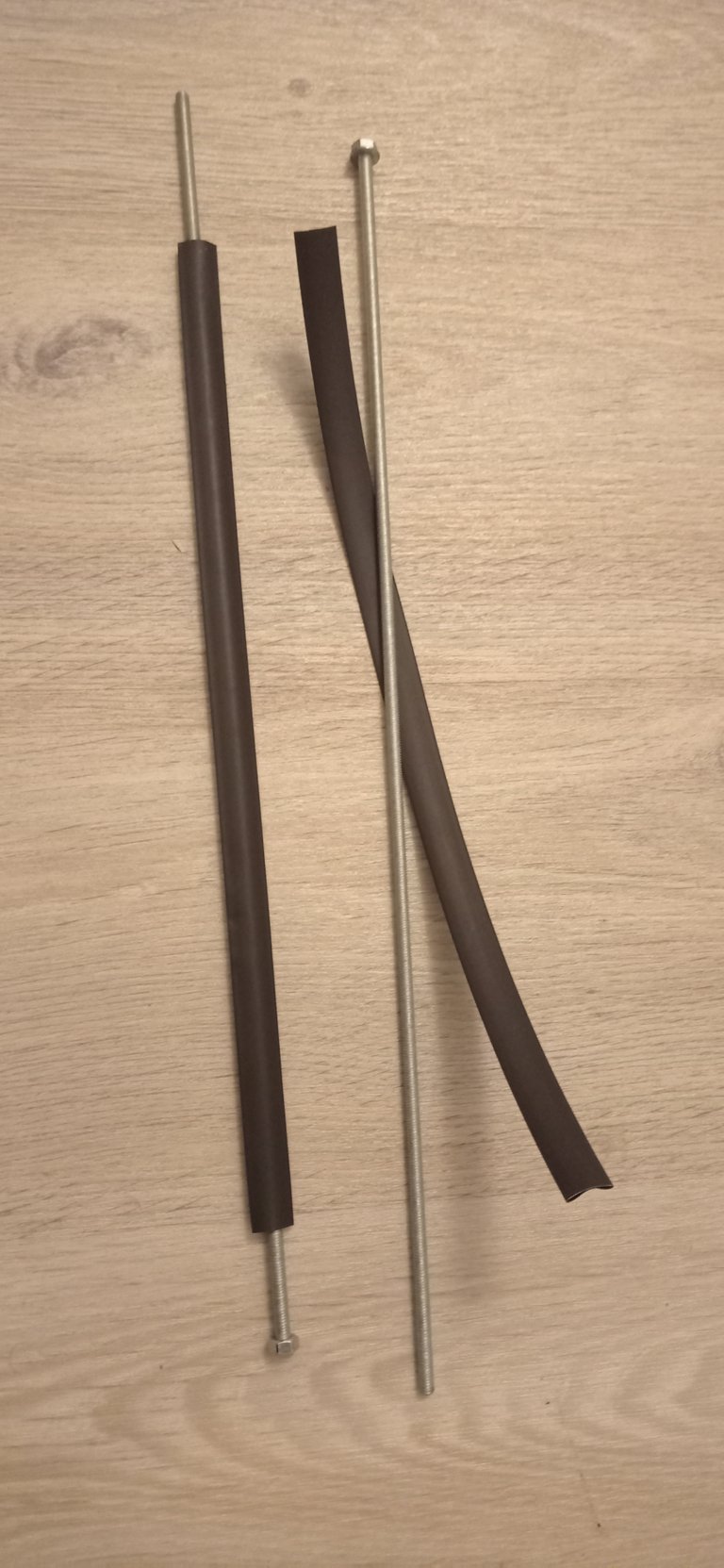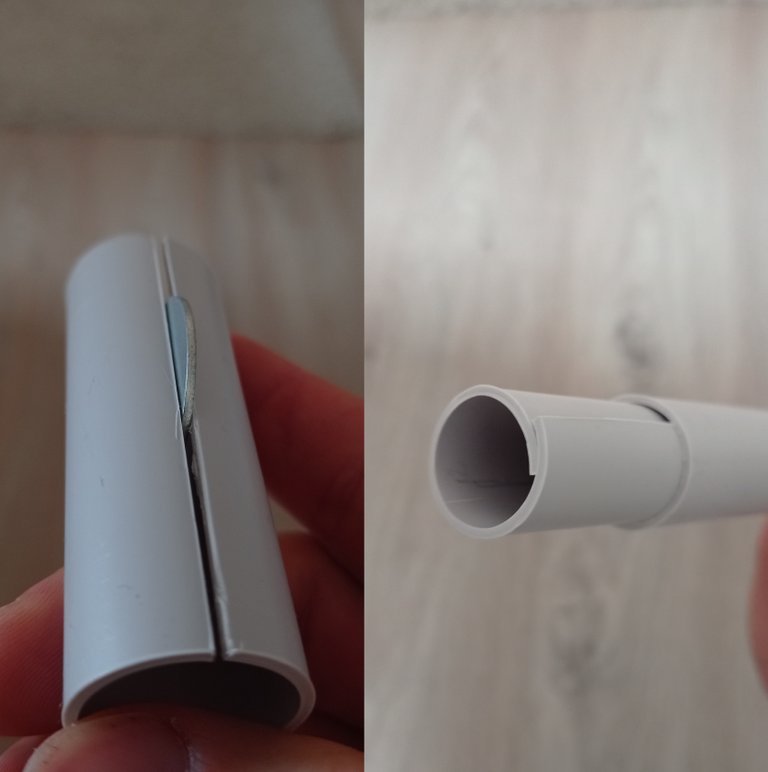 Posted with STEMGeeks