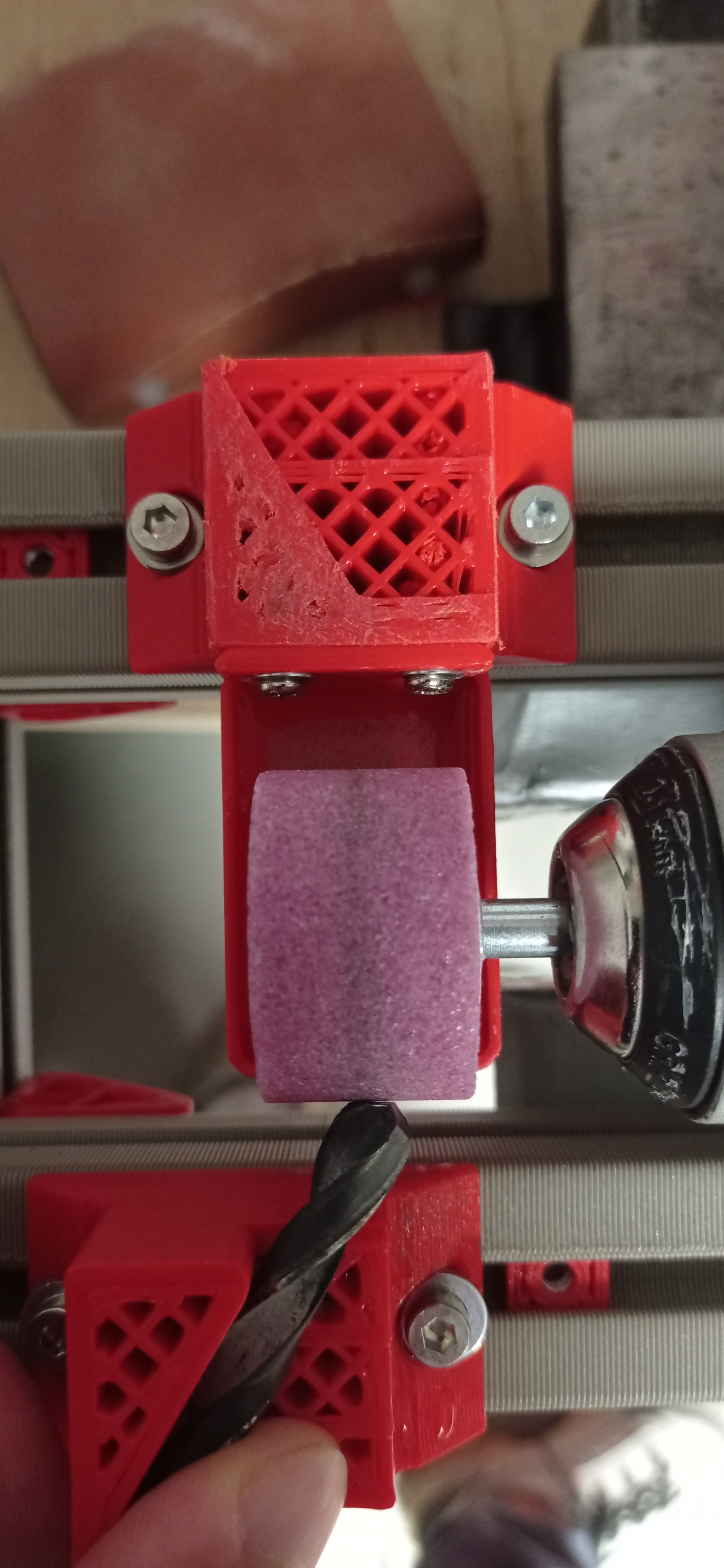 After I finally managed to finish my project, I wanted to use it as quickly as possible.
At work I have the problem that there is no way to sharpen my tools.
Which is a big problem, especially with the drills.
My idea was a device with which you can easily regrind drills.
I immediately had an idea that I designed and printed.
Unfortunately without thinking :-( Because the first version was upside down ...
Well, I quickly pushed everything to the other side and printed the part again.
So I had the idea to keep the grindstone wet while grinding, as there are smoke detectors in the room I work in that could trigger.
I then designed a small container in which the lower part of the stone always runs through the water. To hold the whole thing, I misused the wrong part.
In addition, I dipped the container in clear varnish again to make sure that it is tight.
At work I then assembled everything and started the first run.
I also got wet because the grindstone just spreads the water from the container around the room ...
I was able to fix this by putting a piece of sponge in the container.
I am very satisfied with the results and I already have the next idea.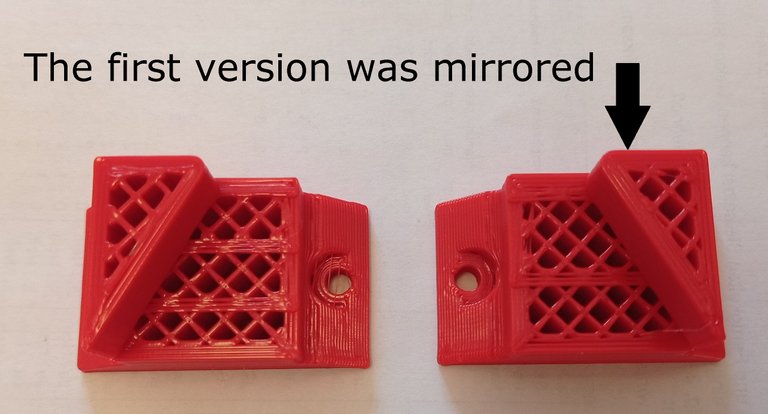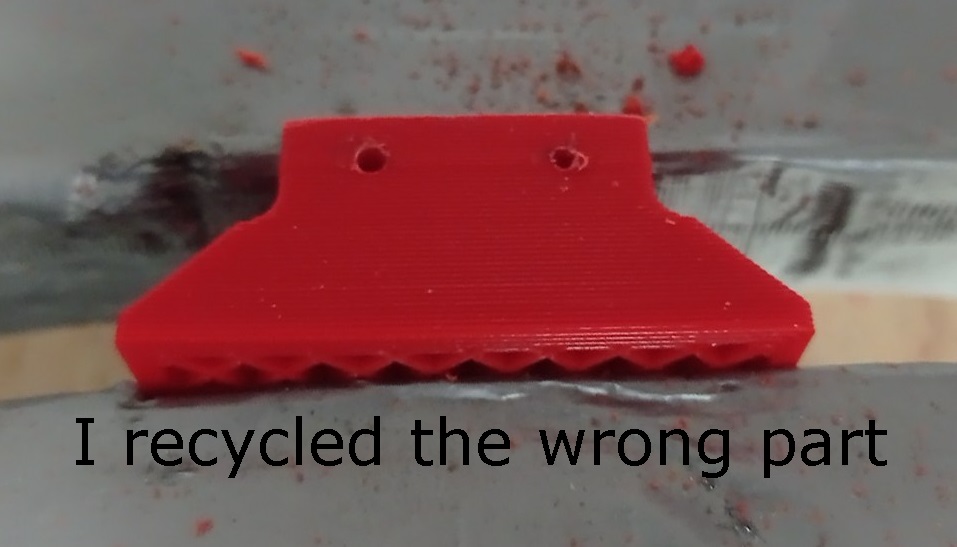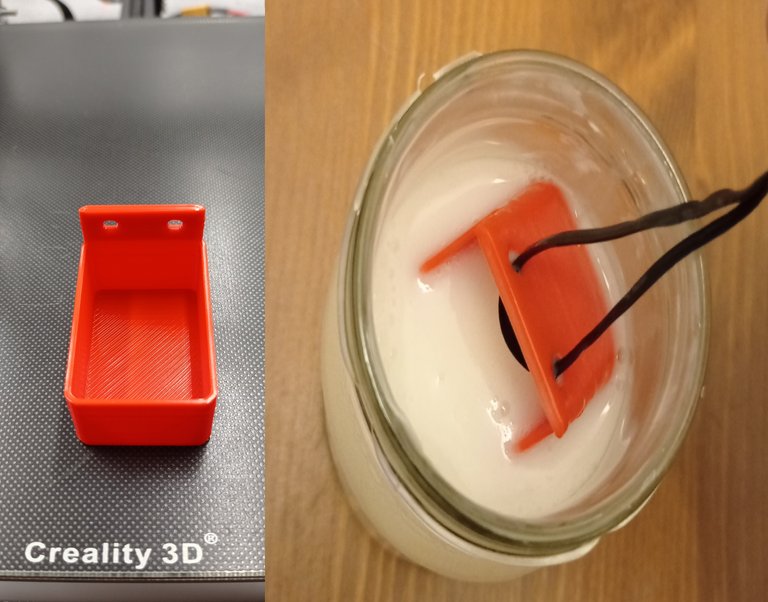 Nachdem ich es endlich geschafft habe mein Projekt fertig zu stellen, wollte ich es natürlich auch möglichst schnell nutzen.
Auf meiner Arbeit habe ich das Problem, das es keine Möglichkeit gibt, meine Werkzeuge zu schleifen.
Was ganz besonders bei den Bohrern ein großes Problem darstellt.
Meine Idee war eine Vorrichtung, mit der man einfach Bohrer nachschleifen kann.
Ich hatte dann auch gleich eine Idee, die ich konstruiert und gedruckt habe.
Leider ohne nach zu denken :-(
Denn die erste Version war verkehrt herum...
Nun ja, ich habe dann schnell alles auf die andere Seite geschoben und das Teil nochmal gedruckt.
Darauf hin hatte ich die Idee, den Schleifstein beim schleifen nass zu halten, da sich in dem Raum in dem ich arbeite Rauchmelder befinden, die auslösen könnten.
Ich habe dann noch einen kleinen Behälter entworfen, in dem der untere Teil des Steins immer durchs Wasser läuft.
Zur Halterung des ganzen habe ich das verkehrte Teil missbraucht.
Zusätzlich habe ich den Behälter noch einmal in Klarlack getaucht, um sicher zu gehen, das er auch dicht ist.
Auf der Arbeit habe ich dann alles montiert und den ersten Durchlauf gestartet.
Dabei bin ich auch nass geworden, da der Schleifstein einfach nur das Wasser aus dem Behälter im Raum verteilt...
Ich konnte das beheben, indem ich ein Stück Schwamm in den Behälter gelegt habe.
Mit den Ergebnissen bin ich sehr zufrieden und ich habe auch schon die nächste Idee.
Posted with STEMGeeks