I'm constantly looking for suitable tools for post-processing prints and recently I found step drills for € 4 while shopping in the discounter, so of course I had to buy.
Ich bin ständig auf der Suche nach geeigneten Werkzeugen zur Nachbearbeitung von Drucken und neulich habe ich beim einkaufen im Discounter Stufenbohrer für 4€ gefunden, da musste ich natürlich zuschlagen.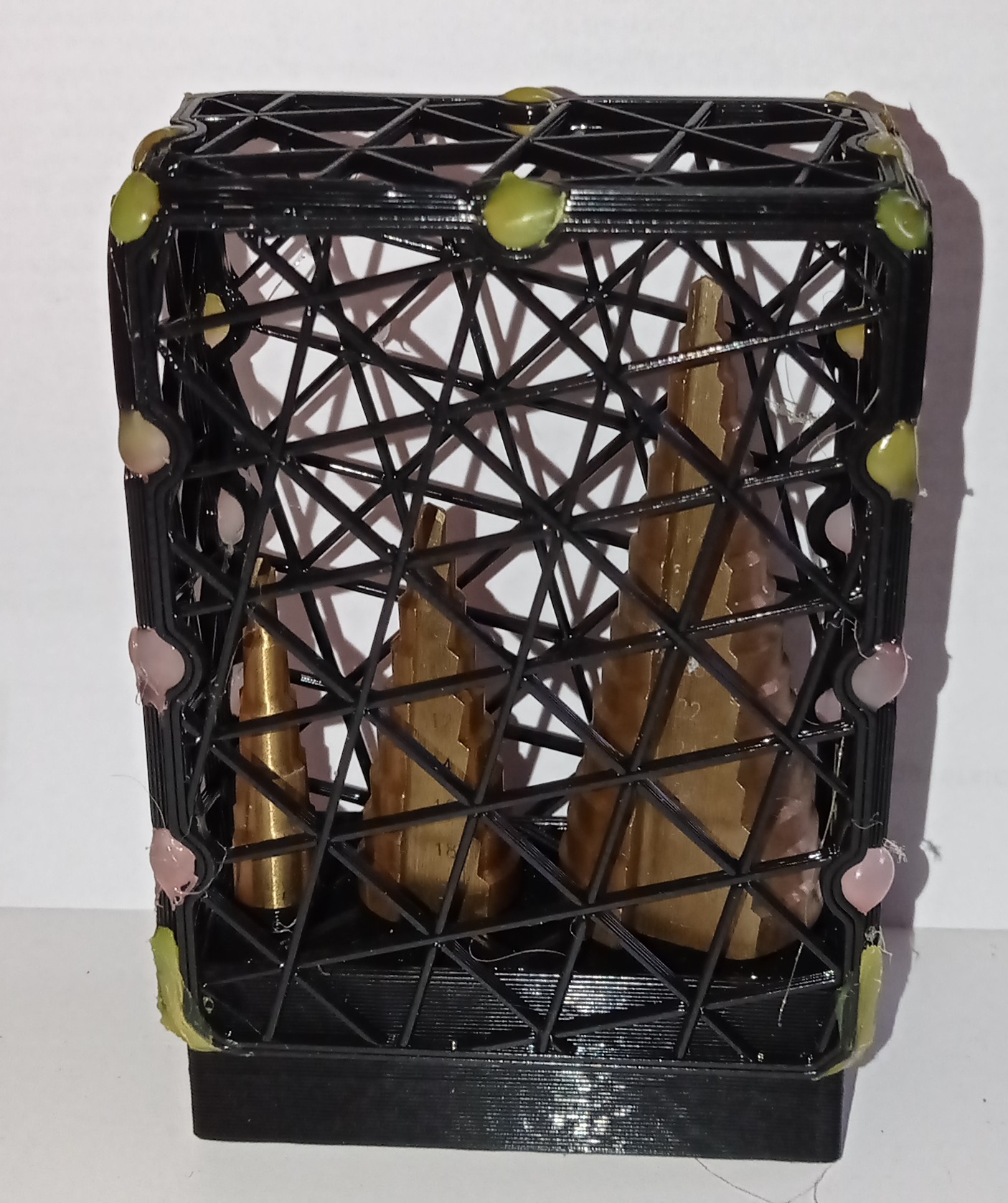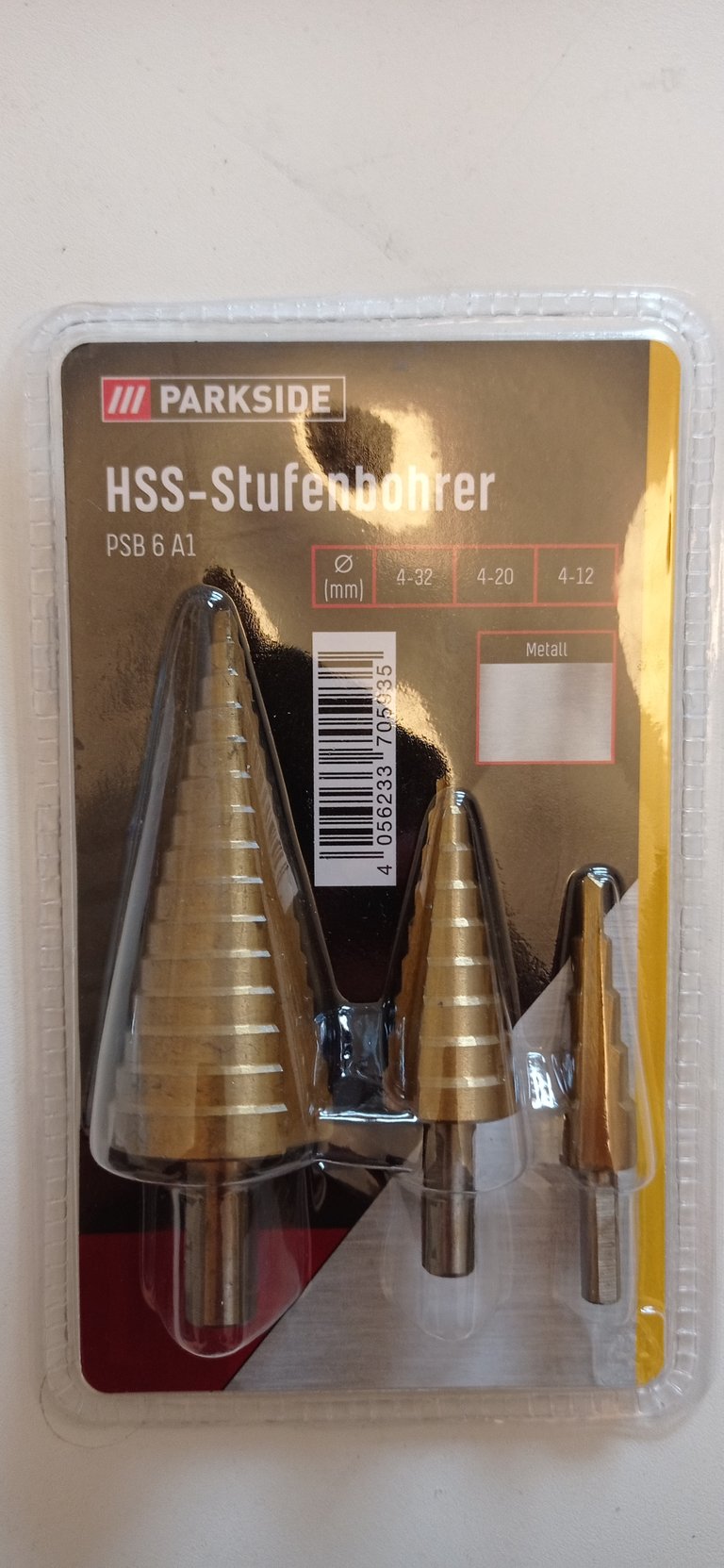 Step drills cover a wide range of diameters and are also very compact.
I hate it when tools are simply thrown into some box and then become blunt due to collisions with other tools.
So I figured I'd make a box for the drills.
I designed the base in which the drill bits are recorded as a simple block and printed it with an infill that I didn't know before, that it would later serve another purpose. The purpose of this infill is that half cubes form on the surface, one of which I have filled with fat, as fat helps in cutting processes in my opinion.
Stufenbohrer decken einen großen Bereich von Durchmessern ab und sind zudem sehr kompakt.
Ich hasse es, wenn Werkzeuge einfach in irgendeine Kiste geworfen werden und dort dann durch Kollisionen mit anderen Werkzeugen stumpf werden.
Also habe ich mir gedacht, ich fertige eine Box für die Bohrer an.
Den Sockeln in dem die Aufnahmen der Bohrer aufgenommen werden habe ich als simplen Block gestaltet und mit einem Infill gedruckt das ich bisher noch nicht kannte, das es später noch einen weiteren Zweck erfüllen sollte. Der Zweck bei diesem Infill ist nämlich, das sich an der Oberfläche halbe Würfel bilden, davon habe ich einen mit Fett gefüllt, da Fett meiner Meinung nach bei schneidenden Prozessen hilft.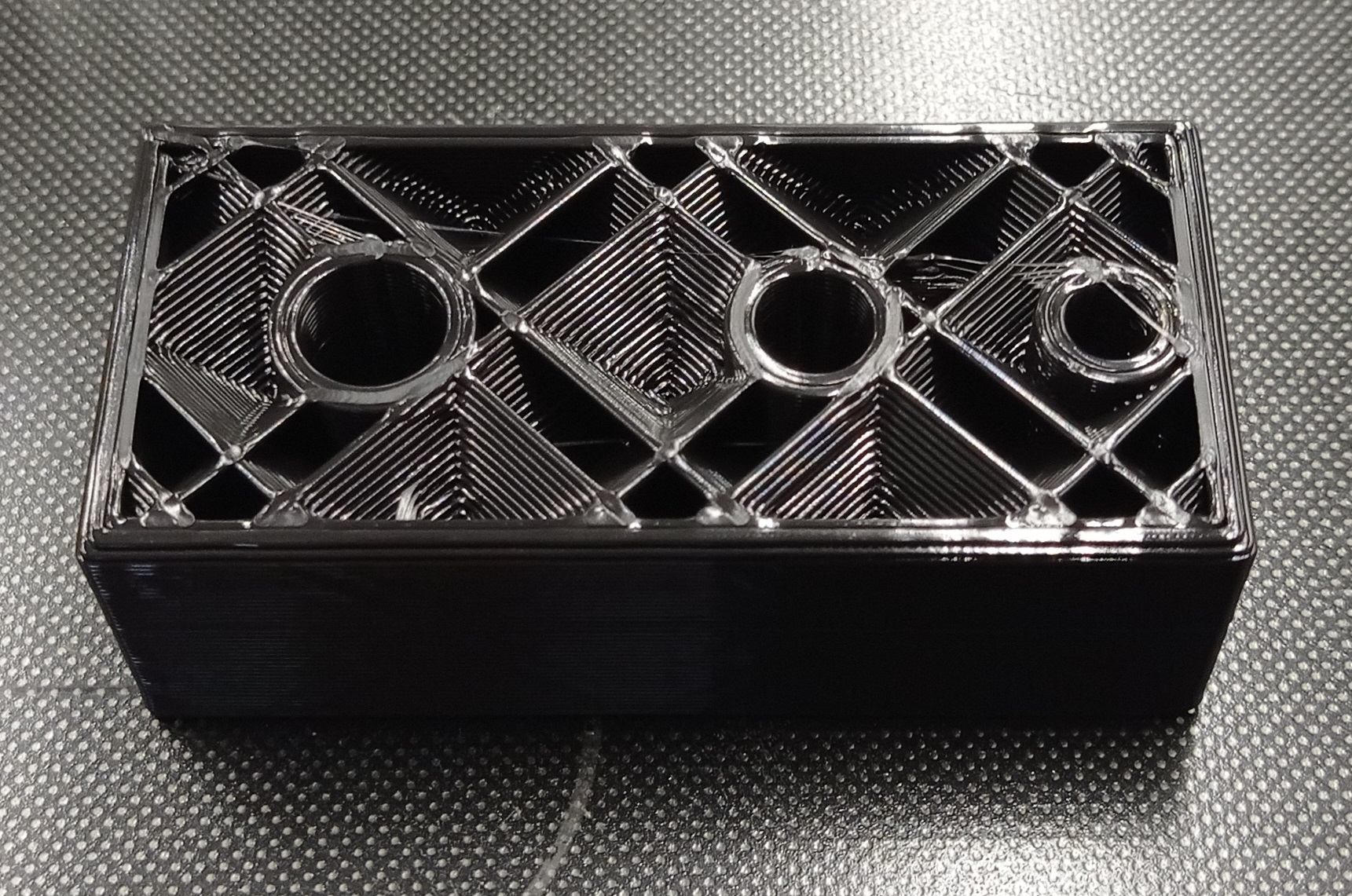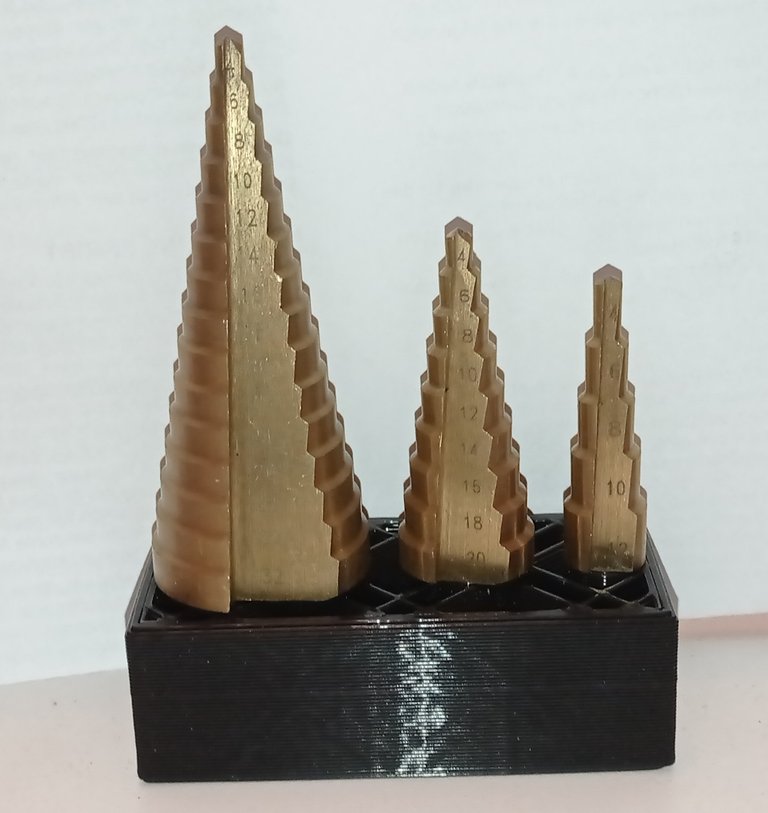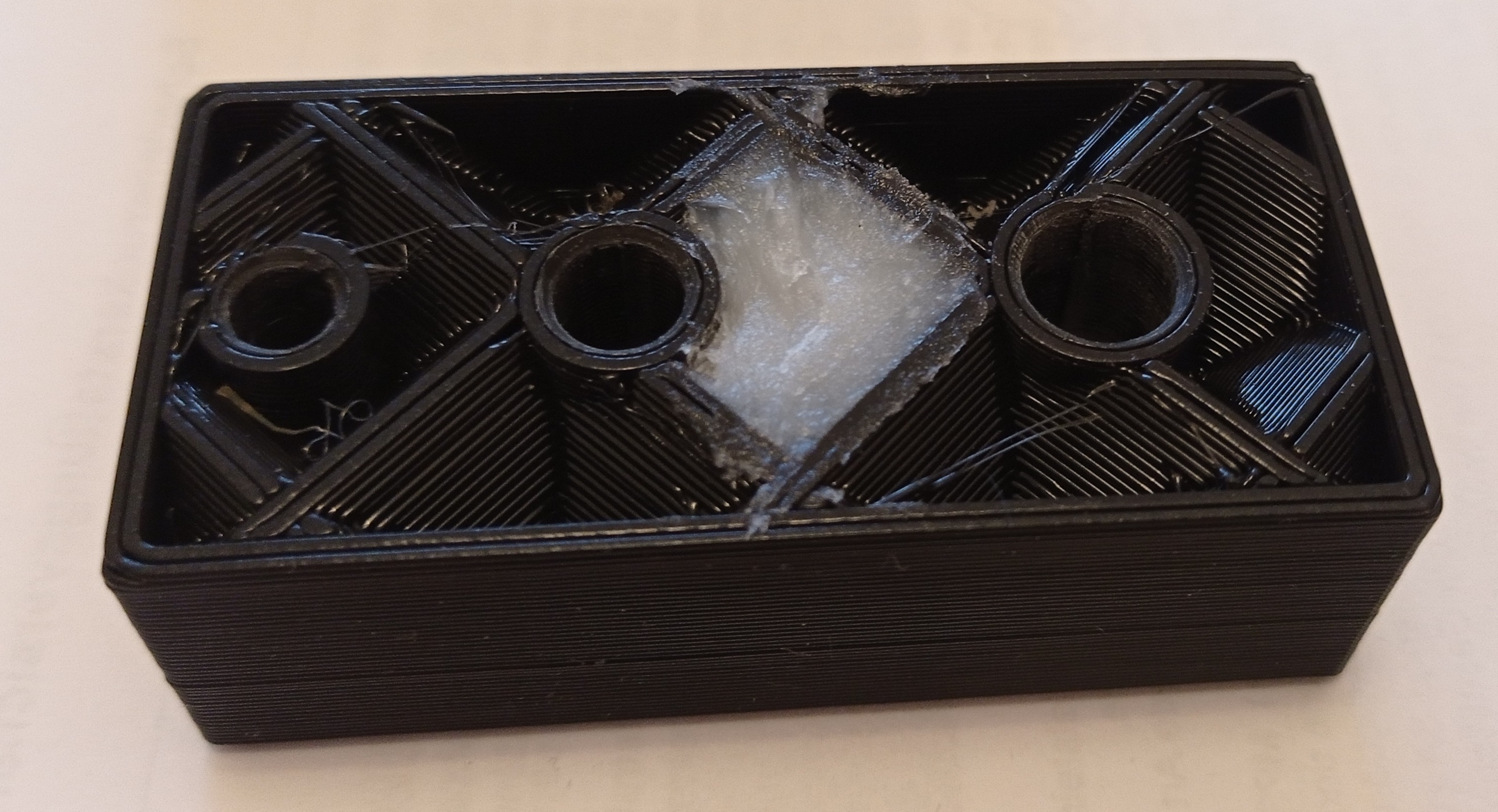 For the basket / cover, I thought about something new, there I just printed flat rectangles with 2 contours and only 15% infill. These have half holes on the edges for connection. These parts are of course extremely light and printed in a short time (everything in about 10 minutes) I then connected the panels with hot glue by practically simply filling the holes with the glue, which worked very well.
As I said, not all holes can be machined with the step drills, but many.
Für den Korb/Abdeckung habe ich mir dann auch etwas neues überlegt, dort habe ich einfach nur Flache Rechtecke gedruckt mit 2 Konturen und lediglich 15% Infill. Diese haben an den Rändern halbe Löcher zur Verbindung. Diese Teile sind natürlich extrem leicht und in kurzer zeit gedruckt (alles in ca. 10 Minuten) die Platten habe ich dann mittels Heißkleber verbunden, indem ich praktisch einfach die Löcher mit dem Kleber gefüllt habe, das hat sehr gut funktioniert.
Wie gesagt, mit den Stufenbohrern lassen sich nicht alle Löcher bearbeiten, aber viele.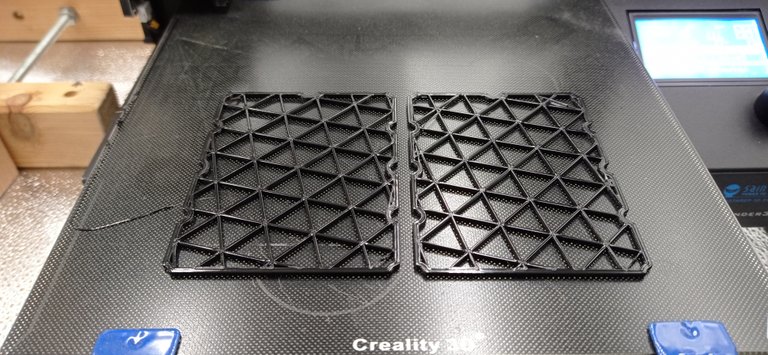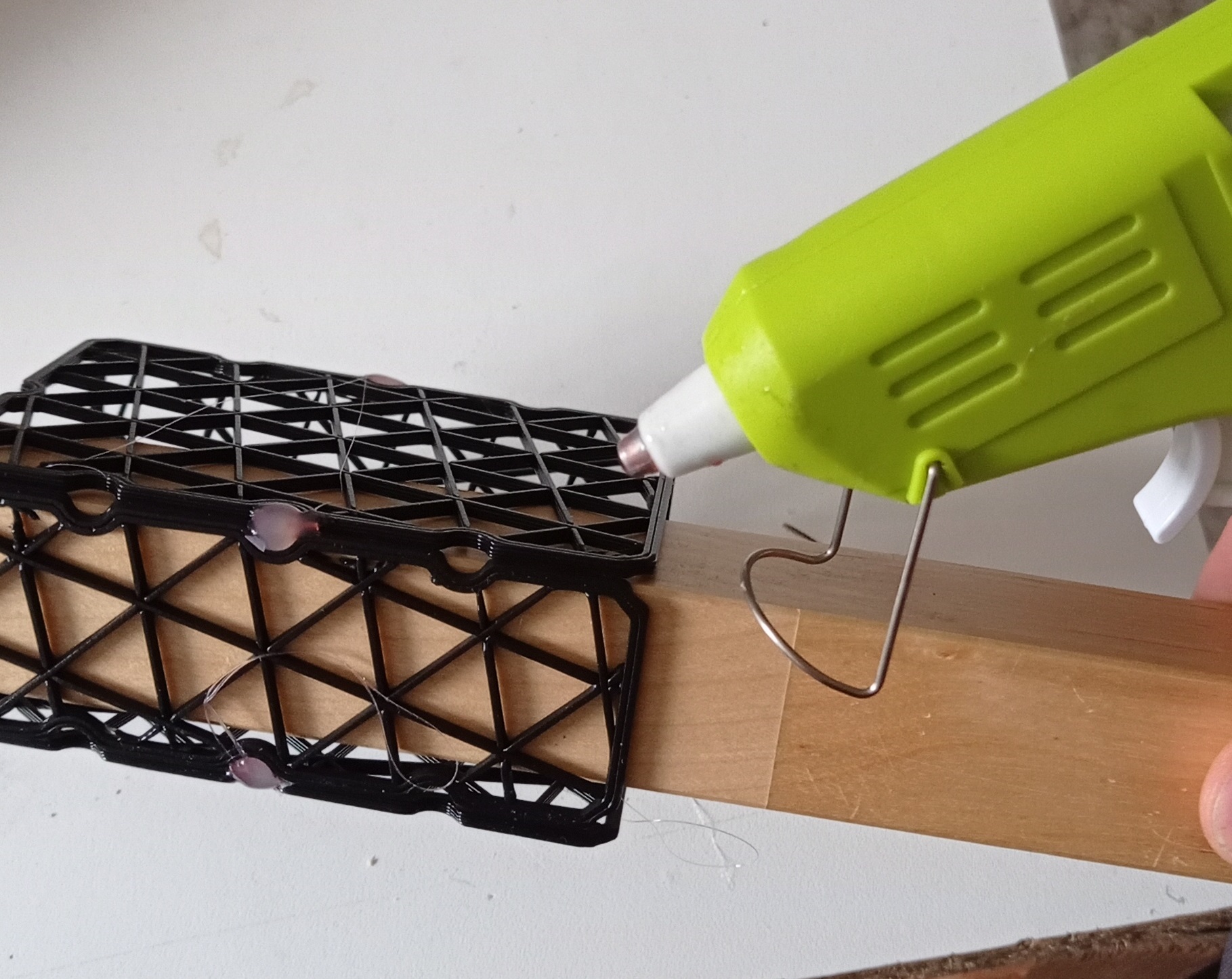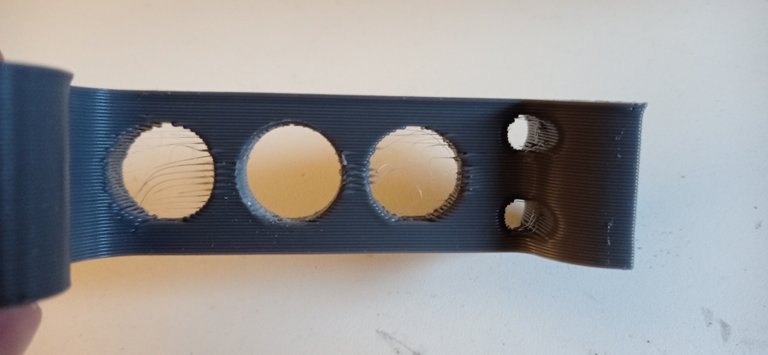 Posted with STEMGeeks