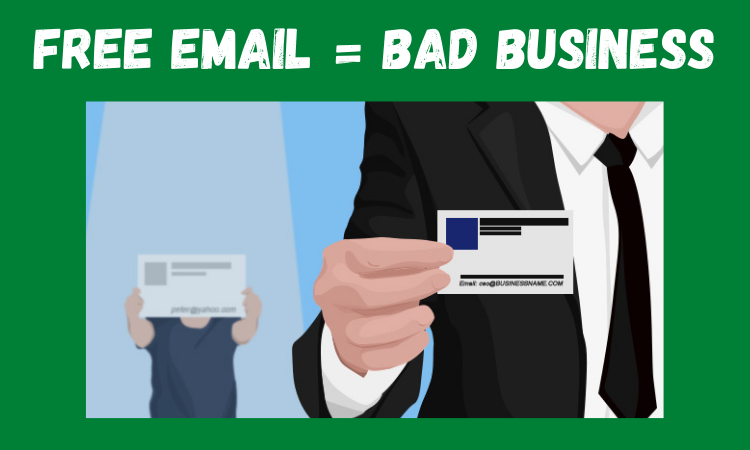 The message is clear: email still reigns supreme. Many clients and consumers prefer to interact primarily by email. As you may be aware, it provides an excellent ROI in a marketing approach. That is unless you use a free email service such as Hotmail, Gmail, or even an internet provider's. If this is the case, you are losing customers every day.
It Appears Unprofessional
Imagine if banks utilized free email accounts — you'd never trust them with your personal information, let alone your money. What distinguishes your company is how others view it. Without that professional touch, you'll come across as transient and fly-by-night. It undermines your credibility and communicates the idea that you're not serious about conducting business — or, worse, that you're willing to cut costs.
It Erases Your Experience
Newer, more inexperienced organizations sometimes begin with a free email account. The address plainly conveys that they are new and have limited experience. They may be testing the waters in a new approach. They're not even close to being proven yet, and they're in the hobby category. Continuing to utilize the free address once your firm advance into the professional realm means you'll struggle to gain traction, and whatever experience you've gained will be lost.
It's Forgettable or Inappropriate
Your company's success is dependent on being remembered enough to generate referral business and results from your advertising. Unfortunately, free email addresses are packed with difficult-to-remember garbage, such as [email protected] or [email protected]
Neither of them is easy on the tongue, acceptable for business, or memorable without the risk of mistakes and bounce back. However, branded email addresses, such as [email protected], make managing a lucrative, scalable firm much more effortless.
It's Not Permanent or Safe
You are at the mercy of the email provider when you utilize a free email account. For any reason, they may discontinue operations or terminate your account. In addition, these accounts are frequently hacked and exposed worldwide. When a better internet or email offer becomes available, you are still forced to utilize the old address because it is written on your business cards, vehicle lettering, and fliers.
Some will agree to keep the address available in exchange for a charge. Still, you will lose the power and flexibility you require to build your business. You control your domain name and quickly transfer it to a new business-grade email provider. You'll also have total control over the addresses in your domain, including the ability to change passwords and create/close accounts at your leisure.
Conclusion
Don't let people think your business stinks, or worse, is crooked. Go with a unique and memorable email. However, no matter what you decide based on this post for your email solution, ensure you have a good IT policy and IT processes to support it.

Joe "Rhino" Brochin is launching ITSM RHINO in the coming months, it is the pull-no-punches, casual-but-effective resource for renegade IT Pros who want to manage risk and add value through ITSM processes & IT Policy.
GET IN EARLY!
Note: All graphics within this post, including their images and elements, were sourced and generated from Canva.com, except when otherwise identified on the graphic.