Introduction
Well, since I liked doing a review so much last time, here I am bringing to you another amazing tech review! I have had 3 keyboards the whole time I've been into technology, and for the most part they broke because of something that I did or was doing. However, if you do not beat on them, they should last a very long time. Why not spend a little extra and fill that time with comfort and ease knowing everything you need is implemented on the keyboard.
In comes the Corsair K95 Platinum XT, boasting its' wide range of switch diversity, lightning fast response time and premium luxury finish. I bought my keyboard on sale sometime around December of 2020, I chose to equip the keyboard with Cherry MX Speed Silvers which costed me around $160 USD. However, one can purchase this with any switch configuration around the $200 USD range off-sale.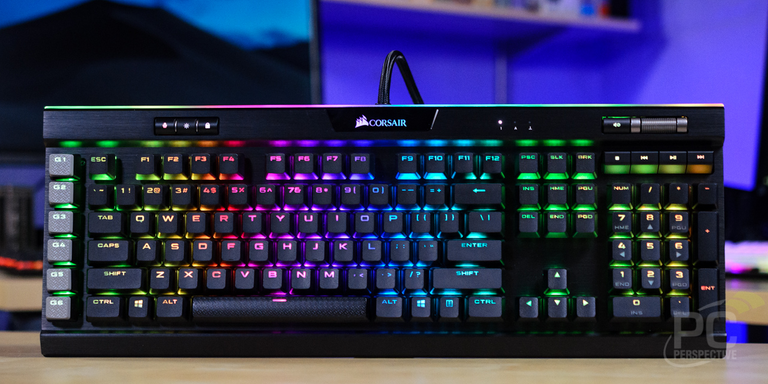 Source
---
First Impressions
Having came from the Corsair K55 prior, the K95 XT blew me out of the water with everything ranging from the box it shipped in to the micro-detail on the keyboard itself.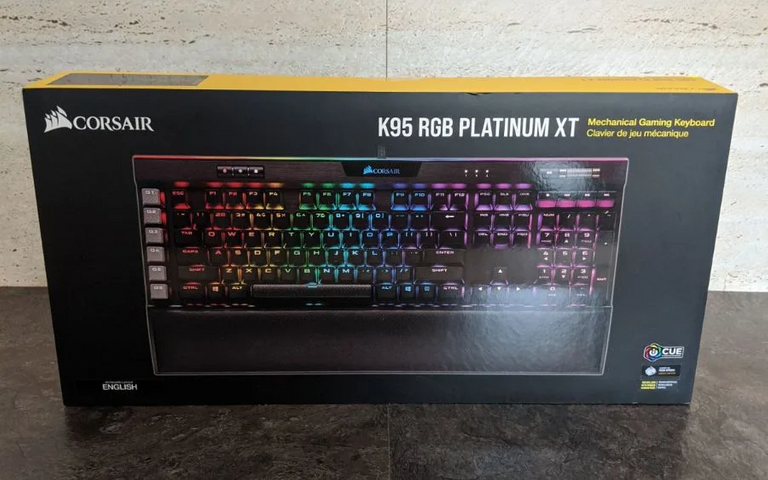 Beginning, the keyboard came in a quite sturdy and fancy box. This box describes what is included, some specifications and everything you need to get right into the gaming or productivity you bought it for.
---
Physical Appearance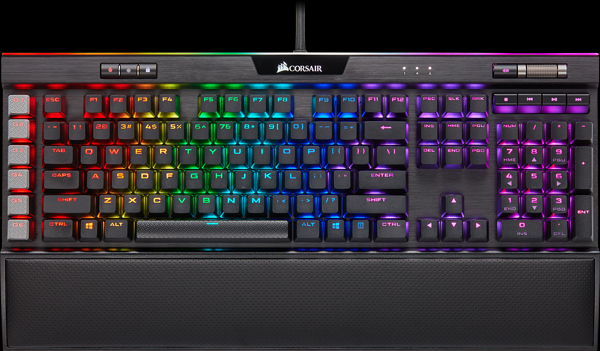 Source
Keys -
While unwrapping this from the packaging, everything feels premium and high-quality stuff. The Keys are Double shot PBT. PBT is as quoted from MechanicalKeyboards.com, "Unlike printing, this keycap type is produced when two layers of plastic are molded into each other. No printing necessary. The end result is a key legend which will never fade or chip off. ABS keys will develop a shine over time; but PBT and POM keys will retain their texture even after heavy use. Legends cannot be felt as the user types". Corsair also provides a set of media remap keys to replace the G1-6 for any streamers, but they are blue and kind of throw the whole aesthetic off in my opinion. Every key is individually backlit and Corsair has implemented some halo strips around and it adds quite a bit to the customizability.
Wrist Pad -
I am especially in love with the wrist pad that is included on the K95 as it is superior in feel and comfort while online for hours. In my durability and comfortability test - 6+ hours of use nonstop - my wrists did not feel and fatigue as if I only played for 10 minutes. The way to connect the pad to the keyboard is via two pegs that click in, which I would have hoped for magnets however it does the job. The rest does not move or articulate much as the pegs are positioned nicely compared to other similar models.
Multi-Media and Extras -
Referring to the above or below picture, on the top left lays three keys allowing for a wide range of macros, re-maps, etc. for any possible situation you may be in. The first on the left is an icon of a person, this will change colors and change your keyboard layout to the set profile that can be adjusted in the iCUE software. For example, this can be used for one profile being Adobe Photoshop to change brushes and shortcuts, while pressing that button will change the profile to a game with its own set of macros and re-maps to make gaming easier. The middle button is a sun icon, in which references to the brightness of the RGB on the keyboard. This setting has three modes in which include full brightness, half brightness and off. Lastly, the third button on the right is a lock icon to disable the windows key and alike. This is helpful for gamers that sometimes "fat-finger" their keyboard and tab out by hitting the windows button.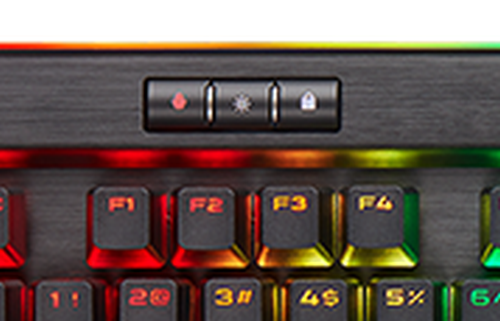 I know it's terrible quality, its the best I could do where I am at right now
---
On the right side, there are a couple more buttons but are entirely related to media. Beginning, immediately above the numpad going left to right are keys to stop, skip backwards, pause and play, and skip forward. Now above those four buttons are the mute and volume slider. I have to admit, the volume slider is amazing and I use it all the time just for the fun of it. Mute works as you'd expect, however when unmuting, the volume slowly rises back up to where it was, which is a cool addition in my books.
Finally, onto the extras now. This keyboard comes with a very durable USB power cable that connects to two ports, this is done because to the right of the cable on the back of the keyboard is a USB pass-through for a mouse or other things that plug in via USB.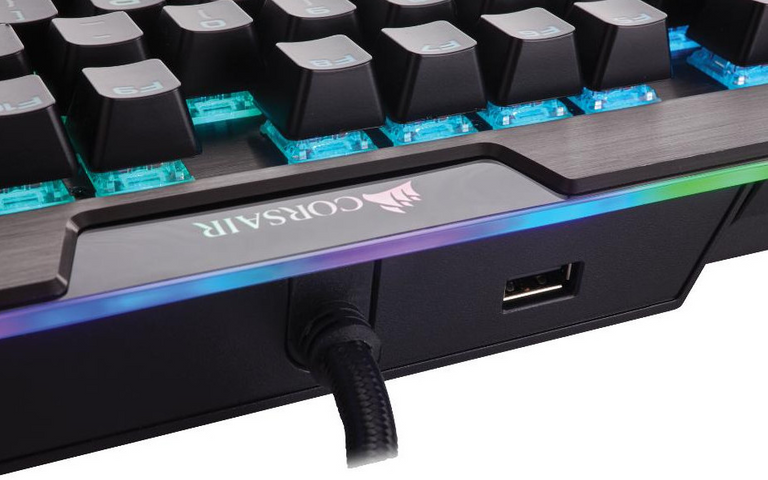 The picture does not show the true size of that cable!!
source
---
Software
This section may be biased as two of the last three keyboards I bought were by corsair, so the software comes easy to me. None the less, iCUE - CUE standing for Corsair Utility Engine - looks good and is quite diverse in what can be done in the software. The main screen isn't cluttered and looks somewhat professional.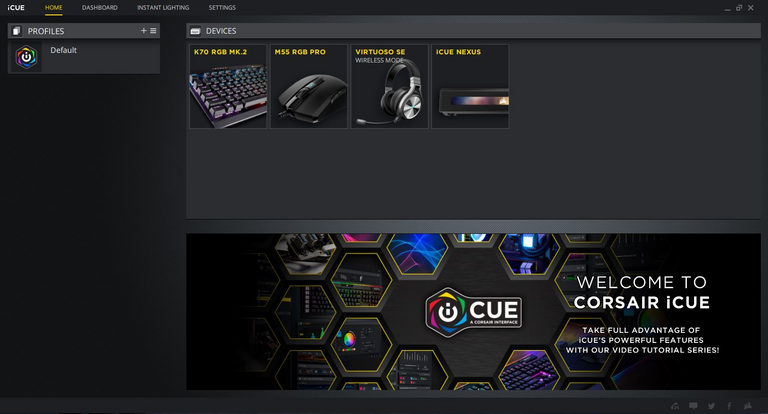 Source
All iCUE compatible equipment will show up in the devices column shown in the picture above. Profiles are on the left and the HUD will change when you click on a device, when clicked, you will see different tabs depending on what you are trying to customize. For example, a keyboard will show profiles, lighting, hardware actions, and actions. Did I mention this keyboard comes with a whole five on-board memory profiles? This means you can take the keyboard on the go and still use your favorite profiles without installing the iCUE software.
The Caveat
Here comes the difficulty, finding the firmware updater and implementing those hardware saves are quite time consuming and difficult. The updater is hidden separately under the settings of each device, but this is easy once you do it a couple times. I don't use this utility so I haven't put any effort into figuring it out, but to this day I could not figure out how to actually implement those hardware profiles the right way to automatically work right out of the box. The one time I did, I had to force close iCUE as it would switch to my software profile that isn't on the hardware.
---
Concluding Thoughts
Overall, the keyboard feels and works like a luxury item. The physical appearance is attractive and backs that up with a workhorse of utility and actions. The software definitely could do some improving and removal of some bugs.
The only question to ask now, Is it worth it?
Yes. Everything about the keyboard itself feels very well made and destined to last a very long time. Any keyboard these days will come with software that will confuse you at first, but don't let that stop you from getting this. In addition to the main-stream switches that could be replaced, even more customization can be made with different colored key caps making this a very future proof and versatile keyboard.
---
Product Rating:
Ease of Use: 8/10
Build Quality: 9/10
Software: 6/10

Posted with STEMGeeks