Hello all friend...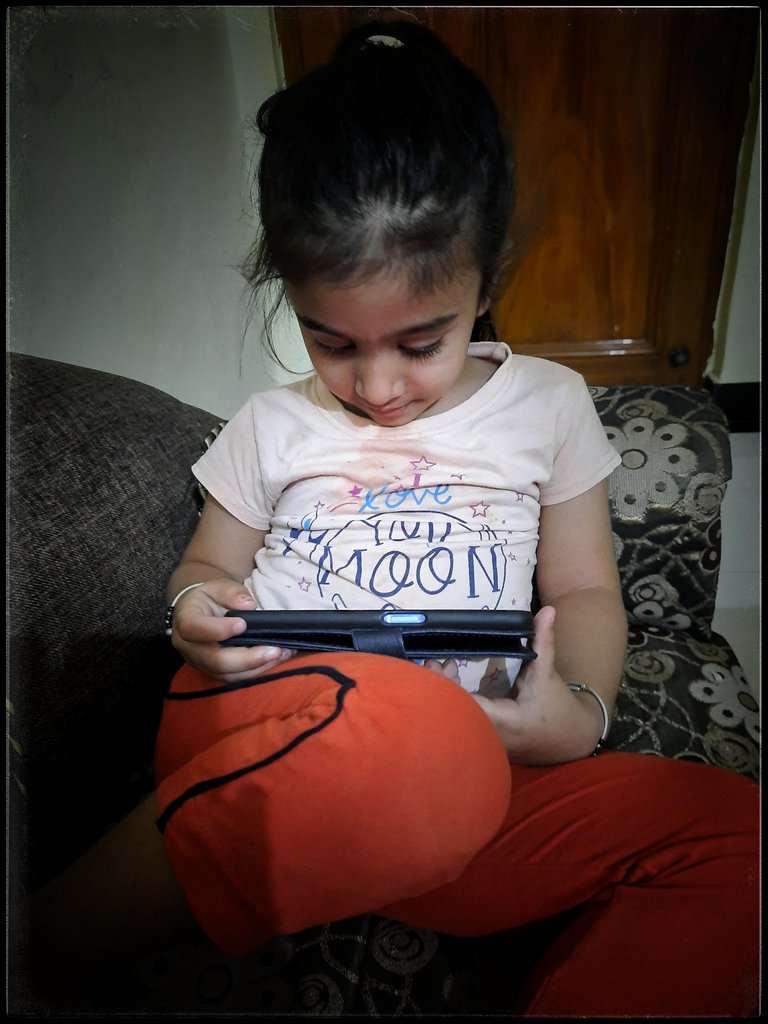 Gurseerat is just 4 year old and at this age she should be more physicals active, which is good for their mental as well as the physical health. The outdoor games are the best exercise for kids. And yes they enjoyed also. Outdoor games also help them to be more social as they meet other kids and learn many things from them. But unfortunately due to Covid19 pandemic we have restriction to go out and more then the restriction its fear of the virus that make us not to go out even for a walk.
---
Now days most of the time Gurseerat is at home only (other then her 2 hour activity class). Before the pandemic we never give a mobile mobile phone to her. Yes she loves to watch the Rhymes and Cartoon on TV which is not bad in my opinion. Before pandemic she only ask us to turn on TV so we play cartoon on rhymes as per her demand.
---
Problem starts when the Government impose the strict lockdown and we all were caged inside our homes (which was actually requirement of time also to reduce the spread of virus). Before the lockdown Gurseerat used to go to the garden in the evening to play and now during the lockdown it was not possible. At her age its not easy to make her sit inside the home for full day. In the evening she always ask us to go out for play. So during those days she start exploring he mobile. Before lockdown she may be spending half an hour a day on mobile or ma be even less then that, but during the lockdown the duration increased like anything. Now some time she watch the ykids for hours and when we ask her to give back the mobile she start crying or start running inside the home with mobile.
I remember me and my wife avoid using the mobile inform of her because she always ask us to give the phone to her when ever she saw mobile in our hands.
Now the situation is she do not eat her meal or drink milk without the mobile phone.
---
Its ok to get familiar with the technologies but at her age using a mobile more then 2 hours continuously is not good for her health. It effects her eye sight as well as her mental and physical health and that is always my concern when ever I say her with mobile phone.
---
So what we can do so to reduce her habit of watching videos on mobile phone? One was was to engage her with other activities but inside the home the scope is very less but still some DIY projects or the playing with her toys is one option.
Spending time at activity class is another effective way we find and it helps in her better growing also. She is leaning many things from activity class. Schools are closed and online classes are not effective for small kids.
But still she always try to find a opportunity to get her hands on mobile phone. I guess making her understand and fixing the time to watch the videos on mobile is also a one way but for a kid aged 3 years its not a easy task. She always say ok Papa and forget everything afterwards.
---
This account belongs to my kid. She is just 4 year old and as she does not know writing so my wife (@mk992039) and me (@guurry123) are managing the account for now. We will handover the account to her when the time comes.
---
Posted with STEMGeeks