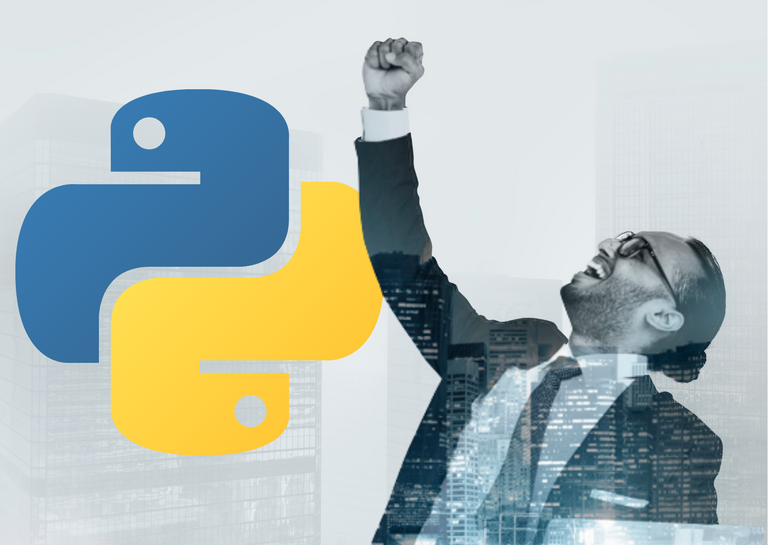 ​
"People who are willing to learn are best suited to lead".
Israel Ayivor
"Las personas que están dispuestas a aprender son las más adecuadas para liderar".
Israel Ayivor
---
Hello friends of #Hive and lovers of new technologies, for me it is a pleasure to be again placing innovation topics in this digital space. Today I want to share an infographic of my own elaboration, which recodes the 10 skills that most technology companies are looking for when they ask for people to develop in the Python programming language. If you are interested in developing as a programmer, you will like this post.
Hola amigos de #Hive y amantes de las nuevas tecnologías, para mí es un placer estar nuevamente colocando temas de innovación en este espacio digital. El día de hoy quiero compartir una infografía de elaboración propia, que recode las 10 habilidades que más buscan las empresas tecnológicas cuando solicitan personas para realizar desarrollos en el lenguaje de programación Python. Si te interesa desarrollarte como programador este post te gustará.


Imagine you, or your partner, or your child receiving an email one morning from one of the world's largest companies contacting you for a position ranging from $184,500 to $239,000 per year.
Imagine que usted, o su pareja, o su hijo reciba una mañana un email donde una de las grandes compañías del mundo lo contacta para ocupar un puesto de trabajo que oscila entre los 184.500 y 239.000 dólares al año.
---
If you are currently studying and feeling overwhelmed, don't worry, Python is one of the easiest programming languages to learn and with this post you will be able to better target the skills to succeed.
Si actualmente estás estudiando y te sientes agobiado, no te procupes, que Python es uno de los lenguajes de programación más fáciles de aprender y con este post podrás apuntar mejor a las habilidades para triunfar.
---


---
At a basic or intermediate point of learning programming, it should be clear beyond the lines of code, what are the skills sought by companies that offer better remuneration to software developers. There are many attitudes sought after.
En un punto básico o intermedio de aprendizaje de la programación, se debe tener claro más allá de las líneas de código, cuales son las habilidades que buscan las compañías que ofrecen mejor remuneración a los desarrolladores de software. Son muchas las actitudes buscadas.
---
In this modern and largely digital world, programmers must be trained in languages that contain the best integrated tools, that the development is intuitive, quick to learn and that is accepted by the globalized community of developers. By adding all these features, Python has emerged as a great alternative that has a great advantage over its competitors, for this reason we wanted to share the 10 skills that will distinguish any programmer from others.
En este mundo moderno y ampliamente envuelto por lo digital, los programadores deben capacitarse en lenguajes que contengan las mejores herramientas integradas, que el desarrollo sea intuitivo, rápido de aprender y que sea aceptada por la comunidad globalizada de desarrolladores. Al sumar todas estas características, Python ha surgido como una gran alternativa que lleva una gran ventaja ante sus competidores, por esta razón se ha querido compartir las 10 habilidades que distinguirán a cualquier programador de otros.
---
ENGLISH VERSION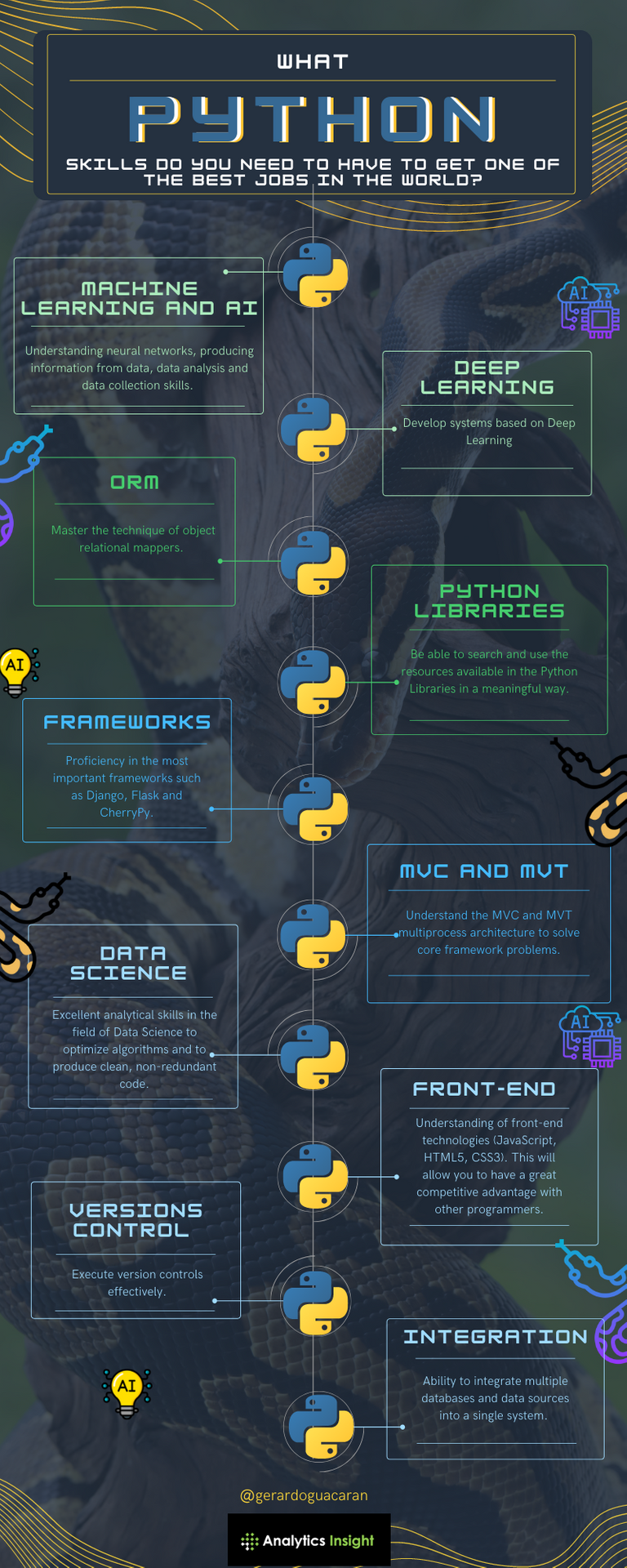 ---
VERSIÓN EN ESPAÑOL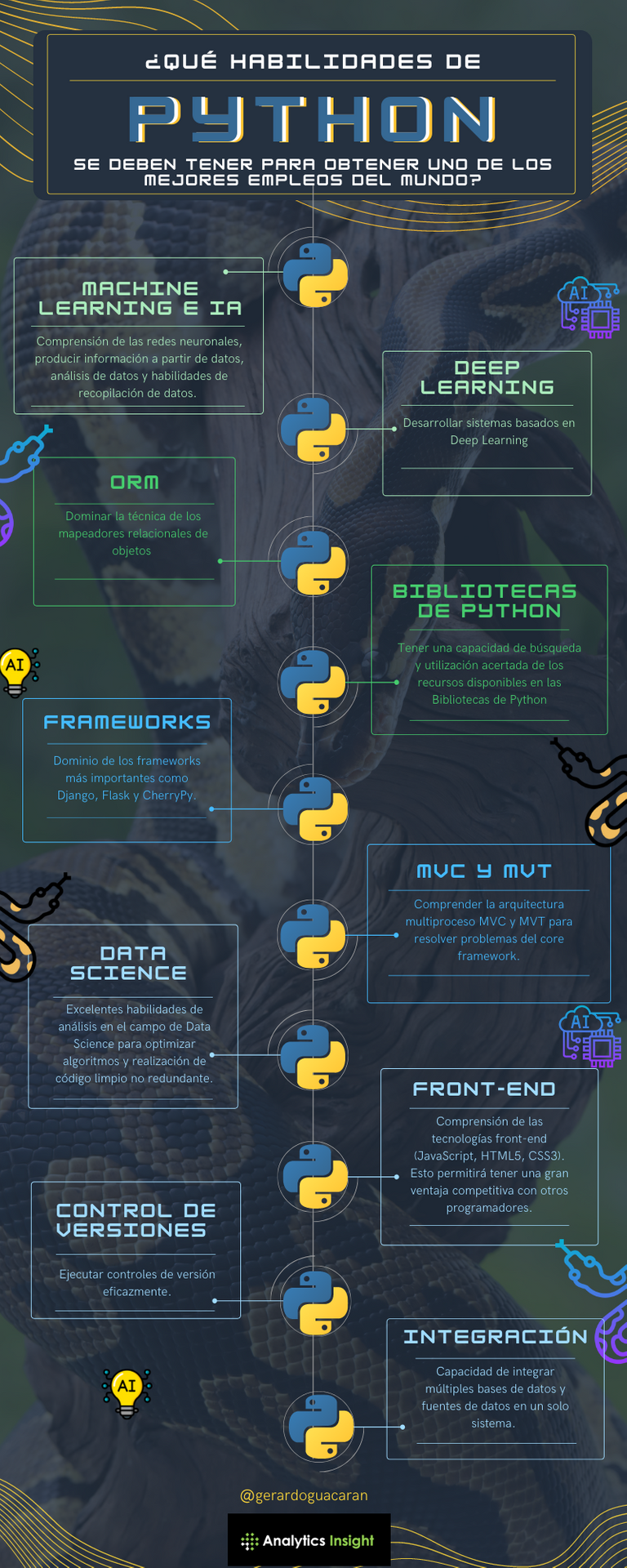 Goodbye my dear reader, I hope this article, written with much affection, will be to your liking.
Hasta luego mi apreciado lector, anhelo que el artículo realizado con mucho cariño, resulte de su agrado.
---
I would greatly appreciate your visit to @gerardoguacaran, follow me and value my work.


---
---
El banner también es de mi propiedad. Realizado con CANVA, la App BITMOJI y el código QR con el generador de TEC-IT.
---