The continued warming of the planet by greenhouse gases and its effect of bringing about erratic climate has made the world realize the importance of forests beyond just being biodiversity hotspots, sources of food, and industrial raw materials, among several other primary benefits that humans derive from forests.
In short, we have come to realize how important forests are in the maintenance of a climate in addition to the numerous other benefits, some of which I have stated above. However, for the benefit of those who do not know or who do not understand how forests help maintain climates, let me briefly explain.
This planet could have been stuck in the ice age, if not for greenhouse gases that form a blanket of air in the atmosphere and help absorb reflected solar radiation from the sun, thus preventing the radiation from returning into space. By doing so, the greenhouse gases help raise the atmosphere's temperature, leading to the planet's exit from the ice age. I mean, ice usually thaws with increased temperature.
However, there is a catch
The activities leading to the exit of the planet from the ice age are part of the normal ecosystem process without the influence of man. As the human population increases and technology advances, we started altering things and interfering with the natural flux of greenhouse gases. Specifically, we started releasing more greenhouse gases into the atmosphere, which leads to an increasing planet's temperature, and then erratic climate.
But that's not where I'm really going.
The chief among the greenhouse gases is carbon dioxide. What makes it significant is the rate at which its emission has multiplied and keeps on being multiplied over the years. According to the scientific community, if the world can have control over the carbon cycle, we are sure to have a good chance of mitigating climate change.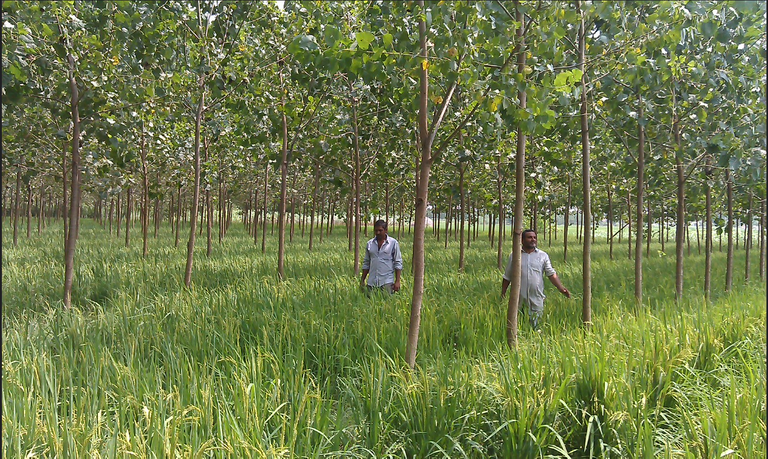 An agroforestry land consisting of grassland for animal grazing and trees. Source: World Agroforestry on flickr
The carbon cycle consists of two major parts:
Processes that add carbon, usually in the form of carbon dioxide, into the atmosphere. Naturally, these include the respiration and decomposition of biological organisms, volcanic activities, weathering of carbonated rocks, and natural forest fires. Anthropogenically, these include the burning of fossil fuels, slash-and-burn agriculture, and other man-made activities.
Processes that sequestrate carbon from the atmosphere. Naturally, these include photosynthesis and the storage of carbon as soil organic carbon.
Anthropologically, very little is being done to sequestrate carbon except in special circumstances. Thus, a significantly disproportionate amount of carbon is being emitted compared to the amount being sequestrated annually. This constitutes the fundamental problem of global warming and climate change.
Now that we know what the problem is, there are 3 possible solutions:
Limit emission
Increase sequestration
Limit emission and at the same time, increase sequestration.
When it comes to limiting emissions, we can only try to limit anthropological emissions and this is exactly what climate scientists and activists have been clamoring about all over the media and in real life. A good example is the recent blockage of access to a proposed coal mine in Germany by climate activists led by Greta Thunder. Coal is a fossil whose burning generates energy as well as the emission of carbon dioxide.
When it comes to sequestration, trying to artificially sequestrate carbon is capital-intensive and remains an active research area in the scientific community. The major focus is presently on natural sequestration - how the process can be optimized for the benefit of the planet. In other words, the forests have been the ones helping us to regulate our climate so far.
Thus scientists have been investigating how carbon sequestration varies with land usage. So far, the forests have received the largest share of attention which has led to a worldwide campaign against deforestation, and a campaign for reforestation and afforestation in its place. However, if we are to leave all forests alone and create forests where there are none before in order to optimize carbon sequestration, this will largely clash with our interest in agriculture as means of creating food sustainability.
Primarily, agriculture requires that forests are cleared and the lands cultivated. According to various research findings, agricultural lands are less efficient in sequestrating carbon than forested lands.
What Agroforestry does
With agroforestry, we are killing two birds with a single stone - farming and creating forests at the same time. By doing this, our interest in agriculture and the world's food sustainability, as well as the optimization of carbon sequestration could be protected.
In actual fact, the potential of agroforestry to offer more benefits to mankind in terms of food and material needs is more considering that trees are deliberately planted which comes with immense benefits. In the same vein, research is ongoing to see how effective these agroforests are in sequestrating carbon as compared to forested lands. There are no enough data to make any conclusion yet, but all evidences are pointing to the fact that agroforests may offer us much more than ordinary forests even in terms of carbon sequestration.
What do you think?
Posted with STEMGeeks