What is wrong with this picture?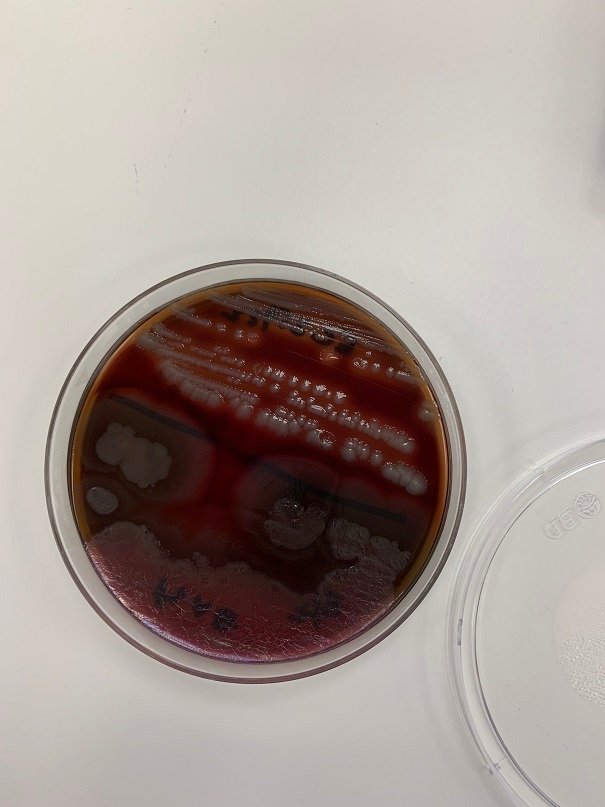 On this 5% sheep blood agar plate (SBA), you see two organisms. One is P. aeruginosa (bottom) and the other is E. coli (top). I don't remember the exact ATCC strain numbers, but these are QC organisms.
         Usually, it's a bad idea to put organisms that spread throughout the plate with another on an agar. In this case, it's the P. aeruginosa. Another bacteria with similar trait is Proteus species.
         Fortunately, we sub the germs you see above into new agar plates daily. So, in the grand scheme of things, this setup didn't matter. We throw these guys away at the start of a new work day.
         When it comes to patient samples, I would avoid putting multiple organisms on the same plate. Spready bacteria tend to take over the plate and engulf others in their path. This is not a good idea when you are trying to set up purity plates for your susceptibility testing.
         Spready organisms also tend to make isolation somewhat challenging. But, you can mitigate the spread through using selective media like MacConkey (MAC) agar or Phenylethyl alcohol agar (PEA). MAC limits the spready nature of gram negative bacteria. PEA inhibits gram negative growth and helps you isolating the gram positive ones.
         What does this all mean? Oh, not much. It's a tidbit about the thoughts that goes through my mind working in a microbiology lab.
Posted with STEMGeeks