I finally managed to finish up all the credits needed to renew my certification. To work as a registered medical laboratory scientist (MLS), you need to do that every three years. What is the perk of staying registered? Well, the pay grade and employment opportunity are different.

         It's also super easy to send in my renewal application online through the ASCP website. I did all my continual education material through them. So, the process should be smooth since I am not importing anything from outside sources.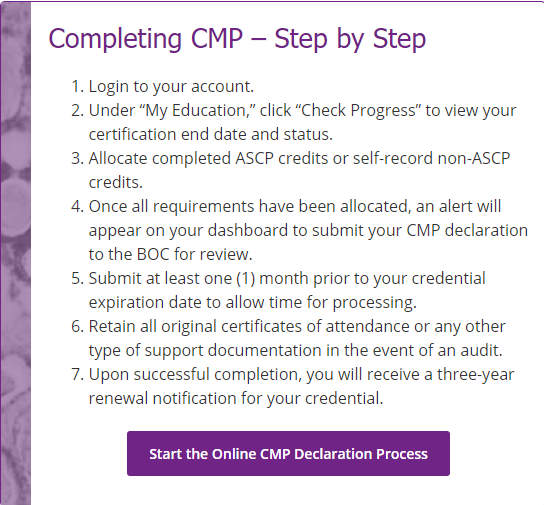 Of course, there's a $95 processing fee for my application. It's a good thing I only have to do this every three years. I paid $70 to access most educational material for one year. It does annoy me that I would even have to shell out $165 every couple of years to maintain my credentials. But, that's the game.
         Even though my license lasts until the end of the year, it's better to get things rolling ahead of time. It would appear that it takes 30 days to even process the application. So, if you procrastinate too hard, you may not make the deadline.
What happens if you don't renew your certification?
         Well, you become a unregistered tech. There could be pay reduction (or less raise). If you ever choose to become registered again, you would have to take the board exam again. It costs $240 to even sign up for the exam. Not to mention that you'd need study materials and time.
         This isn't the first time I have renewed my credentials. Should I change my career down the road, I can still choose to keep them if I go through the process. In fact, many medical professionals who go beyond MLS have chosen to maintain that suffix.