Part of working in the lab is renewing my certification every three years. To do this, I have to complete 36 continual education credits (CEs). While my work provides free CEs, it's not always practical. The downside has always been that I could not access those resources from home.
         Even with the current lowered work volume, I seldom find enough free time to complete CEs. After all, each credit is roughly equal to an hour time spent. Besides of the fact that my employer may not want to pay 36 hours of overtime, there is also logistics.
         Governing bodies would have to approve the CEs in order for them to count. Well, they are the ones who issued my certification in the first place, so it's not too strange to live by their rules. For convenience, I pay the membership fees every three years to gain access to the library. In this case, I subscribe to the American Society for Clinical Pathology (ASCP).
         What are the perks? I could access the library of content at my leisure. Since the CEs are from their website, it skips verification of credits from other sources. For a MLS (ASCP), which is my title, I am to complete them every three years.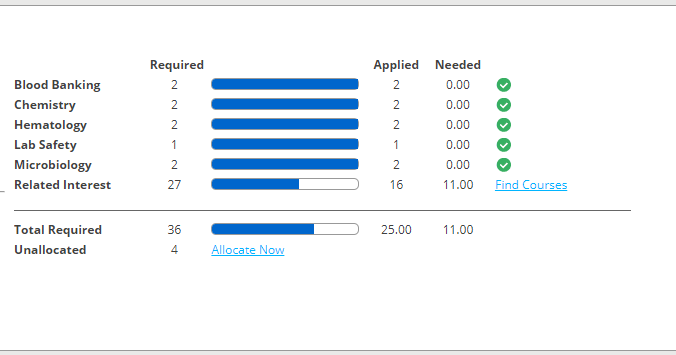 Of the 36 credits, 9 of them need to be part of the categories listed. So yes, even if my focus is microbiology, I'm supposed to keep up with other specialties as well. After that, I could do whatever I want within the rules.
         I'm a little behind right now as my certification expires at the end of the year. I have to get things filed some time in October latest. Although, getting them done some time in August is plausible given the material I have queued up in my to-do list.

         To give you a glimpse of some of the stuff I have read up and participate in the past, here's a brief list.


         There are more things one could do to count towards their CEs. As you can see from the list, live meetings and conferences are part of the deal. So, I'm not confined to reading case studies or peer reviewed papers. It's too bad that covid shut down travels this year.
         One of the benefits of doing the CEs is that I get to read about the advances and discussions in the field of pathology. Sometimes, they reinforce what I knew and practice. Sometimes, they are new emerging technologies or methods. Overall, it's good to see the bigger picture. There are occasions my coworkers and I are stuck in the repetitiveness of our routines.
         Once the renewal is underway, the same thing happens again in three years. The cool part about this is that ASCP also grants other credentials. For example, if I were to become a pathologist assistant, or PathA, I could do it through ASCP as well. My title would then be PA (ASCP). I also get to keep my MLS title as long as I keep up with the CE maintenance.
         What are the benefits of doing that? For vanity, I guess. You know, long titles for comedic effects? A practical usage would be more job options should I become laid off or otherwise lose my position.
         Point being, the learning and relearning doesn't stop. Definitely not after you've become the professional.