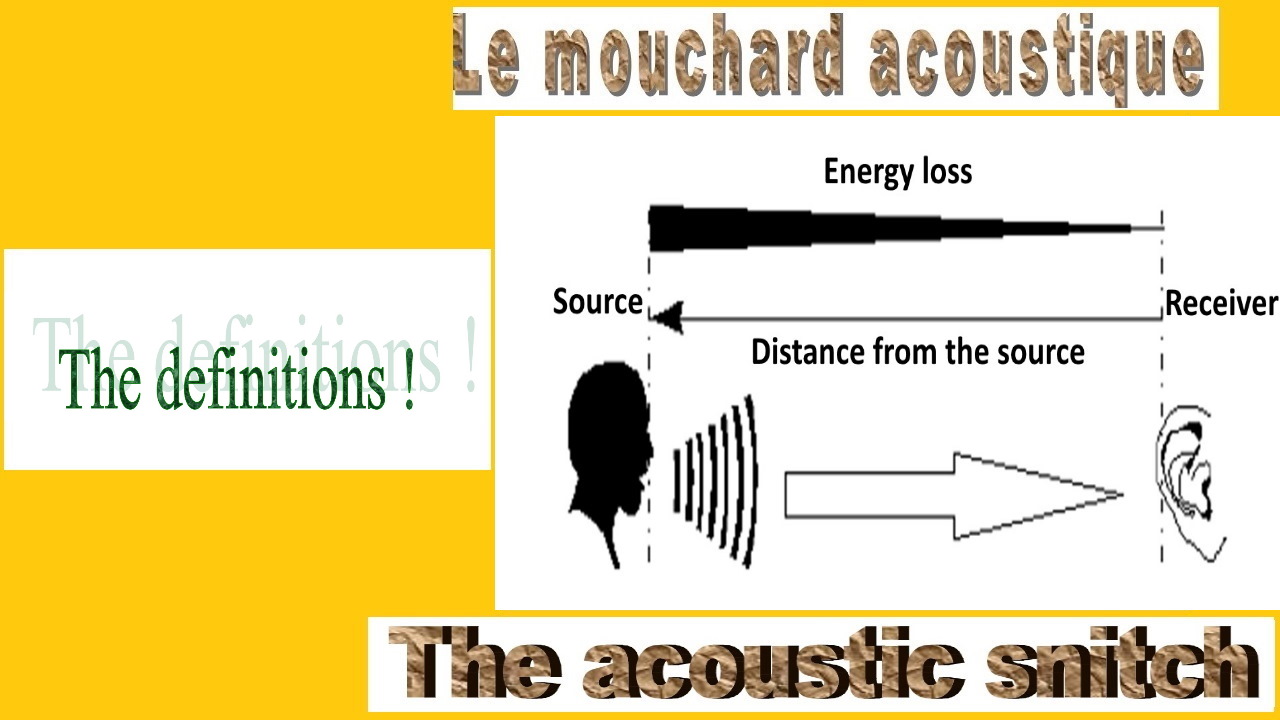 In my previous posts, I shared My first thesis ever and The history of the acoustic snitch !.
In this post, I would like to share some definitions related to my thesis !
I'll translate it from French to English !

The definitions :
The sound in general:
---
The sound is a wave produced by the mechanical vibration of a fluid or solid medium and propagated by the elasticity of the surrounding environment in the form of longitudinal waves. By physiological extension, sound designates the auditory sensation to which this vibration is likely to give rise. The science that studies sound is called acoustics. Psychoacoustics combines acoustics with physiology and psychology to determine how sounds are perceived and interpreted by the brain.
Les définitions :
Le son en général :
Le son est une onde produite par la vibration mécanique d'un support fluide ou solide et propagée grâce à l'élasticité du milieu environnant sous forme d'ondes longitudinales. Par extension physiologique, le son désigne la sensation auditive à laquelle cette vibration est susceptible de donner naissance. La science qui étudie les sons s'appelle l'acoustique. La psychoacoustique combine l'acoustique avec la physiologie et la psychologie pour déterminer la manière dont les sons sont perçus et interprétés par le cerveau.
The Sound and the IT:
---
Since the discovery of digital sound synthesis, and with the advent of personal computers equipped with sound cards as standard, it has become within everyone's reach to record and process sound. Numerous professionals are turning to increasingly cheaper digital solutions which, with the increase in computer capacity, offer a host of possibilities. High-end audio cards have many analog and digital inputs and outputs to connect synthesizers and mixers. Computer music has thus developed at the same rate as the computing capacities of computers.
Le son et l'informatique :
Depuis la découverte de la synthèse numérique des sons, et avec l'arrivée d'ordinateurs personnels équipés en standard d'une carte son, il est devenu à la portée de tous d'enregistrer et de traiter les sons. De nombreux professionnels se tournent vers des solutions numériques, de moins en moins onéreuses, qui offrent, avec la progression de la capacité des ordinateurs, une foule de possibilités. Les cartes son haut de gamme possèdent de nombreuses entrées et sorties analogiques et numériques pour relier synthétiseurs et tables de mixage. L'informatique musicale s'est ainsi développée au même rythme que les capacités de calcul des ordinateurs.
Physical definition:
---
Sound is a hearing sensation caused by an acoustic wave. From a physical point of view, it is a vibration propagating in a material environment, from a physiological point of view, it is a signal perceived by the sense of hearing. Sound, then, is what the ear perceives from the vibration of a body. Usually it travels in the form of a wave in the air to our ears, but it is also transmitted in liquids and in solid bodies. This shaking of matter is characterized by a variation in pressure which propagates gradually. The greater the sound pressure, the greater the sound volume.
Le son est une sensation auditive provoquée par une onde acoustique. D'un point de vue physique, c'est une vibration se propageant dans un milieu matériel, d'un point de vue physiologique, c'est un signal perçu par le sens de l'ouïe. Le son, c'est donc ce que l'oreille perçoit de la vibration d'un corps. Généralement il se propage sous la forme d'une onde dans l'air jusqu'à notre oreille, mais il se transmet aussi dans les liquides et dans les corps solides. Cet ébranlement de la matière se caractérise par une variation de pression se propageant de proche en proche. Plus la pression acoustique est grande, plus le volume sonore est important.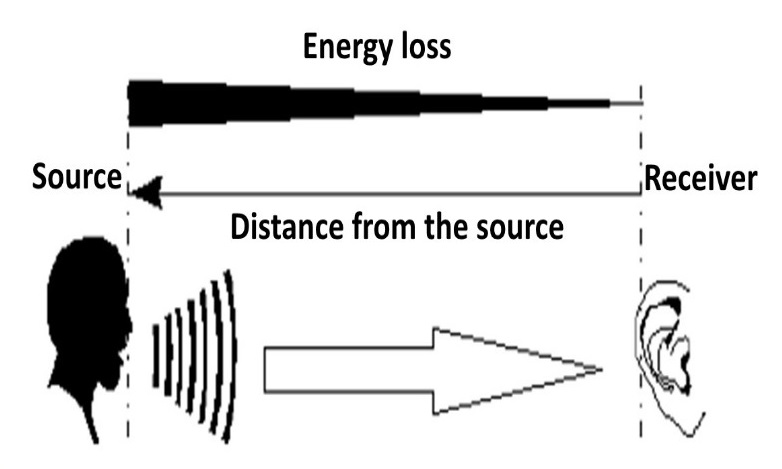 Fig. 02: Sound Definition diagram.
The noise :
---
Noise is a generic term making it possible to define random and unwanted modifications of a quantity, for example; interference on a voltage measurement. Noise is considered a nuisance.
Le bruit :
Le bruit est un terme générique permettant de définir des modifications aléatoires et non voulues d'une grandeur, par exemple; les parasites sur une mesure de tension. Le bruit est considéré comme une nuisance.
Electricity / electronics :
---
In these fields, noise defines random and unwanted signals, such as interference, superimposed on useful signals. The concept of signal-to-noise ratio is often used.
Électricité / électronique :
Dans ces domaines, le bruit définit les signaux aléatoires et non désirés, comme les parasites, se superposant aux signaux utiles. On utilise souvent le concept de rapport signal bruit.
Acoustic noise :
---
We speak in particular of acoustic noise for minor changes in local atmospheric pressure at frequencies between 20 Hz and 20 kHz.
Bruit acoustique :
On parle en particulier de bruit acoustique pour les modifications mineures de la pression atmosphérique locale à des fréquences comprises entre 20 Hz et 20 kHz.
The science of Acoustics :
---
Acoustics refers to the study of sounds. As such, the fields of investigation it offers group together several areas :
The propagation of sound waves, room acoustics, hearing physiology, environmental acoustics, audio signal processing, the sciences of spoken communication, etc.
On the contrary that includes several ramifications:
The study of the interpretation of sounds by the human brain is the basis of psychoacoustics.
The production and perception of musical sounds are the basis of musical acoustics.
Musical acoustics make it possible to understand the phenomena of the diffusion of music, the peculiarities of instrumental invoices, and finally, recently, the cognition and reception of music.
The computer and particularly the sound synthesis, have provided particularly powerful tools to develop the means of study.
L'acoustique désigne l'étude des sons. En tant que telle, les champs d'investigation qu'elle propose regroupent plusieurs domaines :
La propagation des ondes sonores, l'acoustique des salles, la physiologie de l'audition, l'acoustique environnementale, le traitement du signal audio, les sciences de la communication parlée ... etc.
Au contraire que comprend plusieurs ramifications :
L'étude de l'interprétation des sons par le cerveau humain fonde la psycho acoustique.
La production et la perception de sons musicaux fondent l'acoustique musicale.
L'acoustique musicale permet de comprendre les phénomènes de diffusion de la musique, les particularités des factures instrumentales, et enfin, depuis peu, la cognition et la réception de la musique.
L'ordinateur et particulièrement la synthèse sonore, ont fourni des outils particulièrement puissants pour faire évoluer les moyens d'études.
---
Posted with STEMGeeks