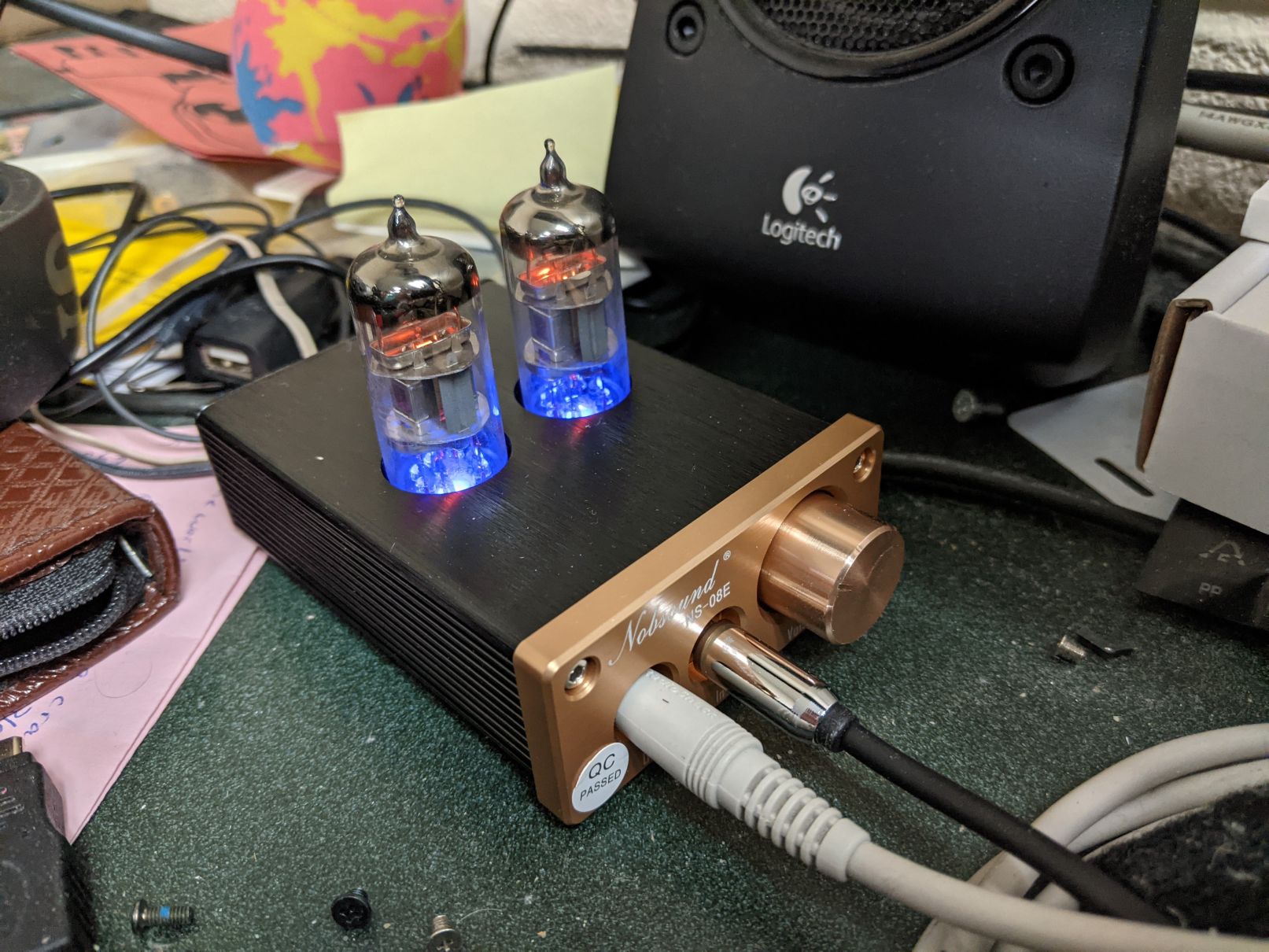 ---
First things first, you will need to forgive the messiness that is my desk. I know I need to take some time to clean, but I can just never seem to find it.
For quite some time now I have been thinking about picking up an amp for my headphones. I have a really nice set of Sony MDR-7505 Professional series headphones. They have some amazing sound, but since they are studio headphones, I have always felt like I was never getting the full effect from them.
I decided to start digging in to this idea of headphone amps. I had seen them advertised via several outlets and I thought it might be cool to integrate one into my setup.
I first had to do a bit of research since there are straight headphone amps and then there are headphone amps that also have a DAC (Digital to Analog Converter) integrated. Unfortunately, most of those amps with the DAC were well out of my price range.
If you want to read a little more about DAC's and why they are important, you should check out this site. I am fairly certain that the sound card in my computer probably has a DAC built in, but as with many things, having a dedicated device is always probably the better option.
Anyway, since I was buying this for work, I needed to be very mindful of the price. It wouldn't look good at all if I was spending hundreds of dollars just for a device to sit on my desk and make my headphones sound better!
I jumped over to Amazon and started scrolling through all of the options. Based on the price ($50 USD) and the reviews, I ended up selecting the Nobsound NS-08E. One of the main reasons I picked this amp is because it has vacuum tubes. If you know home audio, you know that tubes have been all the rage over the past decade or so. Just like records, isn't it funny how the old technology goes full circle and becomes hip again?
I knew I wasn't going to be getting anything earth shattering for my price point, but I have to say I am really impressed by this little device. For the $50 price point, it sounds great and it looks really cool too! Some of the reviews mentioned that the tubes this ships with are not the highest quality and upgrading them can give you a better sound.
I doubt I will be doing that. I would probably just purchase a different unit rather than buying new tubes.
The amp gives my music more volume and the tubes make everything feel quite a bit warmer than running straight from my computer to the headphones. I am really happy with the device so far. It isn't really often that I use the headphones in my office, but when I need to, I want them to sound good.
If you are looking for a visually appealing headphone amp at a really great price, I highly recommend this device.
---
---

---
@eos.detroit Staff Writer/BOID Team Leader
Join our Discord here
All pictures taken by myself or @mrsbozz
Posted with STEMGeeks