EDIT 1: Teams were inspecting a hydrogen leak. New launch date is 02.09.2022, 18:48 UTC
EDIT 2: Main reason for the scrub was a faulty temperature sensor on one of the engines. Other sensors confirmed sufficient flow. A change in the launch procedure is to allow more time for thermally conditioning of the engines. Engines should be ~500°R (Rankine scale), which is ~4,6°C.
NASA: Artemis I Launch Attempt News Update
EDIT 3: Large hydrogen leak at the quick disconnect.
NASA: Artemis I Launch Attempt News Update (Sept. 3)
Vehicle will probably go back into the vehicle assembly building.
---
Artemis has been in development since 2011. Development in this case means finding ways to reuse Space Shuttle hardware and upgrade it.
It consists of the Space Launch System (SLS) rocket and the Orion capsule.
SLS is the most capable rocket now. It is 15% more powerful than the Saturn V and can carry 5 tons more cargo than the Space Shuttle.
The original launch date was December 2016. It has suffered many delays and immense cost overruns. The proposed total funding in 2011 was $18 billion. Just getting to the first launch already cost over $22 billion.
There are currently five missions under the Artemis program announced.
Artemis 1 is an uncrewed mission. Artemis 2 will be crewed and launch in May of 2024 but only orbit the Moon. Artemis 3 will finally land on the Moon at the end of 2024.
Official NASA mission page: https://www.nasa.gov/specials/artemis-i/
The Artemis 1 mission will last 42 days, and the Orion capsule will travel 2,1 million kilometers.
Mission milestones: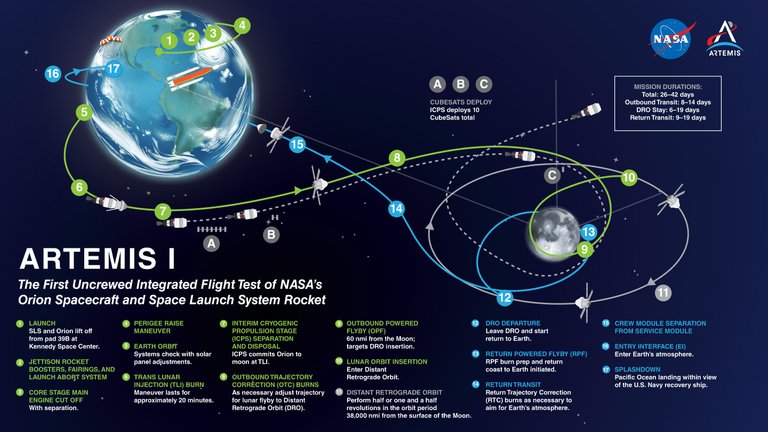 Animated version of mission milestones: NASA | Exploration Mission-1 – Pushing Farther Into Deep Space
NASA's top level illustration of the whole Artemis program: How We Are Going to the Moon

Joe Scott:
The Full Plan For Artemis Part 1: The Robotic Missions | Answers With Joe
Joe Scott: The Full Plan For Artemis Part 2: Back To The Moon | Answers With Joe
Megaprojects: The Artemis Program
---
Before diving into the criticisms that are being lobbed at the program, besides cost and time, we need to consider when these decisions were made and why.
Why? Because of politics. NASA has cleverly managed to locate important projects in as many states as possible. That makes politicians usually excited to push for space programs because they can look like a forward-thinking person that also manages to attract fancy tech jobs and funding. That directly lends itself to keeping the Space Shuttle supply chain alive, without seriously considering alternative routes.
When? A few, much cheaper alternatives that are being used as arguments today, were far from reality in 2011.
Space X was founded in 2001. By the end of 2010 they had only launched two Falcon 9 version 1 rockets and were seen as a risky/failing/reckless company.
Blue Origin was founded in 2000 and has still not even attempted to reach orbit with their proposed rocket (maybe in 2023).
The vibrant private space industry of today was but a glimmer in the eyes of a few visionaries. But it still can't deliver what is necessary to reach the Moon today. Falcon Heavy is undersized, and Starship is still a highly speculative project. Starship might reach orbit this year. Even then, it will take many successful launches until it can be human rated.
Even though the SLS is insanely expensive and relies on outdated tech, it greatly speeds up the return to the Moon.
Is that speed-up worth $ 100 billion when it is all said and done?
Real Engineering: The SLS is Outdated. Why Does it Exist?
Tim Dodd: SLS VS Starship: Why does SLS still exist?!
Tim Dodd: Can Starship Help Make The Artemis Program Better Than Apollo?