Elon's goal for 2022 was 60 Launches. SpaceX achieved 61.
34 of these were for their own Starlink network. SpaceX has used 55% of their launches from 2020 to 2022 to deploy Starlink satellites. The first two batches were launched in 2019.
China is also ramping up massively. Their Long March family of rockets launched 53 times in 2022.
Russia's R-7 family flew 19 times.
Both, China and Russia, have other types of rockets flying, but this is a comparison of the workhorses of rocket families.
Rocket Lab managed to launch their Electron small-sat launcher 9 times.
Globally there have been 186 launches in 2022.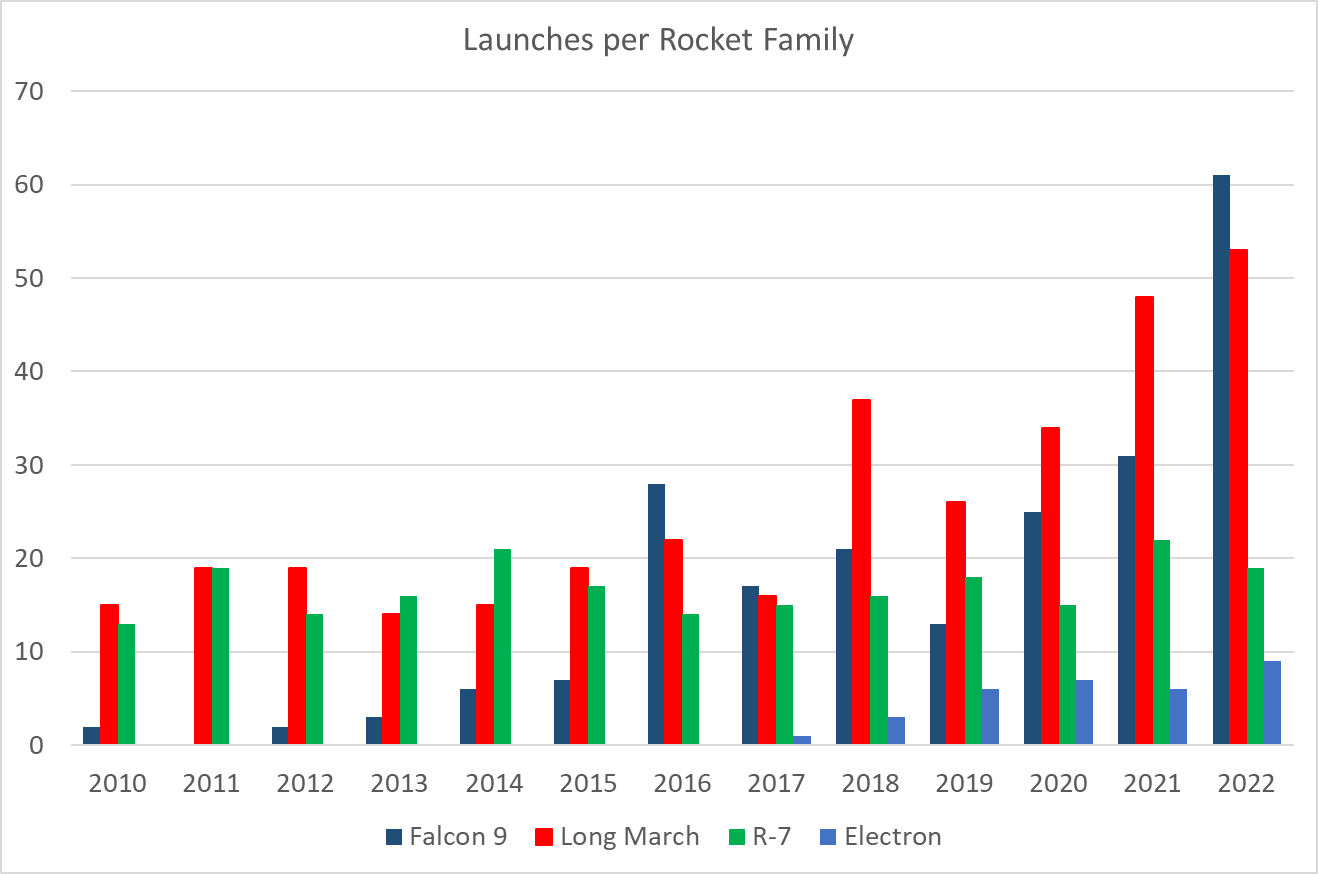 Elon's goal for 2023 is 100 Launches. That's a launch every 3,6 days. Certainly a challenge.
This goal faces two hurdles they can control:
SpaceX is currently producing 1 upper stage every 5 days, which only provides for 73 launches.
Availability of droneships for sea recovery. There are three available, but it takes a long time for them to reach the recovery location 650 miles out at sea and return. That will mean more missions where the booster will either return to land, or at least return a part of the way to save time for the recovery vessel.
SpaceX has currently 10 available first stages they can use for these missions. Some of these rockets have already flown 15 times. SpaceX needs on average 60 days to refurbish a flown booster to make it ready to fly again.
Other hurdles are:
Weather (and other spontaneous range infringements, like boats and planes in keep-out zones)
Available launch times – SpaceX shares the launch ranges with a multitude of other launch providers.
Murphy - shit happens
Launch year 2023 is going to be totally NUTS.
Data Sources:
Jonathan C. McDowell: Launch List by Family
Wikipedia: List of Falcon 9 and Falcon Heavy launches (2010–2019)
Wikipedia: List of Falcon 9 and Falcon Heavy launches
Wikipedia: List of Long March launches (2010–2019)
Wikipedia: List of Long March launches (2020–2029)
Wikipedia: List of R-7 launches (2010–2014)
Wikipedia: List of R-7 launches (2015–2019)
Wikipedia: List of R-7 launches (2020–2024)
Wikipedia: List of Electron launches
Wikipedia: Comparison of orbital launcher families
---
Posted with STEMGeeks