I'm back from reality and during my absence from heere, I thought of making a regualr series of chemistry in everyday life. I'm not sure if this would be appreciated or not, but it's always worth a shot.
I'm pretty sure it seems weird for me to be writing about beauty products since in my previous chemistry and materials related publications, I've mostly been writing about metals, food, food additives and the likes. However, this one in particular is a pretty fascinating product to me. It actually holds a lot of basic chemistry concepts despite being such a simple cosmetic product.
Plus I'm also fascinated by it because of its origin. You see, micellar water isn't a new trend. It's been around for almost a century already. If not, then maybe longer since this kind of product is not so easily traceable because of its basic components.
So to start of, what is micellar water?
From the very term "micelles" these are tiny clusters of a surfactant molecule. Add the water part to the micelles, and the chemical definition becames "a solution with colloidal suspensions" Which honestly isn't so far from how they define it in beauty terms. (Or at least those science-y adds they use on commercials)
But for the sake of simplicity, micellar water is defined as an all in one cleanser, moisturizer and make up remover. It's a highly popular product, especially now-a-days that beauty seems to be on the forefront of everyone's minds.
The trend of micellar water started in early France, or more accurate would be that the usage was first documented in France. I'm not sure when exactly it started, some documents say that the trend started as early as 1913 while some documents noted that it might have been earlier due to the water problems of France.
Despite this product's popularity as France's temporary water solution, this particular product wasn't given much attention until 1991, when bioderma became the first company that utilized this concept in the market. It was soon followed by an American company in 1993.
As to why micellar water became widespread was because France's water supply mostly consisted of hard water. I don't have much information on their water sources but seeing as they mostly utilized sea water and deep well water before, it could be a factor in their water's calcium and magnesium content. It could also be attributed to the fact that they have chalky soil in some regions (mostly southern France).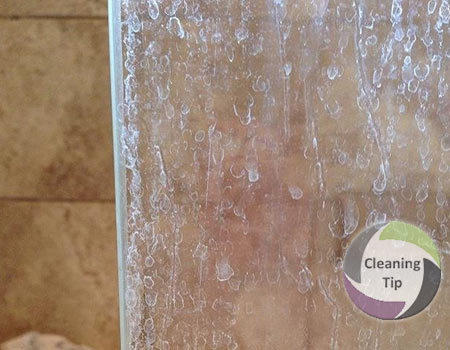 Source: https://maidsbytrade.com/wp-content/uploads/2016/02/How-to-Clean-Soap-Scum
This is what happens when soap is used in hard water. It's usually thicker though. That white thing is what we commonly call scum. But to us in the lab, this is a result from calcium stearate and/or magnesium stearate, which are components of both the hard water and the soap (calcium and magnesium in hard water; stearic acid/stearates from the soap)
Why is oil mixed with water so fascinating?
To understand that, we need to look at its individual key ingredients. The water part, and the oil part.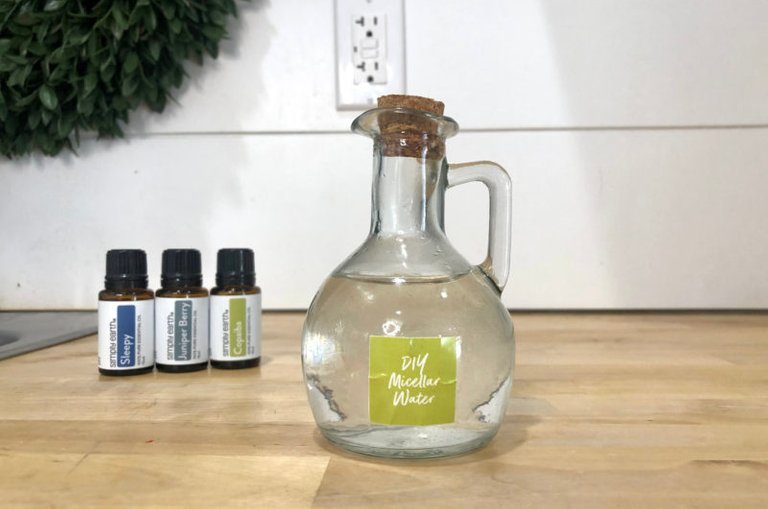 Source: https://blog.simplyearth.com/diy-micellar-water-with-essential-oils/
First is the water which isn't really just regular water. And if you've worked in the lab like me, you'll know that water isn't just water because there are so many types of water. There's deionized water, reverse osmosis water, distilled water, hard water, etc. For this particular product, although most beauty lines use "purified water"
What they actually use is soft water (yes, there's soft water and there's also hard water). This isn't harmful, don't worry 😅😅😅 on the contrary, it's actually the kind of water that's good for people because of the lower Calcium and magnesium content in it (It's opposite with hard water). that was the basic component o fthe water part, but nowadays, they use other types of water like essence-infused water and whatnot. Cosmetic labs keep adjusting these formulation based on the latest beauty fad these influencers find, and it honestly makes it hard for most formulation chemists.
For the oil part.... I wonder if they taught this in high school but oils and water don't mix. If you try to mix oil with water, they form these little separations called micelles. This micelle is the very soul of the product since it makes cleansing and moisturizing possible.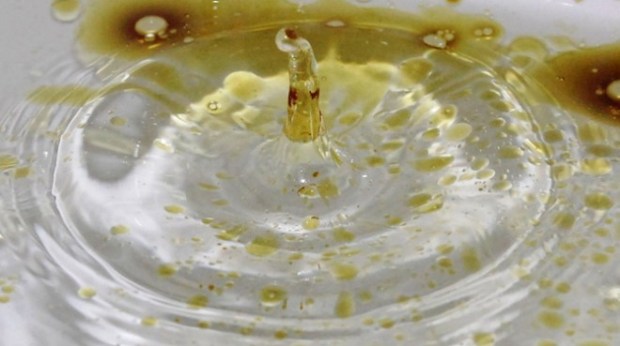 For the basic chemistry of it, we'll have to look at an oil's molecular structure. An oil and almost any surfactant molecule (including soaps and detergents) will have similar structures where they have a water-loving (hydrophilic) and water hating (hydrophobic) end.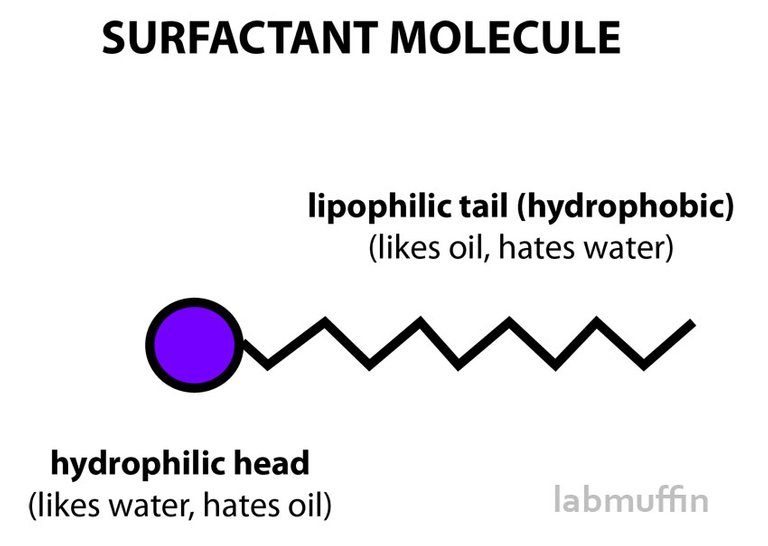 Source: https://labmuffin.com/wp-content/uploads/2015/09/surfactant-molecule
On a mechanistic view, these micelles are ingenious since the hydrophilic ends will face outwards while the hydrophobic ends will stay away from water. Despite the ball figure they make, the hydrophobic end will still be attracted to dirt. And this is where the "like attracts like" concept in chemistry comes in handy. You see, the dirt, make up and oil on your skin are basically hydrophobic. In my view, I can bluntly say that since they're both carbonacuous matter, they have basically the same constituents so they'll attract each other.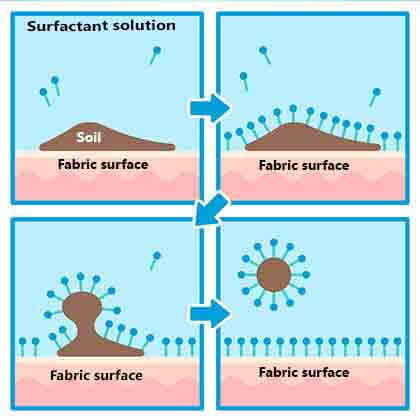 But the difference between soaps and this micellar water is that it doesn't make your skin dry like what happens when you just rinse your face with just soap. Also, because of this very gentle formulation, it's good for all skin types, even the highly sensitive ones. And again, that's because of the soft water they use for it. Of course, additional ingredients also contribute to the moisturizing properties of micellar water like the type of oil they used, the amount of glycerin, triglycerides, lecithin, and a few other ingredients that aren't irritating to the skin.
---
There's also something funny I found while looking up the ingredients of micellar water. Apparently, it's not just the product itself that does the cleansing but also in the method of applying 🤣🤣🤣 So cotton pads have a lot of hydrophilic ends in their structures (which is why cotton is so absorbent). That very fact means that the hydrophilic ends of the oil/surfactant molecule have something to bind too. And instead of the oils forming micelles, they leave the hydrophobic ends fully exposed to make dirt/carbon absorption much easier.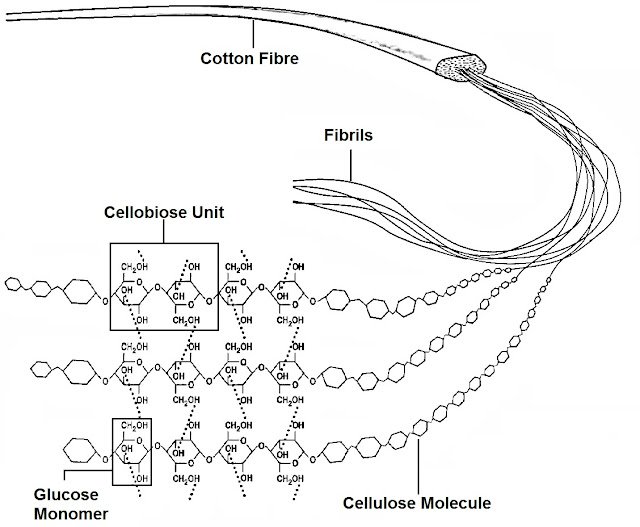 Source: https://4.bp.blogspot.com/-Mdzme6T5W0I/V91ojhXwUOI/AAAAAAAAB-I/eD_QCWcEsZgD38Lu24_vlLo0V54YnE2QQCLcB/s640/Cellulose
All those -OH (hydroxyl) ends are the ones that attract the hydrophilic ends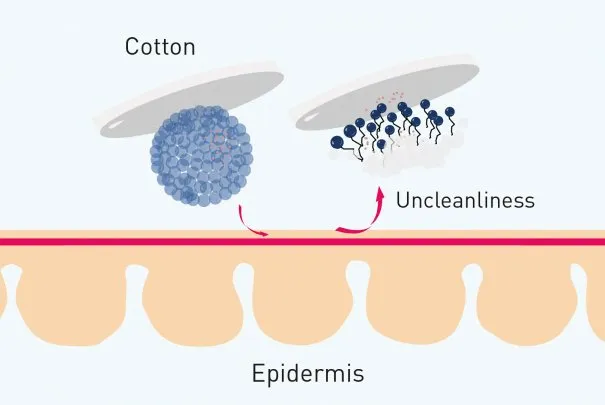 Source: https://www.bioderma.us/sites/us/files/styles/ultrawide_image_text/public/2020-02/micellar-water
Sot this is what it essentially looks like on a bigger picture. And this logic kind of makes the surface area in which micellar water reaches larger compared to your soap and water.
It's funny to me but it does make sense but I'm concerned with the environmental impact of the disposable cotton people use. I hope they do something like inventing reusable cotton pads for makeup. Or hopefully people become more self aware and they opt for using the cotton cloth for their beauty regimens then they'll just wash it after.
Anyways, this has been your daily dose of chemistry from me! I'm not advertising any products too since I don't even use that UwU but my sisters do and I just appreciate it for the chemistry and the smell.
Sources:
https://www.thehealthy.com/beauty/face-body-care/micellar-water/
https://www.elle.com/uk/beauty/skin/a18565/micellar-water/#:~:text=%27Micellar%20water%20is%20a%20cleanser,easily%20than%20a%20regular%20cleanser.
https://www.healthline.com/health/beauty-skin-care/micellar-water-as-cleanser#what-it-is
Posted with STEMGeeks