I realized that I have not made a witness announcement post or any update on my witness. I have been operating a Hive node for the last 6 months. I thought HF26 can be a good opportunity to talk a little about myself and provide a short update on my witness. HF26 has some pretty good features that can make our Hive Blockchain even better in the days to come. We already have some solid projects and sidechains running on the Hive blockchain and this new HF can provide new opportunities for the developers and project owners. This post is a long time due. Ever since I started running a witness node, I wanted to talk a little about myself and provide an update on what I have been doing for this Hive community.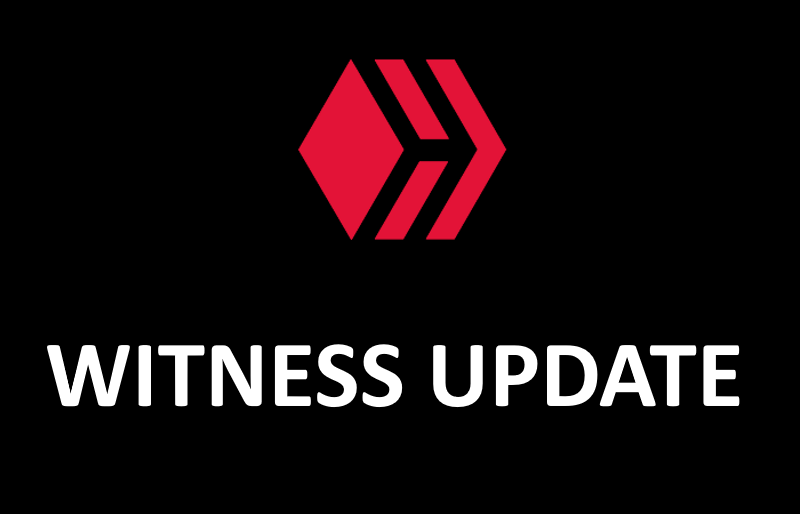 Witness status
Yes, HF26 is around the corner and most of the top witnesses have already upgraded their witnesses to HF26. Today I took up a task to update my witness server to HF26 and I have successfully produced the first block after upgrading to v1.26.0.

I'm currently in the 66th position with 8372 M worth of votes. I also have a script running on the server to update the priceFeed of the witness. Even though it doesn't really matter for witnesses outside the top 20 to update the price feed, it is more like a standard for people to check if a witness is up to date and cast their votes. So, I'm updating it once an hour to keep it up to date.
About myself and my projects
Most of you might know that @bala41288 is my primary account. I'm a full-stack developer and have been contributing to the Hive community actively in the last few years.
I would like to talk about both my personal project as well as other projects on Hive to which I contribute. I have been a member of this community for the last 5 years. To be more precise, I joined the community in December 2017 getting to know more about the community and where I can contribute. I started my journey as a blogger but then I started utilizing my development skills from the real world here as well. I have been actively involved in multiple projects inside Hive. I also have some personal projects and new project ideas for the future.
Kanibot
Kanibot is my personal project. For those who are familiar with Gina and Friday, Kanibot is a similar notification service for discord users. I created and launched this before Friday was developed and launched. Gina used to be one of the popular notification services for discord users but in one of the Hard Forks, Gina got issues and we did not have a proper notification service. That is when I wanted to create a bot for my own notifications. I wanted the bot to cover Hive Engine notifications as well. Then a few friends wanted me to provide this as a service so that they can also get notifications. The project is still active and I'm doing some updates and features whenever I get some time.
Muterra
I'm one of the co-founders of the Muterra game. This is a retro-style RPG game on Hive making use of the NFT features and token features we have on Hive Engine. The game is currently in development mode and we are planning to do the alpha release soon.
Indiaunited
Indiaunited is a community for Indians on Hive. The community was started by some like-minded individuals. Even though most of them are not very active right now, I've been managing the community. actively. I have also created bots and a few backend applications to manage the activities of the community. We have some schemes where we share 100% curation rewards with the delegators.
Hive Engine Witness
I have been very active on Hive Engine witness discussions and have been a witness from Day 1. I operate Hive Engine witness from the account @kanibot.
Documentation
I believe documentation is very critical for any open-source code and community. Onboarding also greatly depends on good documentation. I have a dream to create good and modern documentation for Hive, Hive Engine, and Hive-related projects. Hopefully, this can be something that I can work on in the coming years.
As of now, I spend some time writing detailed documentation on Witness setup, setting up sidechain nodes like Hive Engine and SPKCC, etc. I also write some general technical articles from this account whenever I get some time.
SaaS
I provide software as a service inside Hive. I have been actively developing some bots and applications for Hive communities and projects. I run and maintain them as a SaaS. In addition to that, I also maintain Hive and Hive Engine witness nodes for many non-developers/communities and individuals on Hive. Active participant in DLUX, SPKCC, and DUAT and have also been running nodes for people on Hive.
I have been actively coding and maintaining projects for Mancave, LOH, Psyberx, Neoxiancity, Indiaunited, Utopis, Muterra, etc. communities on Hive.
Other projects in the pipeline
I'm also a part of some other projects on Hive that are under development. I cannot provide more details on what the project is all about because there is no announcement yet and I would like to keep the suspense as it is.
In addition to projects I do with other community leaders, I also have some personal projects in mind and have been trying to devote some time to them. Hopefully, the next two years should be good for me to complete some of the ideas and bring them to reality.
---
That's it for today. I would like to give a frequent updates whenever I find time and would like to continue contributing to this ecosystem with your support.
If you like what I'm doing on Hive, you can vote me as a witness with the links below.

Vote @balaz as a Hive Witness
Vote @kanibot as a Hive Engine Witness
---
---
Posted with STEMGeeks