---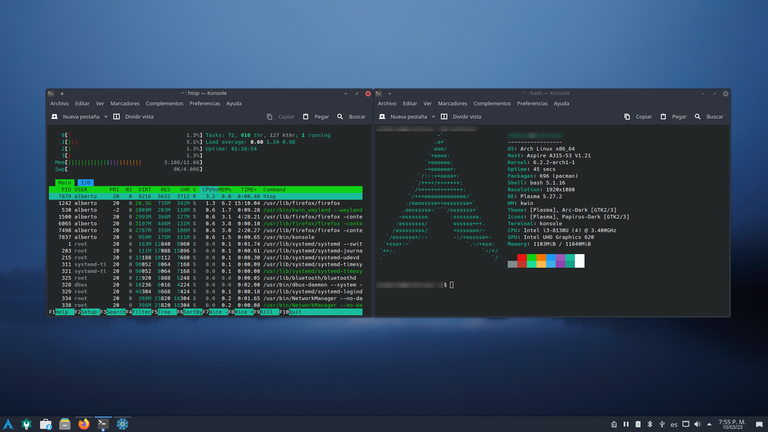 ---
Hace algunos años, resultaba muy complicado hacer una instalación de ArchLinux, para nuevos usuarios o con muy poca experiencia en sistemas GNU/Linux. Esta distribución estaba relacionada con Hackers por sus requerimientos de grandes aspectos técnicos en su instalación y uso en general. Es cierto que aún se requiere algunos conocimientos básicos en el uso de la terminal, pero ya es mucho más sencillo. Además del gran avance del desarrollo del instalador calamares o archinstall, la instalación y configuración básica de ArchLinux está siendo cada vez más sencilla.
---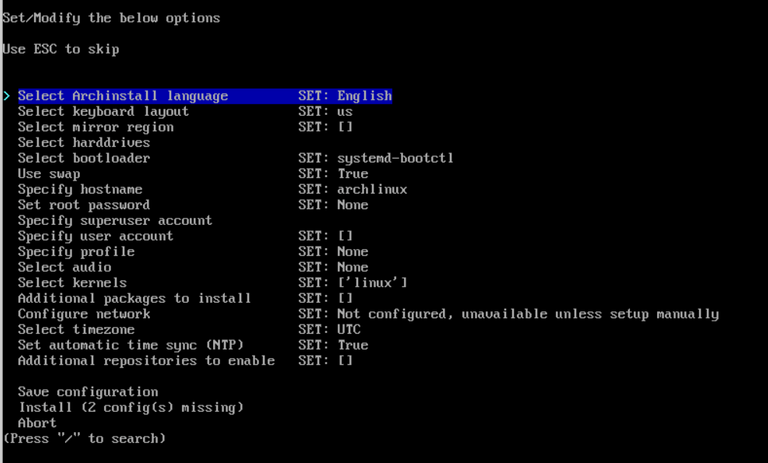 ---
En lo particular me ha resultado muy sencillo hacer la instalación, puede ser por la experiencia que ya tengo en Linux, aunque hay que destacar lo intuitivo que resulta ahora. He usado el instalador que trae por defecto la imagen de ArchLinux, llamado archinstall. Puedes ver una captura de su panel de configuración (imagen de referencia), aunque aparece en idioma inglés, puedes cambiarlo a español. Todo el paso a paso se hace con el teclado, el mismo instalador te guía y te da opciones predeterminadas, lo que ayuda mucho cuando no estás seguro que hacer.
Voy a recomendar uno de los videos que usé como guía en la instalación. Se trata de Manuel Cabrera Caballero, divulgador hispano del software libre que está haciendo una gran trabajo en la adopción de Linux como sistema operativo principal en el escritorio.
---
---
La primera instalación que hice fue con el entorno de escritorio Gnome, quería probar la compatibilidad con mi hardware y la estabilidad en él. La detección del hardware fue completa: CPU, GPU, altavoces, micrófono, tarjeta de red cableada, wifi, y bluetooth. Aunque este último viene desactivado en systemd por defecto, pero con un par de comandos se activa y ya queda funcionando. Al asegurarme que todo funcionaba bien, y al no ser un usuario de gnome, decidí reinstalar con entorno de escritorio KDE plasma.
---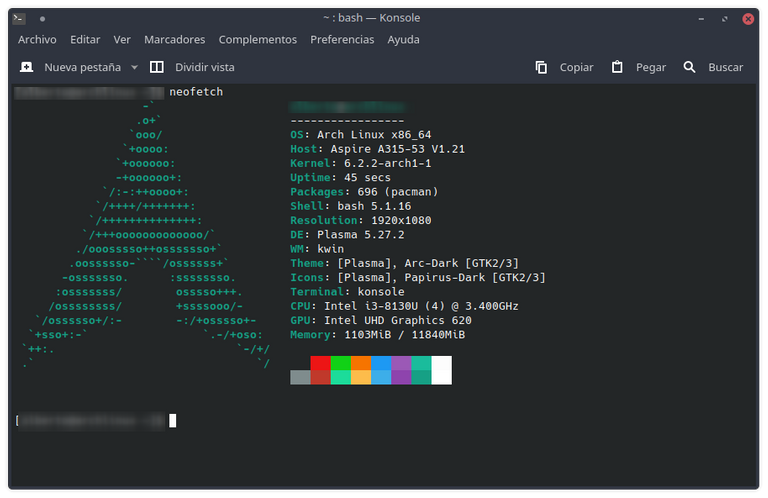 ---
Comando para activar el bluetooth:

sudo systemctl start bluetooth.service
sudo systemctl enable bluetooth.service

Para darle un diseño personalizado al KDE plasma que viene de fábrica, he usado como tema Arc-kde, iconos Papirus, y los complementos Arc-gtk, y Kvantumy. Arc Dark me resulta ser un tema oscuro bastante cuidado y perfecto para relajar la vista, las tonalidades grises y azules le dan un aspecto sobrio y elegante. Además con Kvantumy se le da unos retoques a los bordes de las ventanas y al resaltado de los botones que dejan todo a la perfección. Esta configuración la he realizado siguiendo la guía de Yoyo Fernández, en su canal de youtube, Salmorejo Geek.
---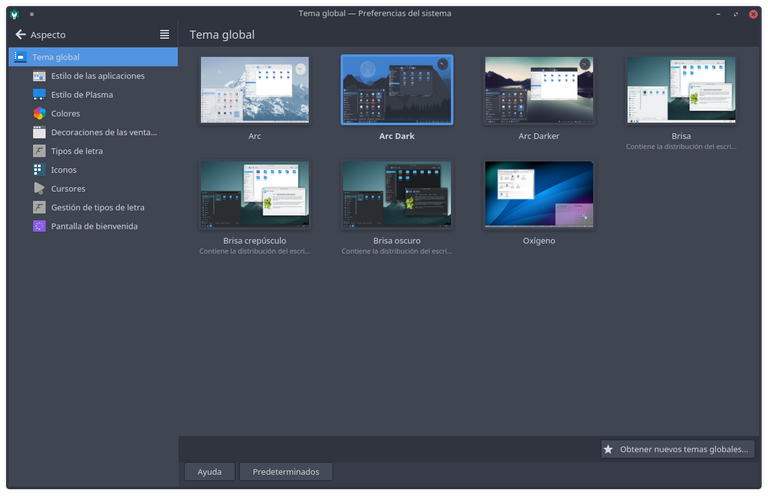 ---
---
ArchLinix se basa en la filosofía Kiss (Mantenlo sencillo, estúpido), y realmente es así. Me he encontrado una instalación muy limpia y sin aplicaciones innecesarias, viene con sólo lo necesario para comenzar a trabajar. No trae navegador por defecto, hay que instalar el de preferencia, me gustaría que viniera con firefox. No trae: capturador de pantallas, herramientas ofimáticas, reproductor de música. Para mi es un punto a favor, ya que te da la opción de elegir todas tus herramientas de trabajo. Distribuciones como Manjaro o Mx Linux, vienen con una gran cantidad de aplicaciones, que para mi, "ensucian" el sistema, pero es cierto que están enfocadas en usuarios que llegan a Linux buscando un sistema listo para trabajar.
Algo que también me ha tocado configurar, es Discover, el centro de software desarrollado por el equipo de KDE. Al abrir me daba un error "No se puede encontrar motor para la aplicación", pero se soluciona con una línea de comando, que instala un complemento del entorno de desarrollo Qt5: sudo pacman -S packagekit-qt5 . Además de esto, instalado flatpack: sudo pacman -S flatpak . Habilita los repositorios de flathub en discover, pudiendo elegir, entre paquetes de ArchLinux o de flatpack si están disponibles.
---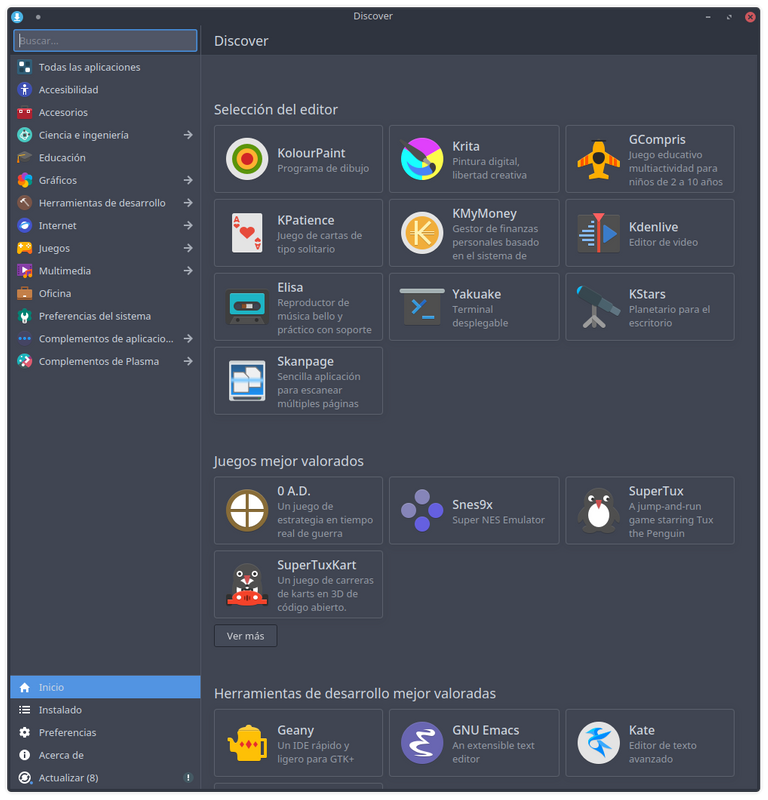 ---
En conclusión, ArchLinux ya se está convirtiendo en una distribución para "seres humanos" y deja atrás esa faceta de sistema inalcanzable para los usuarios novatos. En cuanto a estabilidad, aún no he tenido problemas, permite instalar las actualizaciones de manera personalizada. Su fluidez y rapidez es su punto fuerte, además de venir con las aplicaciones básicas y totalmente funcional.
¿Has probado ArchLinux o alguna derivada? Cuéntanos tu experiencia.
---
English Version
---
Some years ago, it was very complicated to install ArchLinux, for new users or with very little experience in GNU/Linux systems. This distribution was related to Hackers because of its requirements of great technical aspects in its installation and use in general. It is true that it still requires some basic knowledge in the use of the terminal, but it is now much simpler. In addition to the great progress in the development of the squid installer or archinstall, the installation and basic configuration of ArchLinux is becoming easier and easier.
---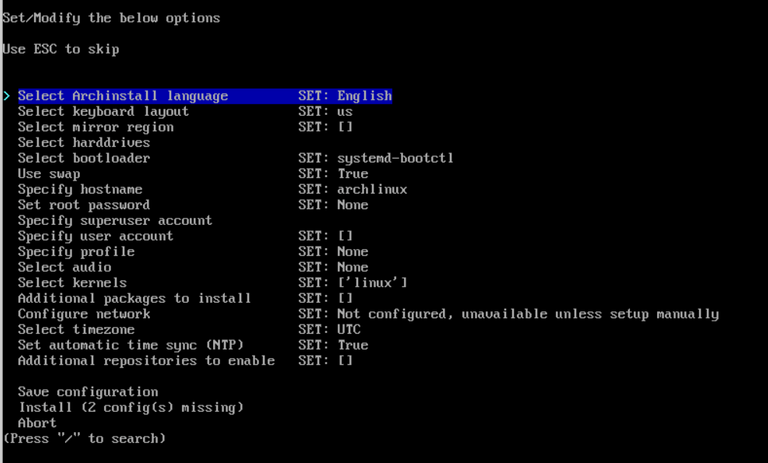 ---
In particular I have found it very easy to do the installation, it may be because of the experience I already have in Linux, although it should be noted how intuitive it is now. I used the installer that comes by default with the ArchLinux image, called archinstall. You can see a screenshot of its configuration panel (reference image), although it appears in English language, you can change it to Spanish. All the step by step is done with the keyboard, the installer itself guides you and gives you default options, which helps a lot when you are not sure what to do.
I am going to recommend one of the videos that I used as a guide in the installation. It is about Manuel Cabrera Caballero, Hispanic free software disseminator who is doing a great job in the adoption of Linux as the main operating system on the desktop.
---
---
The first installation I did was with the Gnome desktop environment, I wanted to test the compatibility with my hardware and the stability on it. The hardware detection was complete: CPU, GPU, speakers, microphone, wired network card, wifi, and bluetooth. Although this last one is deactivated in systemd by default, but with a couple of commands it is activated and is already working. When I was sure that everything worked fine, and not being a gnome user, I decided to reinstall with KDE plasma desktop environment.
---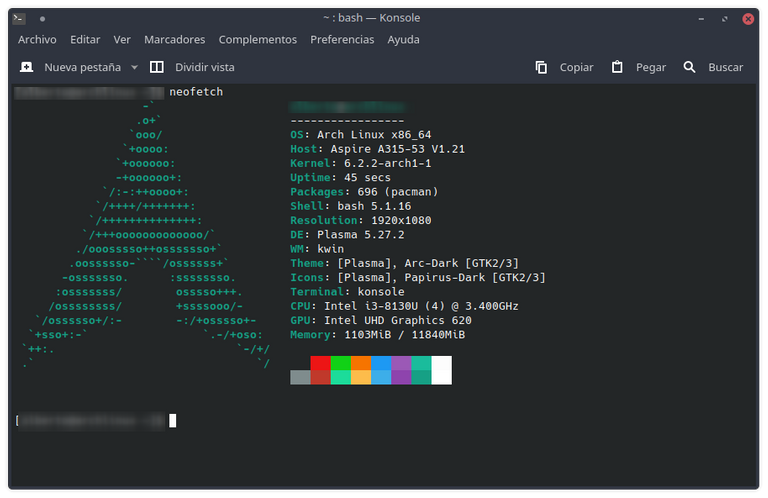 ---
Command to activate Bluetooth:

sudo systemctl start bluetooth.service
sudo systemctl enable bluetooth.service

To give a customized design to the KDE plasma that comes from factory, I have used as theme Arc-kde, Papirus icons, and the add-ons Arc-gtk, and Kvantumy. Arc Dark turns out to me to be a dark theme quite neat and perfect to relax the view, the gray and blue tones give it a sober and elegant look. In addition with Kvantumy it gives some touches to the edges of the windows and the highlighting of the buttons that leave everything to perfection. I have made this configuration following the guide of Yoyo Fernandez, in his youtube channel, Salmorejo Geek.
---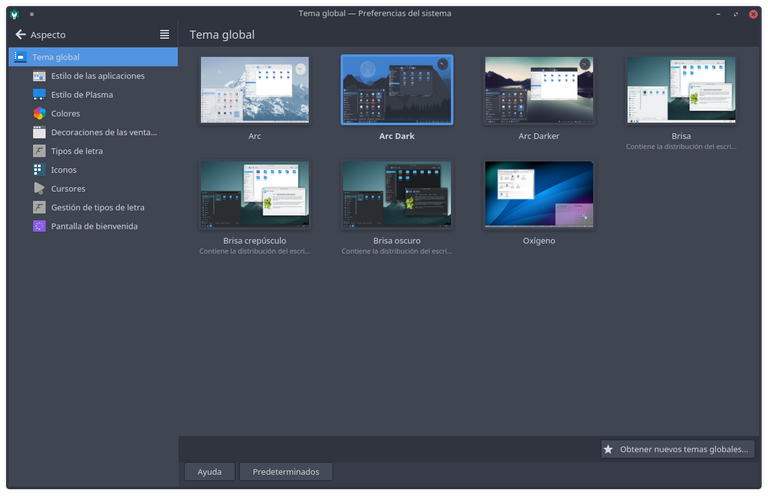 ---
---
ArchLinix is based on the Kiss philosophy (Keep it simple, stupid), and it really is. I have found it a very clean install with no unnecessary applications, it comes with only what is necessary to start working. It does not come with default browser, you have to install the browser of your choice, I would like it to come with firefox. It does not come with: screen capture, office tools, music player. For me this is a point in favor, because it gives you the option to choose all your work tools. Distributions like Manjaro or Mx Linux, come with a lot of applications, which for me, "dirty" the system, but it is true that they are focused on users who come to Linux looking for a system ready to work.
Something that I have also had to configure is Discover, the software center developed by the KDE team. Opening gave me a "Cannot find engine for application" error, but I fixed it with a command line, which installs a Qt5 development environment plugin: sudo pacman -S packagekit-qt5 . In addition to this, installed flatpack: sudo pacman -S flatpak . Enable flathub repositories in discover, being able to choose between ArchLinux or flatpack packages if available.
---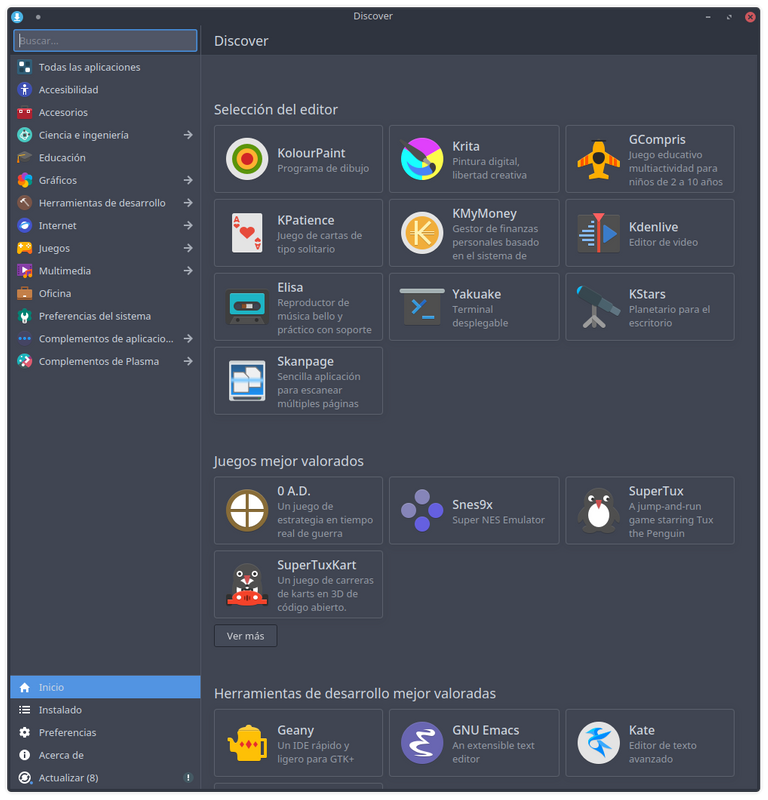 ---
In conclusion, ArchLinux is already becoming a distribution for "human beings" and leaves behind that facet of unreachable system for novice users. In terms of stability, I haven't had any problems yet, it allows to install updates in a customized way. Its fluidity and speed is its strong point, besides coming with the basic applications and fully functional.
Have you tried ArchLinux or any derivative? Tell us about your experience.
---
Las imágenes son mías o capturas de pantalla tomadas por mí, a menos que se indiquen fuentes externas.
---
Discord: alberto0607#6813
Sígueme: Twitter