It's my turn at cutting specimens again and things are fairing well. This day's start is quality over quantity where I get few cases but each case takes more than half an hour minimum to process. It consists mostly of the entire internal female reproductive system.
I put rulers on cause it contained the patient's data on top :P
The way to dissect this specimen is taking each part as if they are their own separate organs. So each part requires measurements of their own. No photos on the step by step process on this post but the way I go about is starting from the Uterus > Right and Left Ovaries > Right and Left fallopian tubes > Cervix.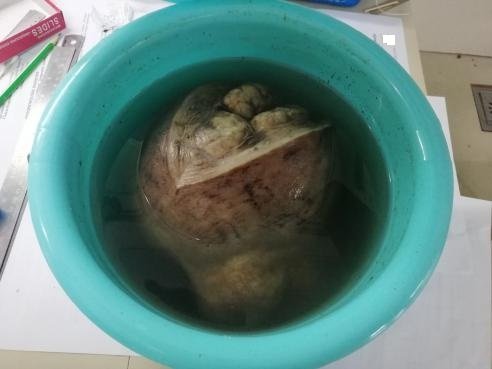 I get all sorts of containers for these type of specimens. Some come in buckets while other occasions the entire organ system just fits into the mini cup. So unboxing them can just be a surprise on their own. Some unpreserved, some have missing parts declared, and some had bad labels that just throws me off my rhythm when cutting. You got to be in the zone when you cut otherwise each specimen is a dragging experience.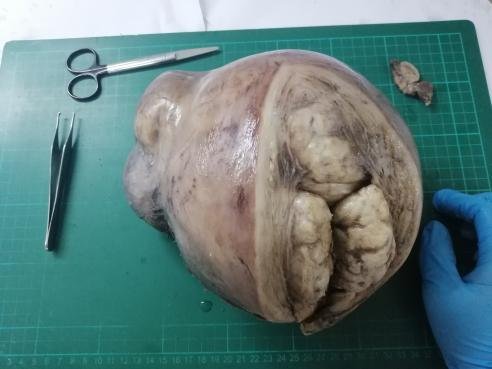 I used around four knives on this monster and finally gave up around 3/4 of the way and handed the bread loafing to our mortician. This thing has the size of a baby's head and the density of a few kilo of watermelon. It's just myoma on gross examination so it's fairly easy to process and sign out.
Some variations in the steps happen when there is a malignant tumor suspected from the clinical diagnosis. But for the general benign cases like myoma, the last parts are left to focus on the tumor once I finish up the external parts. It depends on your rhythm once you get acquainted with these specimens, some go by the book and follow the step by step top to bottom, out to in, and etc.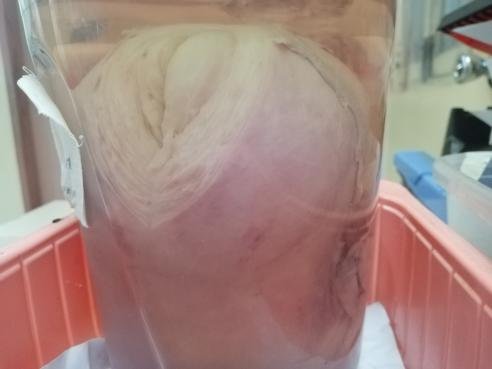 Here's an unrelated case where the specimen was received without preservative on. They just handed the specimen in saline solution (not a preservative) and this looked like a lump of flesh in red juice on the container. I had it transferred to another container and replace it with regular concentration of formalin reserved for tomorrow's cutting session. The specimen needs some time to let the formalin seep in otherwise it's all too soft to cut.
Looking forward to what surprises await me in the following days.
If you made it this far reading, thank you for your time.
Posted with STEMGeeks