I'm just covering a few days worth of shift for a sick co-worker. They covered for me last month but I covered for their sched prior and now we just virtually swapped our scheduled teams. While quarantine may give us a needed break, it doesn't sound fun once you realize your salary gets cut and your learning sessions too. Most of the lessons are best taken into practical learning and I tell you it's fast to get rusty when dissecting specimens.
Rare specimens just offer me the chance to get an interesting case as part of a requirement to proceed to the next level. When we say the case is interesting, it's good for us and bad for the patient as the case tends to be complex, rare, and life threatening but for academic's sake it's interesting. I think most people forget that a great physician becomes so while standing at the mountain of suffering before reaching the top. And the entire field of medicine is built on studying suffering.
As much as possible, I want to encounter difficult cases because I still got the guidance of my consultants. It's difficult to practice when you would be encountering cases you've never seen and only on the books and asking for help can be irrationally terrifying. This is still a competitive field and some doctors like to measure each other up. Encountering difficult cases early would also help me avoid future mistakes and legal complications if I misdiagnose. So while my co-workers think I'm really dumb to keep wishing for bad luck, I'm just hoping it pays off later in life.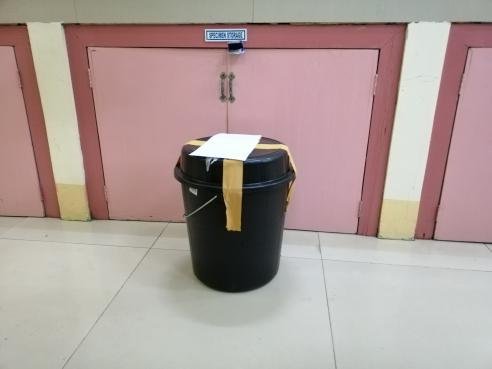 Guess what's inside?
A single large specimen can take me an hour minimum to process and it's not so fun when there's a bulk order dropped on you. Some days of the week you can get a large batch due to a scheduled OR day, taking specimens from other hospitals without a pathology department, and accommodating cases from far flung areas. These are manageable until the stars align and they all decided to happen in a single day. Then you just look at your partner on duty with contempt as they take the shift the next day with little to no specimen on deck just cause your sched took all it.
It's all muscle memory for the common cases. Dissecting small to medium specimens can just take minutes if you've been going at it for months. But there are cases when you got to take more time because of powers outside your control like clerical errors when writing the request or failure of the sender to orient the specimen. The amount of time delaying the processing can be an excuse to procrastinate and take a break while waiting for an answer but this bargaining isn't productive.
Anyway, maybe it's just me forgetting how much of a toxic magnet I am at work. I do have one of the worst lucks when it comes to taking on random cases. Here's pic of my monster of the week below. I initially thought it was a limb due to the size which was fine as I lacked experience handling limbs. But then I saw the specimen came from an Gyne patient and labelled "ovary"...
Well it's a specimen I have never encountered if the diagnosis was Ovarian mucinous carcinoma. I'll leave it to you to look it up as I don't want to copy paste Google facts and bore you. It's highly aggressive and often spreads leaving a low survival rate. One thing I dread about this specimen is the amount of work I have to do to process it.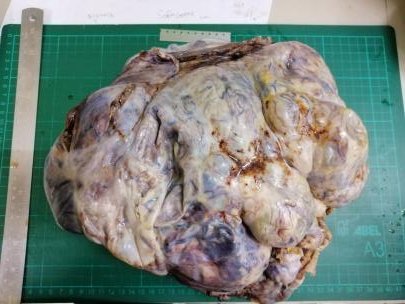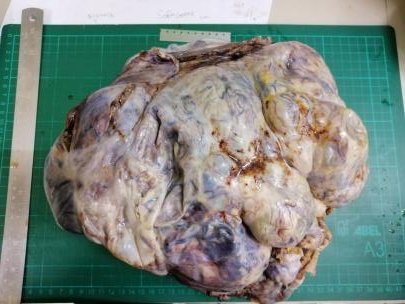 In dissection, it's a guideline to send 1 section per cm the size of tissue of interest. So naturally, if a tumor has 3 cm in size, I just cut 3 pieces that can fit on a slide. But with Ovarian mucinous carcinoma as a possible working diagnosis while dissecting, I need to double the amount of sections I need to submit.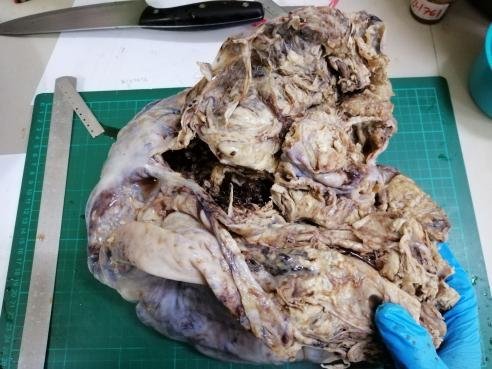 It's not going to be fun for me cutting this up and also the medical technologists that will process it. On the bright side is I'm accumulating some days to stack up my hazard pay to make up for last months lost. The pay isn't much but I'll take what I can get just to get me through dissecting this monster. It's also not going to be pleasant viewing all the slides under a microscope.
I could still be wrong about calling it from a gross picture.
If you made it this far reading, thank you for your time.
Posted with STEMGeeks