I brought home the microscope from work as I'm placed under quarantine again for the 3rd time of the year. I'm starting to like the work from home setup as I don't have to be bothered with referrals from different departments. Shared below is a pic of an endometrial carcinoma, endometrioid type arising from an endometrial polyp.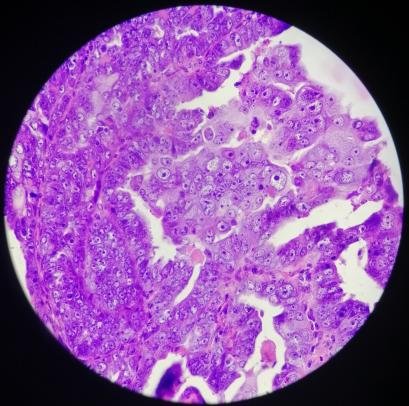 These are a common sight from work but once in a while the inner artist just likes to look at them. They're nothing special or rare. But they look beautiful (sucks that these have to be cancer) in their own way. It's viewing into the abnormal biological process on a stand still. Instead of looking at nature at the bigger picture, we get to see these images.
The cells don't look alright, they don't have the same sizes, are predominantly white but have those small prominent dots (nucleoli) which usually spell being active than usual.
I took this by a phone camera as the ones I used to share were taken from an attached camera on the 5 header microscope (used for teaching). I'm getting better at holding the phone on top of the microscope now yey.
Wonder if I would dare mint one of these for NFTs as "art" one day.
If you made it this far reading, thank you for your time.
Posted with STEMGeeks