I've been trying to find the time writing this reality vs expectation topic for days now. I occasionally do manual curation so I tend to browse multiple communities just to see which posts can trigger my liking.
Warning: Images used on this post are mine and they contain preserved human tissues for histopathologic processing. If you have a low tolerance for the gross stuff, don't bother scrolling down.
When I browse STEM community posts, I had this mental image that the trending/hot pages would contain some quality posts about STEM topics near or the same caliber as the ones I can find on established science journals or articles site. Maybe that expectation is too damn high to meet so I eventually lowered the bar by expecting at least people posting what they actually do related to STEM. That concludes the expectation portion.
The reality is having a lot of posts just repeating information derived from some other site then copy pasting the reference. The bulk of the idea is often derived from what they have read rather what idea they have generated from real world experience. Maybe I'm a little bit too abstract when I said the words above but see the image below.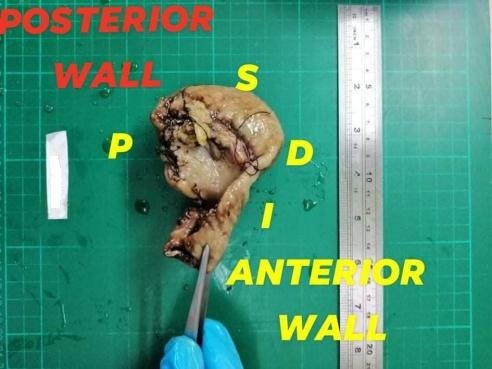 This is a gastric tissue resected from a patient managed as a case of Gastrointestinal Stromal Tumor. You can google what this disease means or check it out from my favorite resource page GIST pathology outlines.
P means posterior. S for superior. I for inferior. The D was supposed to be an A for anterior but I'm going to cut my surgeon some slack as they got a busy day and probably half awake when they sent me back this pic when I asked about the orientation of the specimen.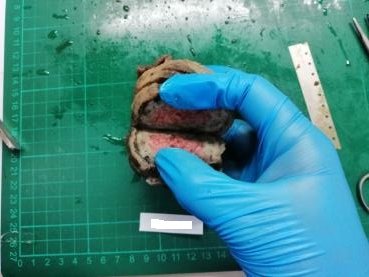 After cutting up the specimen, you can see the red part in the middle of the tissue unpreserved. I bathed this baby in concentrated formalin for an entire night. The thing about fatty tissue specimens is that you need to use concentrated formalin, not the regular 10% formalin because that stuff penetrates slowly on fat. An ordinary nonfatty specimen can be penetrated by regular formalin at a rate of 0.4cm per hour. That's a trivia.
I signed out this case as a GIST, with a 6.9cm widest tumor dimension, intermediate risk. We got some diagnostic criteria for classifying low to high risk based on the tumor size and mitotic counts. It took me 50 high power fields counting only 3 mitotic figures. The risk category also differs based on what part of the GI tract the specimen was taken from.
---
WHAT AM I GETTING AT HERE?
There are several layers of info scattered within those few paragraphs people who are in the same profession can understand but framed in a way that it ain't too alien for even layman to understand, not too complicated to miss the context anyway. Even if you didn't wholly understood those few paragraphs you'd get enough idea keep up with the post is about.
I live my topics shared here.
While a lot of STEM topics generated felt half assed paraphrased articles from a compilation of webpages, some are actually good in their own right. No shame in writing like a freelance SEO/Content creator for churning out content, I've been there years back and those skills are always useful for platforms like Hive.
It doesn't matter if you have a masters degree, Ph.D., or diplomate at something here if you're just sharing generic topics that have less of your personal touch and more of what anyone else can find on Google. I also think being too uptight about only the best well written STEM posts can be a deterring factor to make the community grow.
How many users actually engage with STEM related topics, live them, and curate other than curators? I'm an advocate of chill writing because that stuff is more personal and good when executed right compared to a robotic text I'd read of some research journal.
When people go to this site, I imagine them not really looking for research journals but STEM topics that are chill to understand and burn some time. Make them think for a few moments then move on learning something new.
By the way, if you ever want to preserve a body part, make sure you submerge these in formalin.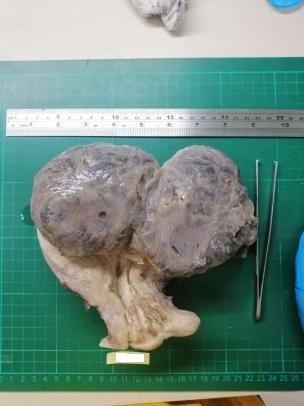 This is a myoma from a uterus. The dark-brown part is supposed to be tan-brown (the lighter color below the dark-brown part) when properly preserved but some idiots just like to spend a little amount of formalin or get confused about how much is adequate especially when the specimen displaces the formalin on the container making it look full. Naturally, I'd get a microscopic view of destroyed tissue architecture (not that it's difficult to see it's myoma on this case but the thought is there).
This is the kind of info you just don't find on google naturally but sparks a short moment of wow, now I learned something. I'd like to see more of those types of posts on STEM because those show more personality than robotic text from a paraphrased content sourced all over the internet.
~END~
@adamada was here
Posted with STEMGeeks