This was taken from an endometriotic cyst (ovary containing ectopic endometrial glands and stroma). Endometriosis is histologically apparent when there are endometrial glands and stroma on areas outside the uterine endometrium. These can spread to proximal areas within the female genital tract up to unconventional distant areas. There are some theories explaining how one can find ectopic endometrial tissues outside the endometrium but that's not the focus on this post.
I didn't take a picture when I was grossing this specimen as endometriotic cysts were common. But if for reference, the ovary looked something like this.
Endometrial tissues implanted on parts where they aren't supposed to be also react to hormonal stimulation. So if it's that time of the month to bleed, these sites may bleed too. This explains the chocolate looking contents as these are blood pools with degenerated RBCs due to it being a chronic condition.
Taken at scanner view (40x magnification)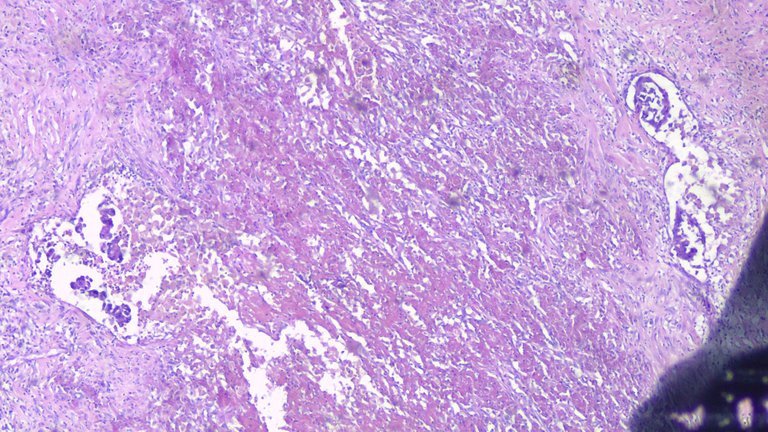 Clusters of endometrial glands surrounded by sheets of foamy and hemosiderin-laden macrophages. You would expect to see hemosiderin-laden macrophages on these cases as a staple finding because chronic bleeding. These type of macrophages recycle iron from broken down red blood cells and take up the brown pigments. The surrounding areas look necrotic because of how long the condition has deteriorated the lining and surrounding tissues from repeated hemorrhage.
Taken at low power view (100x magnification)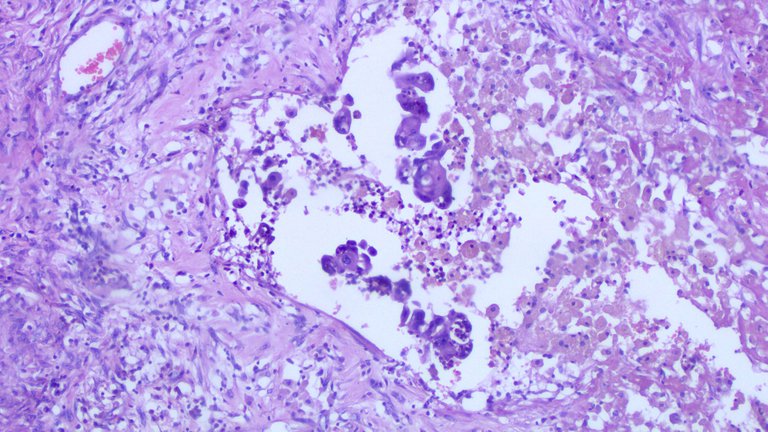 Taken at high power view (400x magnification)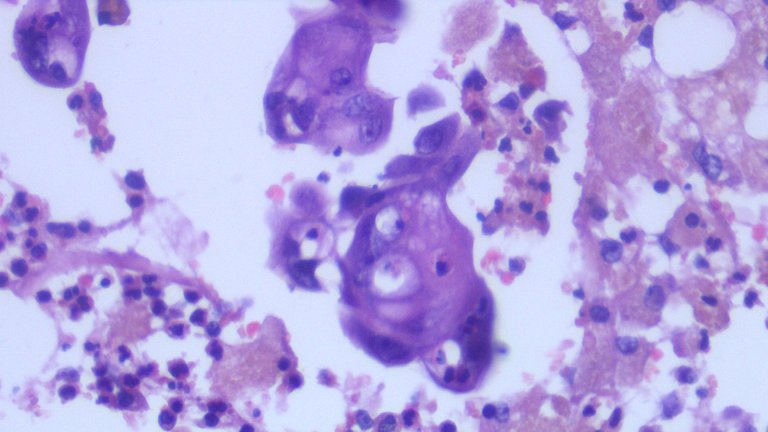 Seen as minute clusters of hyperchromatic to vesicular, round to ovoid nuclei with inconspicuous to prominent nucleoli and abundant eosinophilic cytoplasm.
This was an incidental finding and it happens rarely. It's the first time I encountered such case. The impact of this diagnosis is how atypical endometriosis raises the risk of endometrioid ovarian carcinoma as it's like a precursor lesion.
Sometimes endometriotic cysts don't really have that classic textbook picture where you'll see endometrial glands and stroma well preserved. If the patient has this condition for a long time, I'd usually see only sheets of hemosiderin-laden macrophages lining the cyst and several foci of hemorrhage. During this time, it can be called hemorrhagic cyst consistent with endometriotic cyst.
As a general rule, histologic diagnosis requires the element present under the microscope to support the diagnosis but some cases where there's degeneration of the endometrial glands and stroma due to the conditions being chronic, it's hard to demonstrate it on sections. But if one correlates it with the clinical condition, grossing, and microscopic findings, this usually makes it up.
If you made it this far reading, thank you for your time.
Posted with STEMGeeks