Typing this based on how much I remember what I presented recently during our didactics. Hemangioblastoma is a rare case but I had the privilege to get a hold of a slide from another institution for academic reasons. I went all out taking a lot of shots to archive on my study slide folder because it's not often that I get to handle any brain specimen (I probably only got to handle 1 or 2 cases for the past two years and those weren't even inside the head type of specimens).
Taken at Scanner view
You'll see sheets of neoplastic stromal cells with clear cytoplasm surrounded by reactive vascular cells.
Taken at Low Power View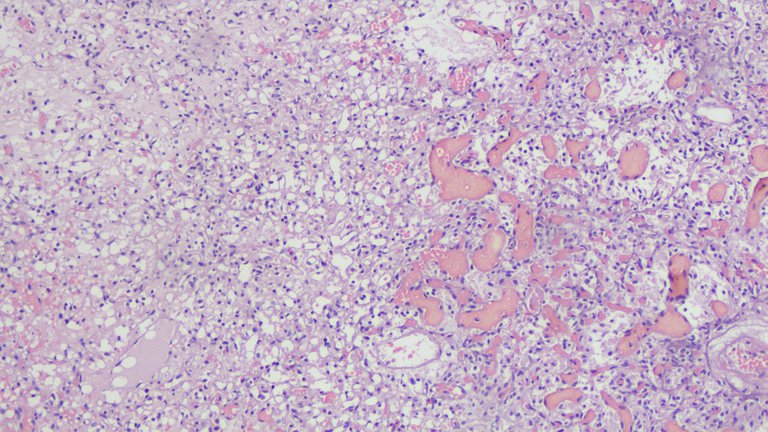 If there are a lot of neoplastic stromal cells in sheets present, this can be an epithelioid variant. It would be a reticular variant if the vascular component was prominent. But it's hard to say from this specimen since it's only a small fragment (the tip of your pinky) and not that it matters prognostically.
Taken at High Power View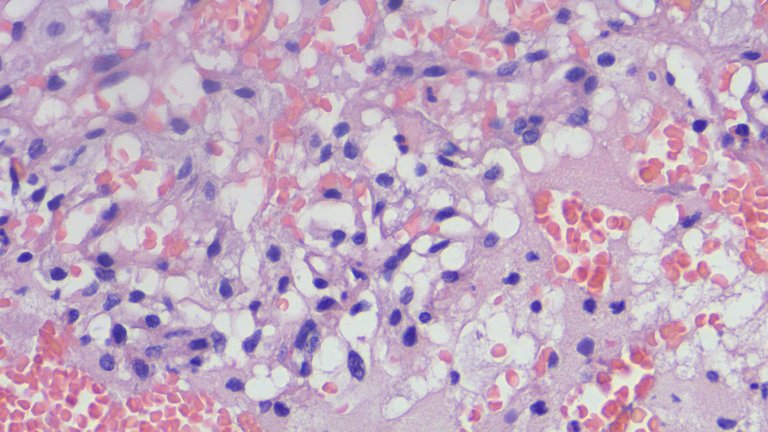 You can see the neoplastic stromal cells having hyperchromatic, occasionally mild to moderately pleomorphic with inconspicuous nucleoli and clear cytoplasm (lipid containing). I didn't see any overt mitotic figures for this case which is expected. If you like to see more pictures about Hemangioma, the gross and other pictomicrographs, see my favorites study resource site, I don't own the images there.
Histologically, if no one tells me that this came from a brain specimen, I'd be thinking about a Clear cell renal carcinoma because of the clear cells and how vascular these look like. And metastasis from renal carcinoma is one of the common differentials for Hemangioblastoma.
We did some immunohistochemical stains to help confirm and rule out possible metastatic renal cell carcinoma as a bonus:
Taken at High Power View, this is an inhibin stain positive for membranous expression of the tumor cells.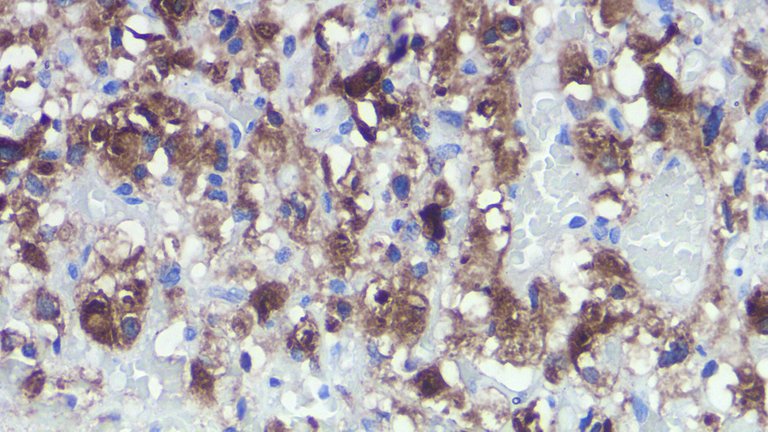 Taken at High Power View, D2-40 membranous expression on the lymphovascular channels. This was helping ruling out possible metastatic renal cell carcinoma.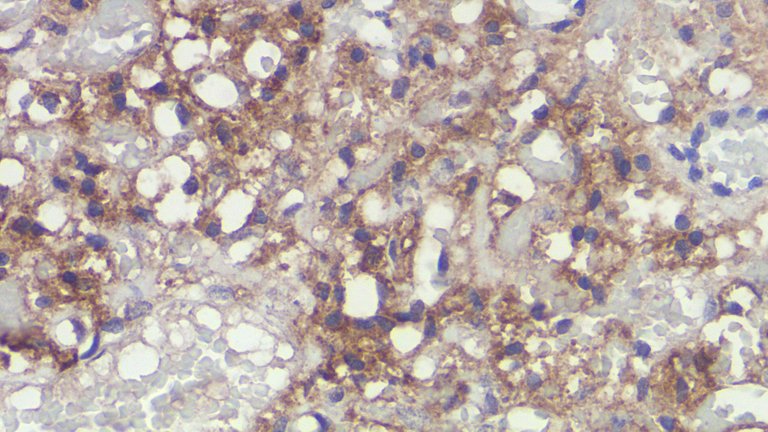 Hemangioblastoma can occur in other sites outside the central nervous system but it's often in the cerebellum and near the third ventricle of the brain.
Despite being benign, it's still a slow growing tumor that tends to occupy space in the brain. So symptoms related to obstructive hydrocephalus, dysmetria, and ataxia will be problematic if not completely excised. Recurrence does happen for incompletely excised specimens especially for the younger population and the prognosis is worse based on the location (proximity to the brainstem) and size.
If you made it this far reading, thank you for your time.
Posted with STEMGeeks