These tumors are more common in males, smokers, and in the late adulthood. But this specimen came from a old woman, non-smoker in their retirement years. Arises in the parotid gland and a common benign tumor under the salivary gland neoplasm category.
At Scanner view (40x)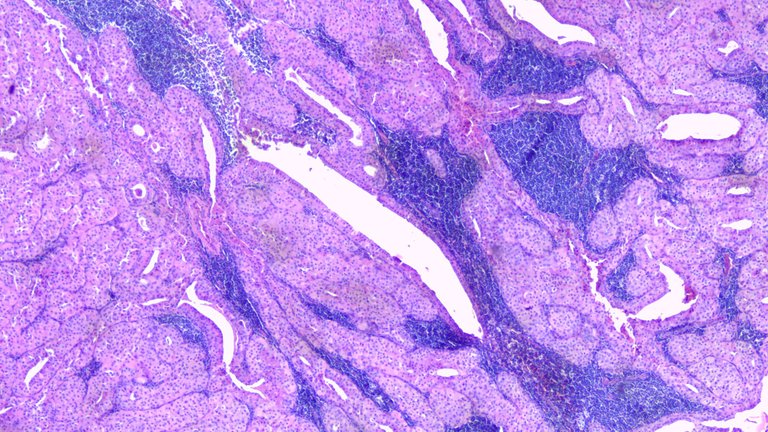 At Low Power View (100x)
Notice the distinct two layered oncocyte epithelium?
These tumors can appear cystic which explains those spaces and the supporting stroma has extensive lymphocytic infiltrates.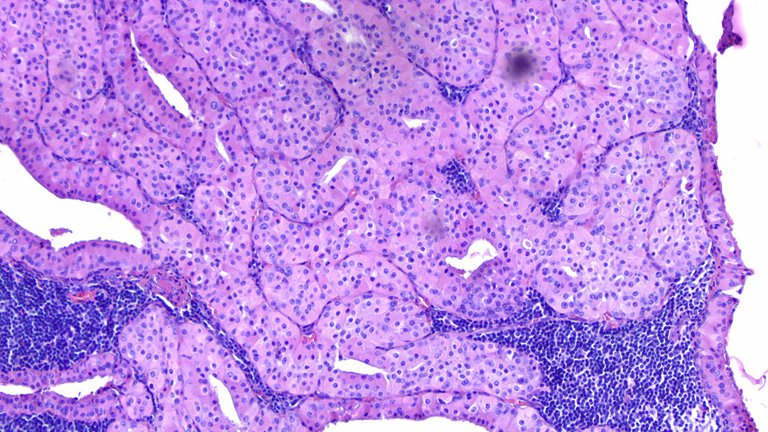 At High Power View (400x)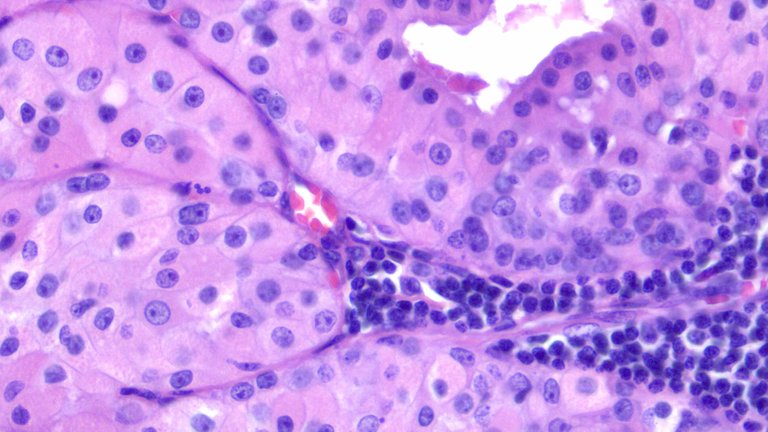 The prominent features one needs to look for under the slide is a two layer lining of oncocytic cells supported by a lymphocyte rich stroma with occasional reactive germinal centers.
Whenever the word oncocyte comes to mind, I just think of a round to polygonal cell with a large amount of pink (eosinophilic granular) cytoplasm with a central hyperchromatic nuclei and prominent nucleoli. Similar to how one can say "clear cell" find the morphologic features similar yet the disease is located on multiple parts of the body.
Anyway, this one is benign and complete resection solves it.
I remember the first time I've seen this under the microscope and said it looks exactly like how the textbooks shows it. This sort of thing can be simple consolations you got when you love your work but hate the grind.
For the visual side of things, I think Warthin Tumor looks pretty under the scope and it's recognizable which makes this my favorite guess the tumor slide for rotating interns on our department.
There's also a pleomorphic adenoma proximal to this tumor as an incidental finding but I forgot to take a shot at it.
If you made it this far reading, thank you for your time.
Posted with STEMGeeks