Written in English and Spanish
Existen dinosaurios que destacan por alguna razón, y pueden llegar a ser incluso disruptivos para la ciencia y el público. El Spinosaurio es uno de los dinosaurios más particulares que se conocen, no solo por su apariencia, sino por que aún no hay concenso entre la comunidad científica sobre como se comportaba, cómo se movía, como cazaba, etc.
There are dinosaurs that stand out for some reason, and they can even be disruptive for science and the public. The Spinosaurus is one of the most particular dinosaurs known, not only because of its appearance, but also because there is still no consensus among the scientific community about how it behaved, how it moved, how it hunted, etc.
---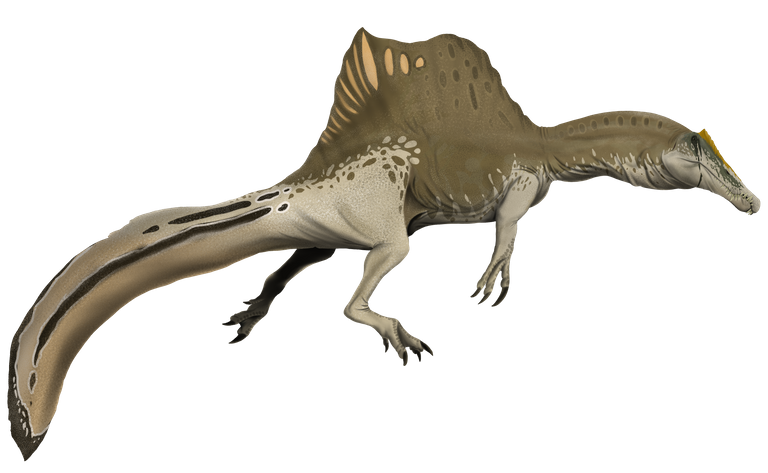 Gustavo Monroy-Becerril, CC BY-SA 4.0, via Wikimedia Commons
El Spinosaurus es un animal que vivió en el norte de África en el periodo Cretácico, hace aproximadamente 100 millones de años. Debido a la escasa información fósil al principio de su descubrimiento, se llegó a pensar inicialmente que era prácticamente igual a un Tyranosaurus o un carnívoro convencional pero sumando una aleta en el lomo. Fósiles que pudieron ser clave hoy día, fueron destruidos en un bombardeo en la segunda guerra mundial.
Spinosaurus is an animal that lived in North Africa in the Cretaceous period, approximately 100 million years ago. Due to the scarce fossil information at the beginning of its discovery, it was initially thought to be practically the same as a Tyranosaurus or a conventional carnivore but with the addition of a wing on its back. Fossils that could have been key today were destroyed in a bombing raid during World War II.
---

nhm.ac.uk
Con el tiempo, y con el descubrimiento de nuevas evidencias fósiles, el supuesto aspecto del Spinosaurus fue cambiando de manera significativa, hasta llegar a la apariencia probablemente más popular: la de los años 2000', o la mostrada en la película "Jurassic Park 3". Se muestra en dicha película como un depredador mayormente terrestre pero sin problemas al entrar al agua, con una contextura similar a la de un dinosaurio carnívoro convencional:
Over time, and with the discovery of new fossil evidence, the supposed appearance of Spinosaurus changed significantly, until it reached probably the most popular appearance: that of the 2000's, or the one shown in the movie "Jurassic Park 3". It is shown in that movie as a mostly terrestrial predator but with no problems when entering the water, with a build similar to that of a conventional carnivorous dinosaur:
---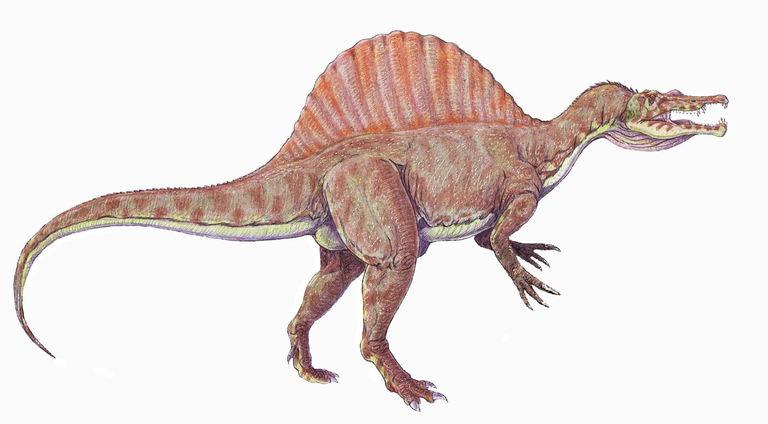 Bogdanov, modified by Matt Martyniuk (User:Dinoguy2) and User:FunkMonk. Jaw muscles taken from[1] by User:Steveoc_86., CC BY-SA 4.0, via Wikimedia Commons
En los últimos años, los científicos y paleontólogos habían llegado a la conclusión de que el Spinosaurio era principalmente un dinosaurio acuático, con grandes habílidades dentro del agua, una cola alta para propulsarse y piernas traseras mucho más cortas, haciendo que el Spinosaurio sea prácticamente un animal cuadrúpedo. Su contextura física ahora dista mucho a la de un T-Rex, pero tiene una mayor longitud, de entre 15 y 18 metros de la cabeza a la cola.
In recent years, scientists and paleontologists had come to the conclusion that Spinosaurus was primarily an aquatic dinosaur, with great water abilities, a high tail for propulsion and much shorter hind legs, making Spinosaurus practically a quadrupedal animal. Its physical build is now far from that of a T-Rex, but it has a greater length, between 15 and 18 meters from head to tail.
---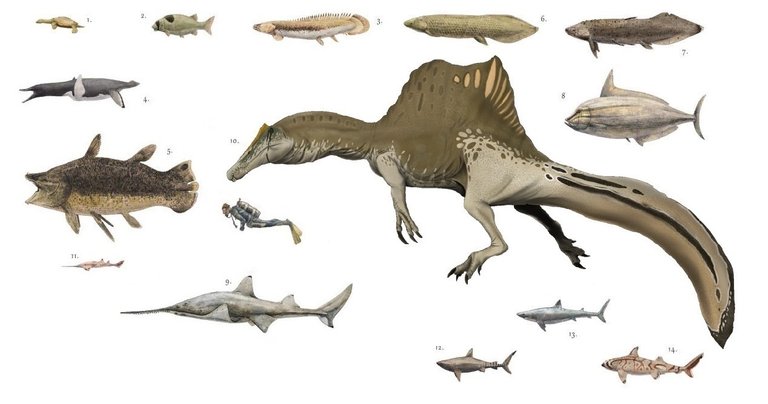 Artwork by Joschua Knüppe. Article by Jamale Ijouiher.Spinosaurus aegyptiacus by Gustavo Monroy-Becerril.Derivative work by HFoxii., CC BY-SA 4.0, via Wikimedia Commons
Debido a la forma de su cráneo y otras evidencias, su dieta era mayormente basada en peces, aunque probablemente no tuvo mayor problema en cazar algunas presas terrestres. Esta es la tesis principal de algunos científicos, basada en un animal implacable dentro del agua. Sin embargo, nuevos estudios indican que el Spinosaurio no estaba especializado para persecuciones dentro del agua, sino que sus habilidades para nadar más bien eran modestas o no tenía gran agilidad al hacerlo.
Due to the shape of its skull and other evidence, its diet was mostly fish-based, although it probably had no problem hunting some terrestrial prey. This is the main thesis of some scientists, based on a ruthless animal in the water. However, new studies indicate that the Spinosaurus was not specialized for in-water pursuits, but that its swimming skills were rather modest or that it did not have great agility when swimming.
---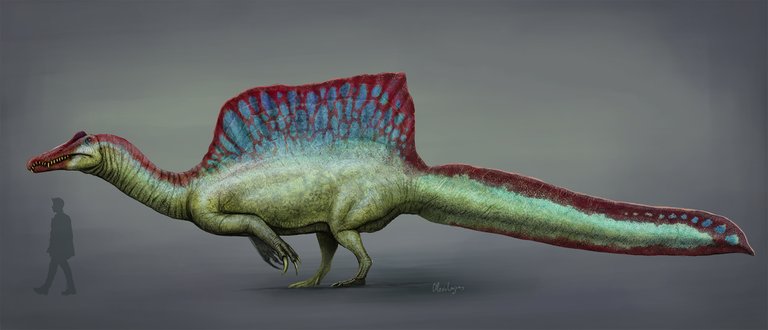 Mario Lanzas, CC BY-SA 4.0, via Wikimedia Commons
La nueva tesis propuesta por algunos científicos se basa en que el Spinosaurus cazaba en aguas poco profundas, de manera similar a una garza o una cigüeña moderna, ya sea permaneciendo inmóvil y esperando a que una presa se acerqué para emboscarla o mientras nada en la superficie. Uno de los argumentos que sustenta esto es el cuello en forma de "S".
The new thesis proposed by some scientists is based on the fact that Spinosaurus hunted in shallow water, similar to a modern heron or stork, either by remaining motionless and waiting for prey to approach and ambush it or while swimming on the surface. One of the arguments supporting this is the "S" shaped neck.
---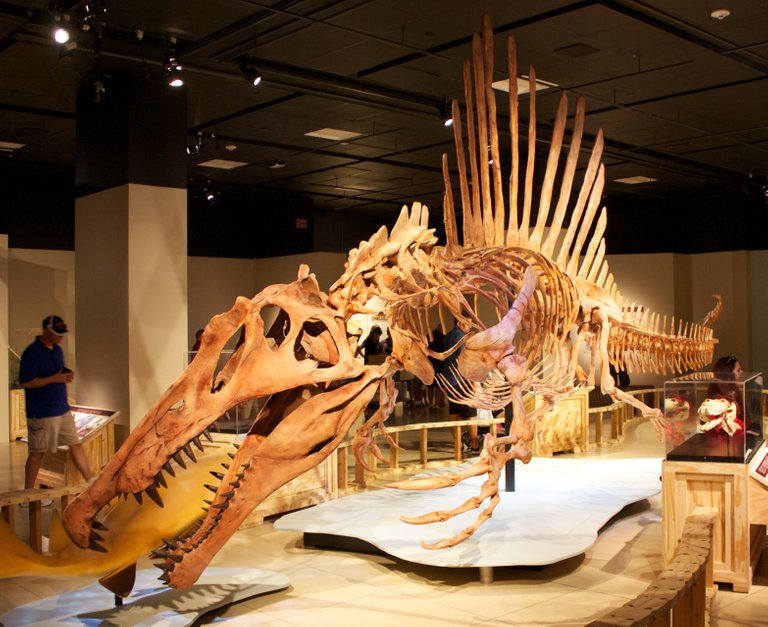 Mike Bowler from Canada, CC BY 2.0, via Wikimedia Commons
Ya sea cierta una o ambas tesis, es casi indiscutible que este animal haya sido semi-acuático, en contraste con antiguas teorías de cazador terrestre. Tuve un gran fascinación por este dinosaurio de niño, de hecho, me alegré mucho cuando venció al Tyranosaurus-Rex en "Jurassic Park 3", cosa que generó muchas discusiones, sobre todo en foros online de paleontología. Hoy en día se sabe que el Tyranosaurio tenía una contextura y fuerza que el Spinosaurio seguramente nunca igualó, pero aún así supera al Tyranosaurus en longitud.

El Spinosaurus no deja de ser un dinosaurio muy interesante y diferente, que no ha dejado de causar controversia desde su aparición en la pantalla grande. Deja tu comentario acerca de este animal prehistórico.
Whether one or both theses are true, it is almost indisputable that this animal was semi-aquatic, in contrast to old theories of a terrestrial hunter. I had a great fascination for this dinosaur as a child, in fact, I was very happy when it defeated the Tyranosaurus-Rex in "Jurassic Park 3", which generated many discussions, especially in online paleontology forums. Today it is known that Tyranosaurus had a build and strength that Spinosaurus surely never matched, but it still beats Tyranosaurus in length.

The Spinosaurus is still a very interesting and different dinosaur, which has not stopped causing controversy since its appearance on the big screen. Leave your comment about this prehistoric animal.
Fuentes/Sources
•Por qué todo lo que sabemos del Spinosaurus podría estar equivocado — National Geographic en español
•¿Cazaba como una cigüeña el "monstruo del río" conocido como Spinosaurus? — National Geographic en español
•Dinosaur diaries: Spinosaurus, sauropod necks and a new 'starry lizard' — nhm.ac.uk
---
¡Gracias por visitar! — ¡Thanks for visiting!

Posted with STEMGeeks