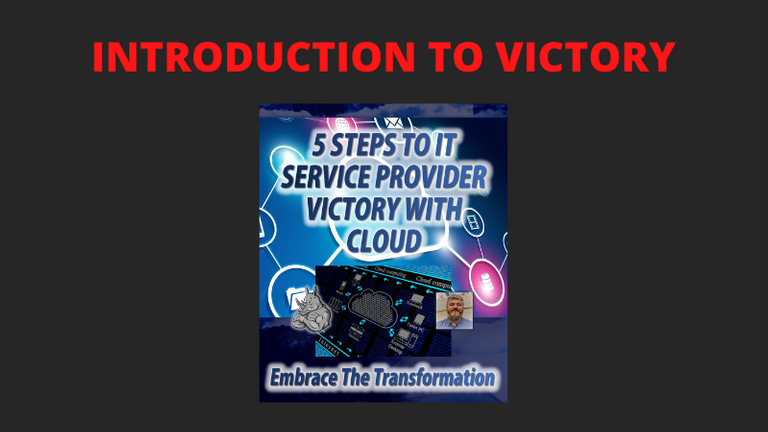 INTRODUCTION
This is the first post in a six-part series. I wanted to fill in some time while we wait for the launch of [ITSM Rhino](https://itsmrhino.com). I also wanted to test out the Exxp.io app one more time. This app takes WordPress blog posts and posts them to the Hive blockchain. Which my preferred social front end is Peakd.com.
Note added after posting: Damn Exxp still has bugs and requires lots of editing of post after it hits the blockchain.
Anyway, let's get on with the series, starting with this introduction post.
There's no doubt that cloud computing is permanently altering the business world. If you don't believe this, simply look at the headlines of business and tech publications. According to statistics, by 2020, "78% of businesses will be using the cloud, compared to 37%" in 2015 (Columbus, 2015).
This increase in cloud utility changes the way MSPs do things tremendously. It's even more significant than the transition to managed services. It also means there are enormous opportunities for various players in the industry.
There is a success for any IT Service Provider who takes advantage of the transformation.
WHY YOU NEED TO ACCEPT THAT CLOUD COMPUTING IS THE FUTURE
The cloud provides many benefits to your business. The biggest being easier administration when it comes to client IT environments. Also, you do not have to support servers, and margins on licenses are smaller.
For customers, the cloud helps them avoid outages and provides enhanced flexibility. Customers want access to services immediately. They also wish to access these services from any place and on any device. The cloud enables them to do this and more. Most customers probably already use cloud applications in their personal lives.
TIP #1: ACCEPT THAT THINGS ARE CHANGING
Businesses at all levels are beginning to use cloud computing. That said, the previous on-site support model isn't dead yet. Customers will need help transitioning to the cloud. As their IT consultant, you're in the best position to assist them. Remember, there are already people doing this. If you don't offer cloud support, you could end up missing out on business.
YOUR SUCCESS STRATEGY AND PLAN
Your transition to cloud solutions must be strategic. It should have a step-by-step plan. The most important thing is to design the process upfront properly. We lay this out in 5 easy to follow steps with tips. These steps are Awareness, Evaluation, Purchase & Delivery, Support, and Billing.
TIP #2: CLOUD SERVICES SHOULD BE SEEN AS AN ADD ON TO PRESENT SERVICES
Any company providing managed services should create a CSP practice area rapidly. To facilitate this, you can create a new team. Otherwise, your current team can allocate some time to designing cloud services.
TIP #3: MAINTAIN YOUR EXISTING PRACTICE AREAS
Maintain your existing practice areas, even if they are not cloud-based. Also, be ready for break/fix to become something of the past. As more and more applications become cloud-based, your role will change from consulting instead of fixing problems. Note that this will take time,and having a flexible services portfolio will allow you to be agile in a changing economy.
TIP #4: PLAN OUT YOUR CUSTOMERS' TRANSITION TO THE CLOUD
You must see this transition from your customers' viewpoint. Plan out each part of the change – from explaining the benefits of cloud computing to them purchasing the service, receiving it, and eventually paying. Also, plan how you will align your business processes with every step of this journey.
TIP #5: GET THE MOST OUT OF THIS PROCESS
You will learn a lot when working with cloud vendors, so make sure you pay attention and get the most out of them when designing your CSP business plan.
REFERENCES
Columbus, L. (2015, May 4). Roundup Of Small & Medium Business Cloud Computing Forecasts And Market Estimates, 2015. Retrieved from Forbes: https://www.forbes.com/sites/louiscolumbus/2015/05/04/roundup-of-small-medium-business-cloud-computing-forecasts-and-market-estimates-2015/#470d01b532b0
Be looking for the second post in this series in a day or two.

Note: All graphics within this post, including their images and elements, were sourced and generated from Canva.com, except when otherwise identified on the graphic.
---
Posted from ITSM RHINO with Exxp : https://itsmrhino.com/blog/5-steps-to-it-service-provider-victory-with-cloud-introduction/
---