Empowered by HIVE!
Me, a senior semi-retired person playing around with AI art?
All possible because of HIVE learning!
One day vs. 8-10 mins! That is the difference I experienced in creating an Avatar (just one image) manually in triangle art mosaic style and creating SEVERAL versions using AI !!!
Here is what I mean...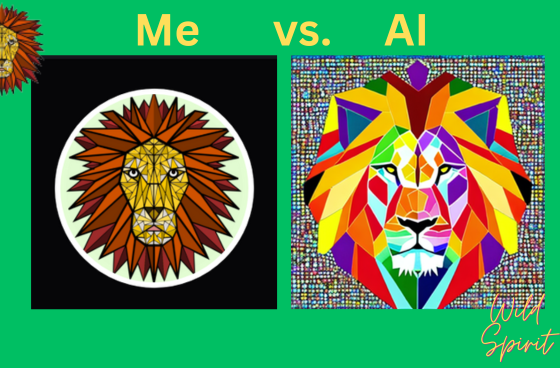 I had heard about AI art and creativity but never thought I would be able to type in a few words and get such amazing artistic impressions from AI!!
I had created my Lion Avatar during 2018 manually, using a vector drawing software.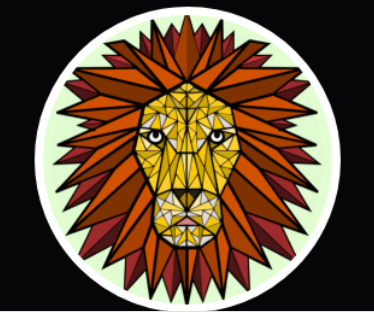 My manually created digital art
I labored to make all the mosaic triangles in Inkscape and somehow fit them together to make a lion face for my Avatar. It took me more than a day actually to make this image on the left! A simple image with only 3-4 colors. The AI made me 7-8 images within 8-10 minutes of effort!
Let me start at the beginning though -
When @castleberry inspired all of us through his post to try @ausbitbank Discord channel with AI Bot, I thought - why no, let me see if I can try something simple and experience the power of AI.
I am far far away from getting to completely exploit the power of this great AI tool but I must share my experience here - for people like me on HIVE, who, perhaps, like blogging but are a bit scared to use technology such as this..
The tool is actually bot that we can interact in Discord. I could join the correct channel just by clicking on the link https://discord.gg/DSdK9KRJxq which was provided by @ausbitbank in his post Our new stable diffusion discord bot. I am thankful to these HIVE personalities who created and are maintaining this great tool.
All I had to do was follow directions in the post and start giving prompt words to the Arty Bot like shown in the screenshot below and it started creating amazing images. I typed "!dream" followed by prompt words describing a mental image of the subject I wanted to create...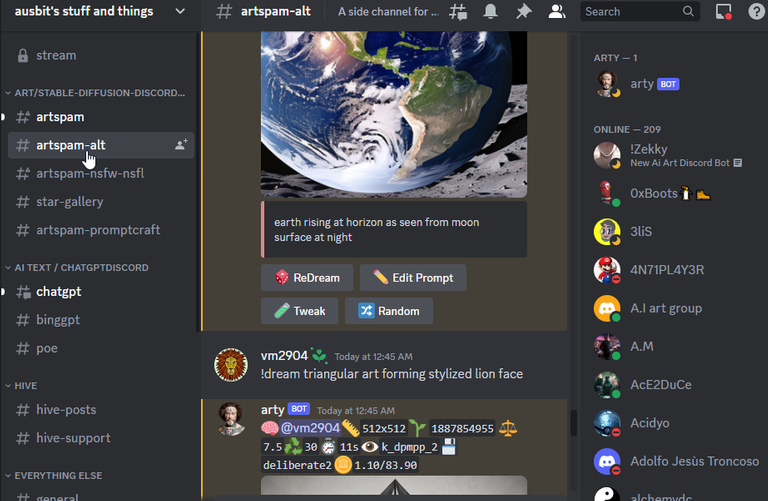 Here are some of the Avatar potential images I created in under 10 minutes. The prompt words I used are also mentioned below the images...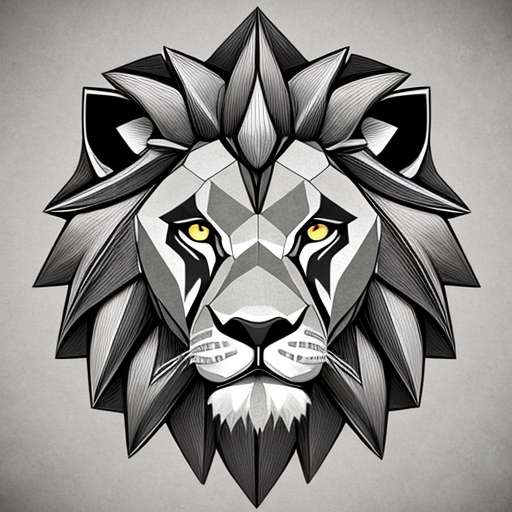 prompt: triangular art forming stylized lion face
This was a bit too stylized an without using only triangular forms. I thought of making something like a mosaic with triangular pieces...
So I edited prompt and tried again...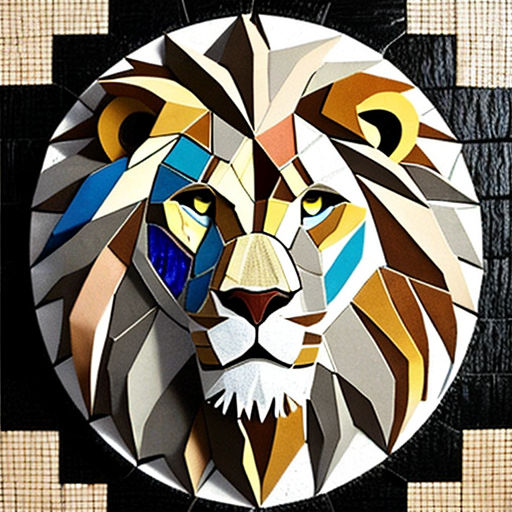 prompt:triangle art mosaic forming lion face
This was great but still had some curves etc. which were not strictly triangular mosaic type. So I tried again with stricter enforcing of triangular mosaic requirement...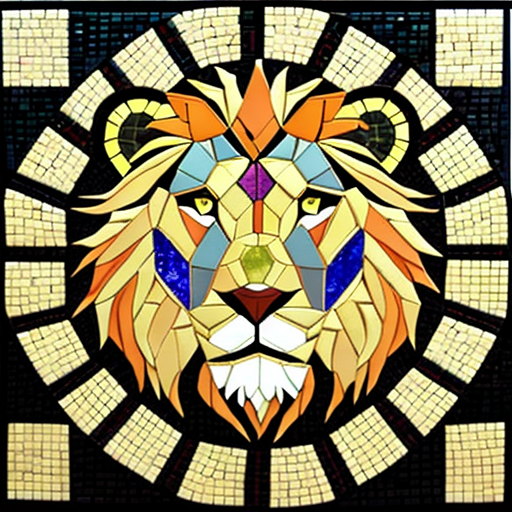 prompt: triangle art mosaic forming lion face with strictly on triangular mosaic pieces
Wow - this looked very close to mosaic style avatar lion face it did not necessarily with all triangular pieces but came very close to a lovely avatar in triangular mosaic style.
I then experimented a bit more by adding some vibrant coloring to the concept...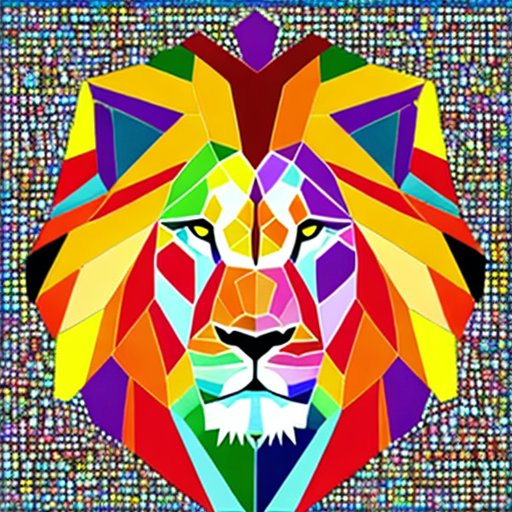 prompt: triangle art mosaic forming lion face with strictly on triangular mosaic pieces with vibrant rainbow colors
I also 'reimagined' and added 'black bacground' descriptor to the prompt to get another lovely version...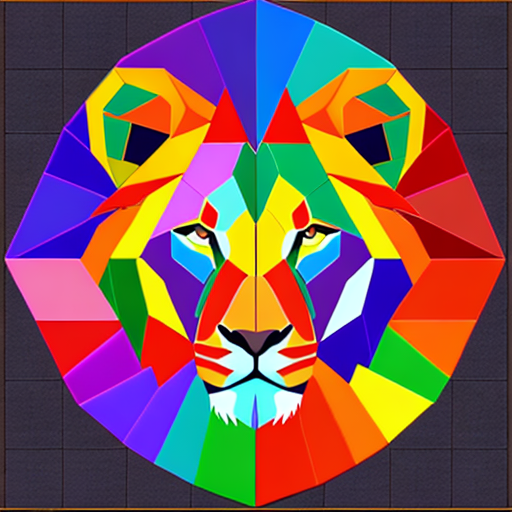 prompt: triangle art mosaic forming lion face with strictly on triangular mosaic pieces with vibrant rainbow colors with black background
I was blown away by this creativity at my fingertips (literally - by typing!!) What do you think? Please feel free to comment and let me know your opinion on AI, my avatar efforts etc.
Also - please let me know which of the Avatars you really like...
I must further say that I felt a bit redundant 😀. I am no artist but for someone who is a traditional artist, is this a threat or is it a chance for them to 'upgrade' their art to the next level? What do you think?
Please comment freely and let me know your opinion. I usually try to bring many different types of wildlife photos/macro/Astro posts to the HIVE platform. This digital art is not really my domain but is piquing my interest. Feedback and comments are welcome,. I am still learning many techniques and always value feedback from experts in this community.
I also realize that this is not strictly 'Alien Art' perhaps but since my 'Guru' for such AI art, @castleberry (at least I deemed him my Guru because I was inspired by his efforts of AI art) posted in this community, I too am posting here. I apologize in advance if it is a wrong community to post in.
Have a nice day everyone. Cheers!