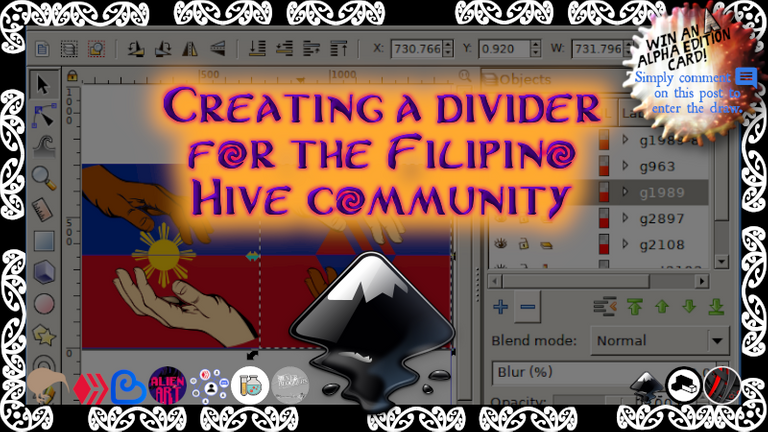 This is just a quick, short post to claim an image that I have remixed, as a derivative work, for use on the

HIVE social blockchain.

Creating a divider for the Filipino Hive community.
Description.
This post documents my creation of a

remixed image, for use as a divider in blog posts, primarily intended for use by the 🇵🇭 Filipino community on the

HIVE social blockchain. It came about as a discussion ensued today in

The Terminal's Discord server, about a friend of @mhel, who is in need of some support from the community at present, due to the medical issues he's facing in the Philippines. This is one way that I can contribute to this cause. I will be releasing the resultant remixed image under the most permissive license available, depending on any restrictions imposed by the respective licenses of the component source images.
---
NOTE: all proceeds (100%) of creator rewards on this post will go to @camlara, the friend of @mhel, as mentioned above. Please upvote generously!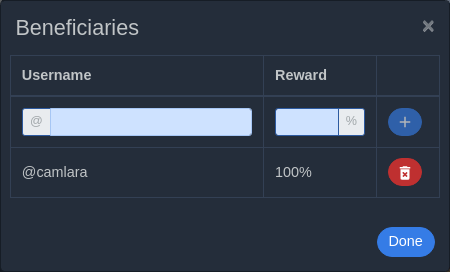 ---

The component source images.
| Image | Attribution | License |
| --- | --- | --- |
| | Image by Clker-Free-Vector-Images from Pixabay. | |
| | File:Flag of the Philippines.svg. (2022, January 22). Wikimedia Commons, the free media repository. Retrieved 02:50, February 2, 2022 from Wikimedia Commons. | |
| | File:Hive logo.svg. (2020, October 31). Wikimedia Commons, the free media repository. Retrieved 06:52, February 2, 2022 from Wikimedia Commons. | |

Creating the remix.
My toolbox.
GIMP v2.10.18 – My Raster image editor of choice is GIMP. I have been using this tool for many years, and I am fairly proficient with many of its features. A raster image editor like GIMP is designed for editing pixel-based images.
Inkscape v0.92.5 – My Vector image editor of choice is Inkscape, which I have not been using for as long as GIMP, and I am still learning about many of its features. A vector image editor like Inkscape is designed for editing lineart images.
The creative process.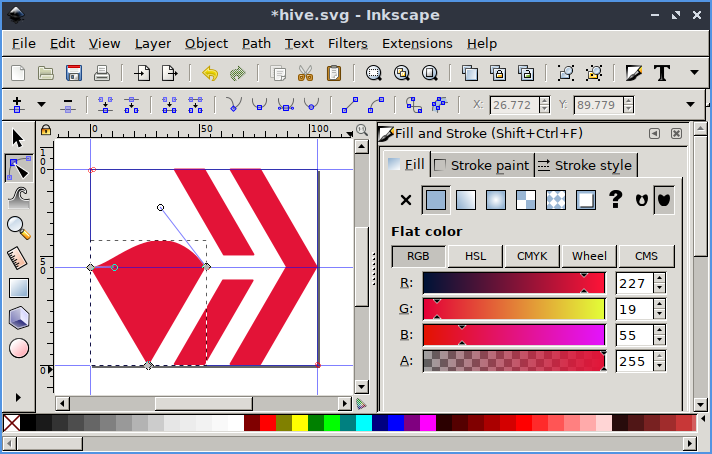 Breaking the source images apart
– to remix all of these source images into a final derivative work, I needed to break them apart and access just the elements that I will use. This is painstaking work, and takes the most effort in any derivation. Often the vector nodes will need to be dissected either at or between join points. In this particular remix, the

HIVE
logo gave me the biggest challenge.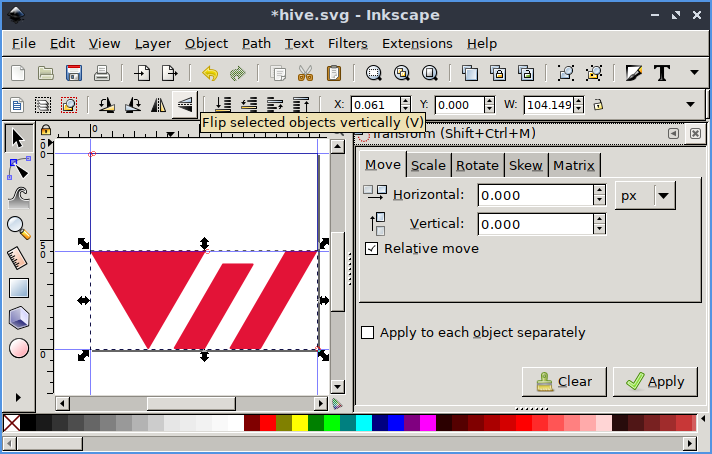 Rearranging the elements
– understanding how the original artist created the source image, and lines of symmetry, is important. Here I have bisected the entire

HIVE
logo, duplicated the bottom half, and I am about to flip it. Once that is complete, and the two halves are aligned perfectly, I can simply change the fill colour to what I need in my remix.
Colour Matching
– the eyedropper tool in

GIMP comes in really handy here, for identifying exactly what colour codes are needed. Then I simply copy/paste the hexidecimal colour code from

GIMP, into

Inkscape, to get the exact colours that I need. In this case, I have taken the colours from the Filipino flag source image. The red of their flag is a pretty close match for the red of the

HIVE
logo. Note that I have inverted the colours from the flag here, so that they will contrast with the background colours.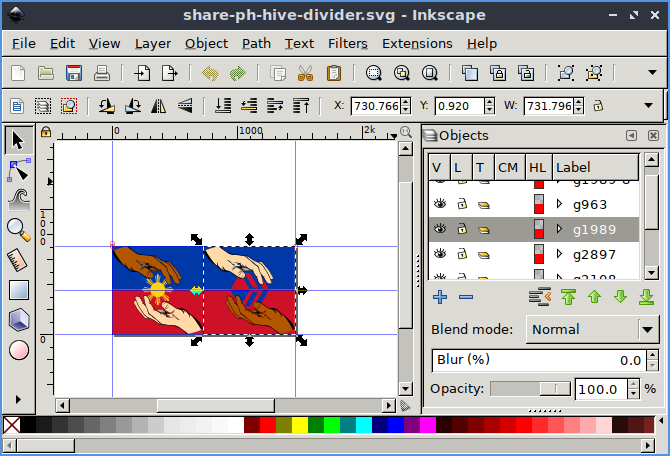 Assembling the elements
– now it is time to put all of the pieces together the way that I want them. This involves a lot of aligning, distributing, and working with z-order layers - deciding which part is seen on top of the others.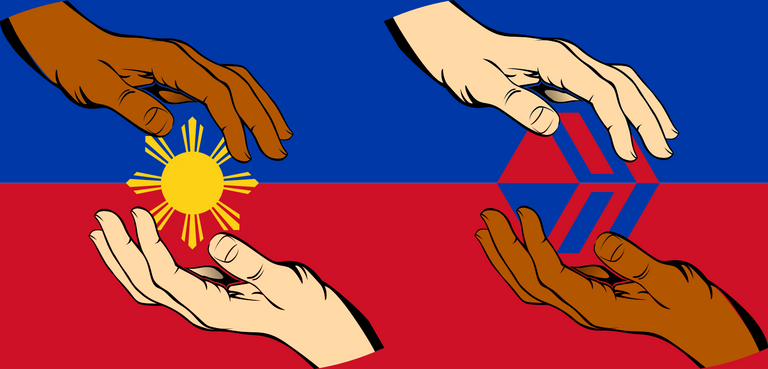 The Final Render
– once everything is in place, I will save it as a vector SVG file, and also render it as a raster PNG file. And that is it. Job done. It took me longer to document the process here on

HIVE
than it did to create the remix image itself!

Licensing the remixed image.
In the component source images table above, you may notice that one of the source components (in fact, it is the

HIVE logo), is licensed with a Creative Commons

CC-BY-SA license. The SA here stands for "share alike", and this means that for any derivative work which includes that source component, the subsequent remixed image must be licensed with the same, or a similar / compatible license. In this instance, it requires the Creative Commons Attribution-Share Alike 4.0 International license. Therefore, my remix will be released under the same license terms, which means that you are free:
to share – to copy, distribute and transmit the work
to remix – to adapt the work
Under the following conditions:
attribution – You must give appropriate credit, provide a link to the license, and indicate if changes were made. You may do so in any reasonable manner, but not in any way that suggests the licensor endorses you or your use.
share alike – If you remix, transform, or build upon the material, you must distribute your contributions under the same or compatible license as the original.

Image Credits
post-head.png – Remix created by @frittro, using elements by @pantone801; a screenshot from the Inkscape interface; and various "fair use" logos, including Inkscape, the Creative Commons "remixer" logo, and some Hive Tribe and Community logos.
Various "fair use" organisation and company logos, including Hive, GIMP, Inkscape, etc.
component source images – see license details in text.
screenshots – From the Inkscape interface.
screenshot5_final_render.png – Remix created by @frittro, using elements as described in text.
share_ph_hive_divider.png – Remix created by @frittro, using elements as described in text.
maori-divider.png – Original image by @pantone801. Remix created by @frittro.
frittro-maori-footer.png – Remix created by @frittro, using elements by @pantone801; and the Silver Bloggers logo by @mondoshawan.

---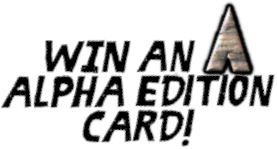 Simply make a comment on this post, wishing
@camlara
a speedy recovery, either in English or in Filipino, and you will go into the draw for an Alpha Edition, Level 1 card from my collection. The winner can choose one of these Level 1 Common monster cards...

I will judge the best comment subjectively, so please make them sincere. Apparently @camlara is still in hospital in the Philippines, after surgery for removing a tumour in the intestinal tract, according to @mhel. I don't speak Filipino, so I will rely on a translator, and I also have a Filipino friend here in Auckland, New Zealand, whom I will call upon to help me with the judging.
---