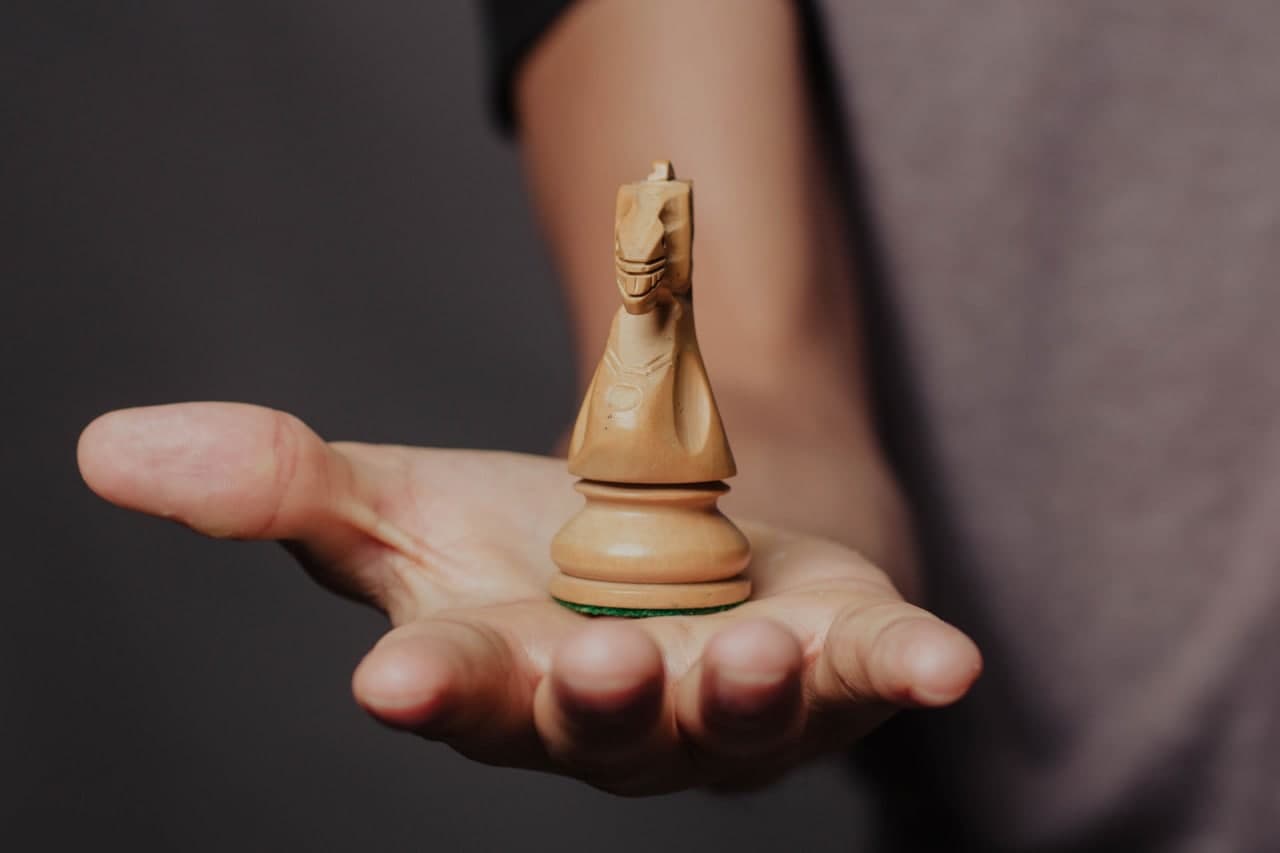 The great achievements of mankind throughout its history have been the product of the integration of many efforts. It is not surprising that the famous phrase "in unity there is strength" remains so vigorously valid. This is evident, for example, with the arrival of man on the moon: it was a hard work achieved by a collective that exceeded more than 1,000 people involved in different areas of science and technology, thus reaching an important milestone collectively.
What about about chess? Although it is an individual sport, there are certain aspects of group interest that stand out. A clear example of this is the working group that brings together players, analysts, coaches and other technical staff who together provide support to elite players, such as aspirants to the title of world chess champion, acting as a kind of "chess laboratory". This illustrates very well how the work of several brilliant minds is channeled into one point. It is not surprising that many of the fleeting and devastating "opening preparations" (surprise strategies for a game) have been the result of the collaboration of many chess players and chess software specialists.
It is clear that teamwork definitely sets the standard! And the same goes for other sports, where teamwork is absolutely necessary, especially if the sport is effectively played as a group.
That said, the Chess Brothers Project on HIVE aims to provide well-deserved rewards to the authors of valuable content on this platform. The integration and consolidation of our work team is in great growth, so we hope that these rewards continue to grow in number in order to reach more users who strive every day to share their written and audiovisual productions. We have also decided to open the doors to those who want to support our initiative, so that we can work as a team. Let us explain.
An important collaboration mechanism that this blockchain has is the curation trail, which boosts the benefit of users who receive the upvote of a particular account or project, in our case, @chessbrotherspro. Basically, by being part of our curation trail you will be following our path and adding to the rain of votes that an article will receive when @chessbrotherspro carries out the curation and upvotes.
To be part of our trail just follow these simple steps:
Go to https://hive.vote/ and use the register option.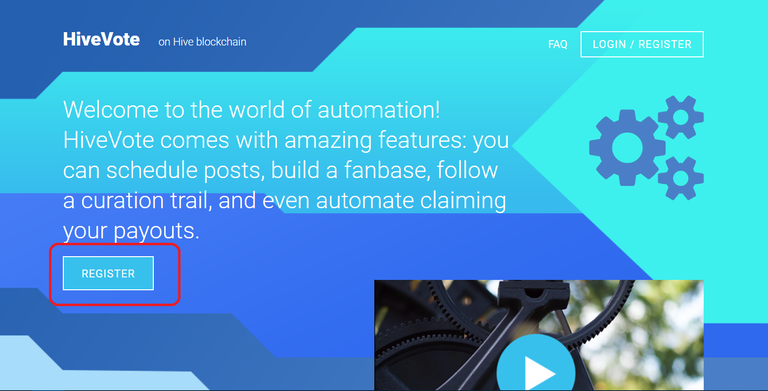 You will automatically be requested permissions with Hivesigner so that the Hive.vote Dapp can sign the transactions and you can participate in the trail.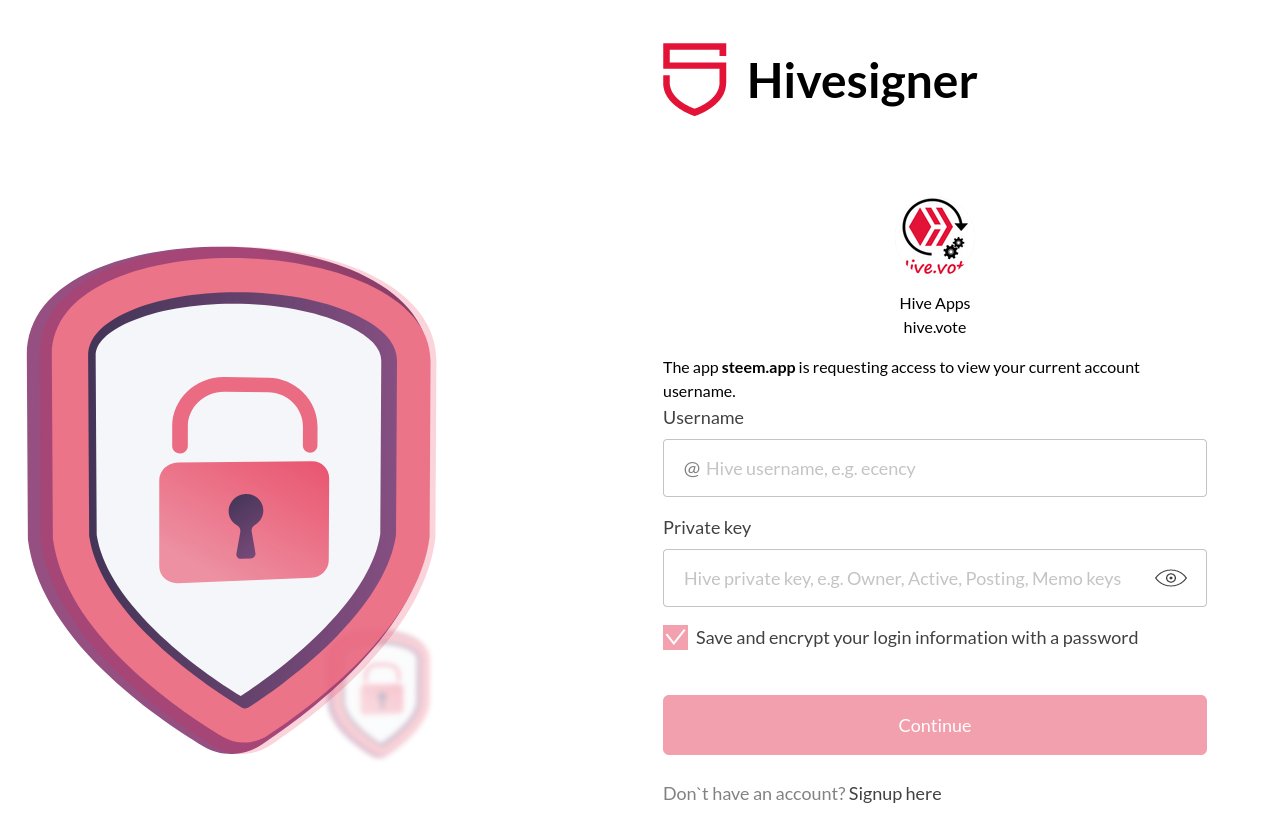 Enter your username and posting key to grant the corresponding permissions to the application. If you haven't done this before, then you will be prompted to create a unique Hivesigner password to authorize login. Note that this local password must be different from the private posting key: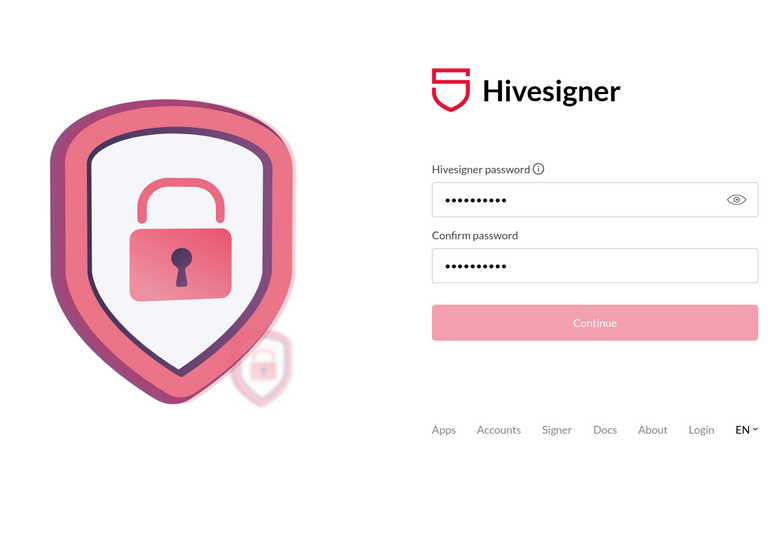 Once you have logged in, the following view will appear: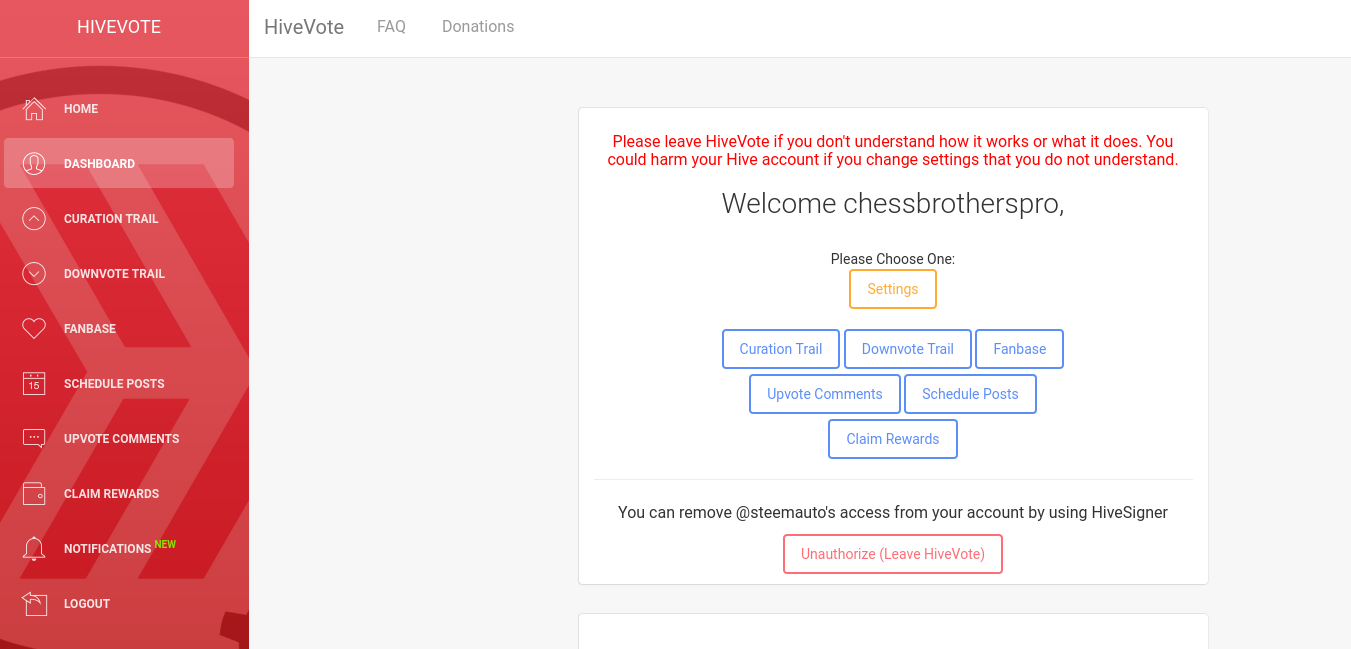 In this view we select the curation trail option, and then search for the chessbrotherspro trail in the search field.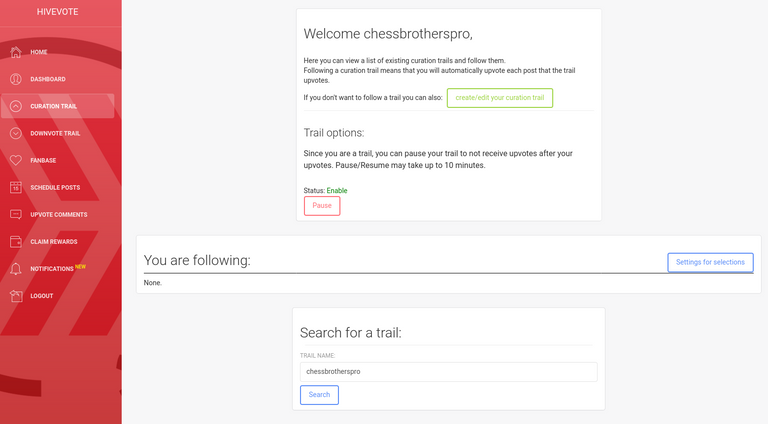 Select the follow option.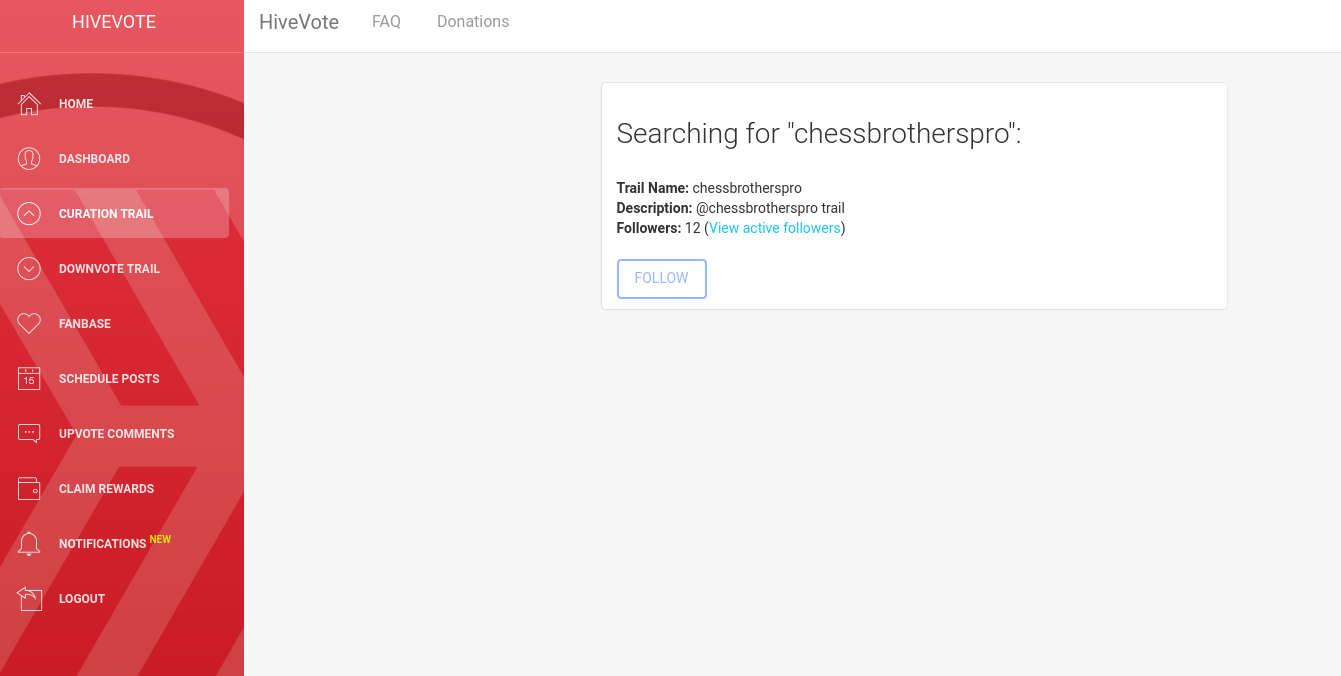 This way you will already be following our trail. Additionally, you can change the settings to increase the voting power, since by default it is set to 50%. You can set the value you want. The higher the percentage, the higher the contribution of your vote.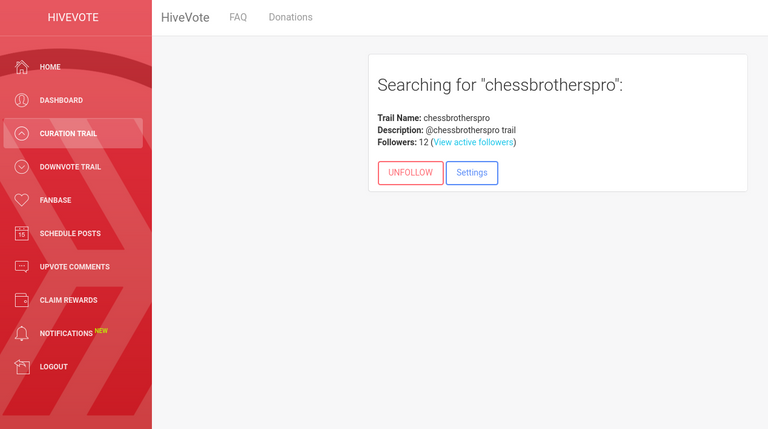 To change the percentage, do click on settings.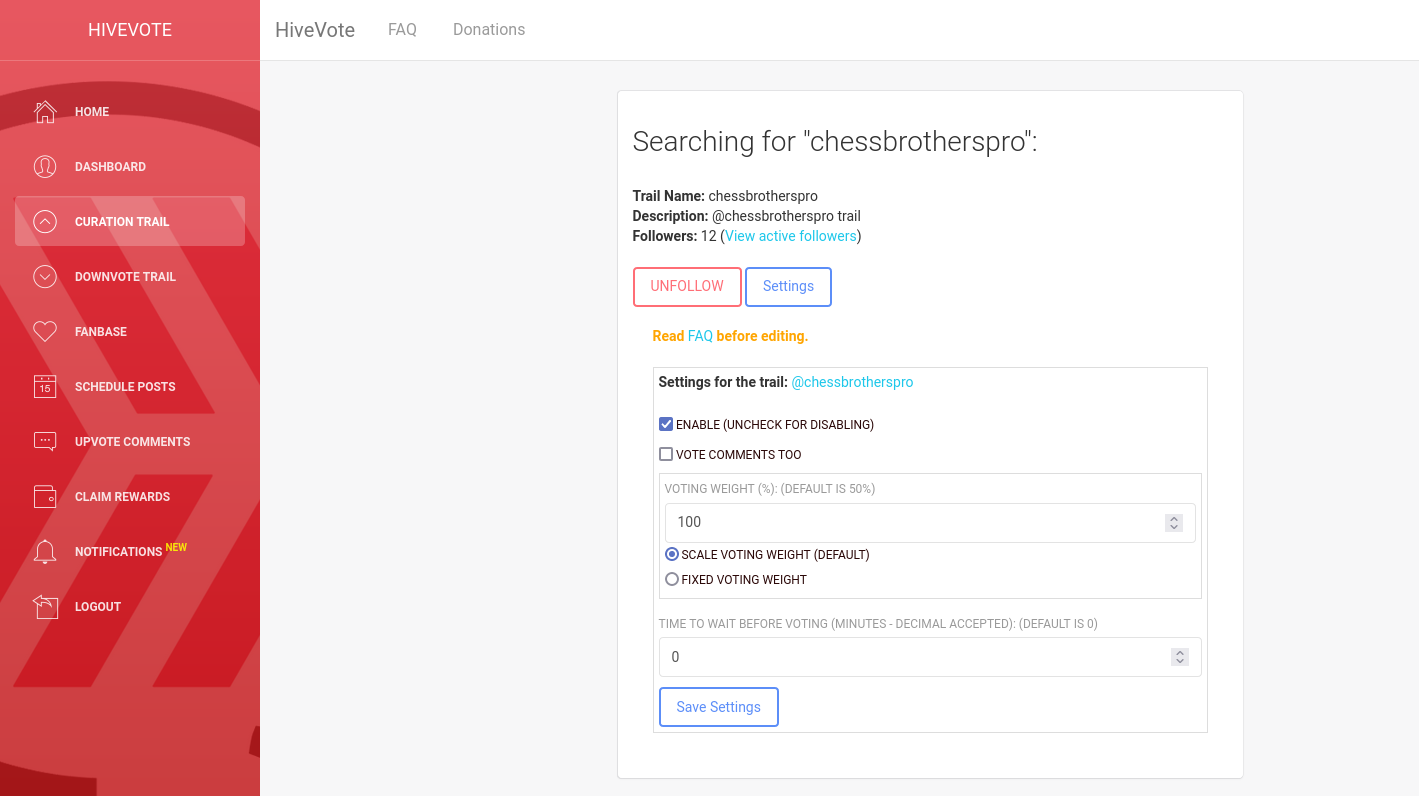 In this example, voting power has been set to 100%.
By following these simple steps, you will already be part of our curation trail!
Don't forget that doing this will also bring you additional benefits, as you automate part of your curation work on the blockchain and receive curation rewards.
Thank you for being part of our trail and therefore working with us as a team!
If you want to learn more about us, please visit this post as well as our official website www.chessbrothers.com.
You can also join our Discord server where we will gladly assist you.
Note: the cover image is property of www.chessbrothers.com.