🤖 First Science Fiction Contest 🤖
[English Version]
We started the year in the best way, with a pending task which was to resume work on a community with a special niche and to which many content creators in the Hive blockchain will be interested in contributing value, it is science fiction, a literary genre that for centuries has changed the way we perceive the present and the future of our species, so this time we will open the door to awaken the imagination of the authors in our first contest.
First Science Fiction Contest
While there are writing and art communities that can contemplate works immersed in science fiction, in this community we seek to broaden that perception and unite everything that can make reference to this fabulous genre.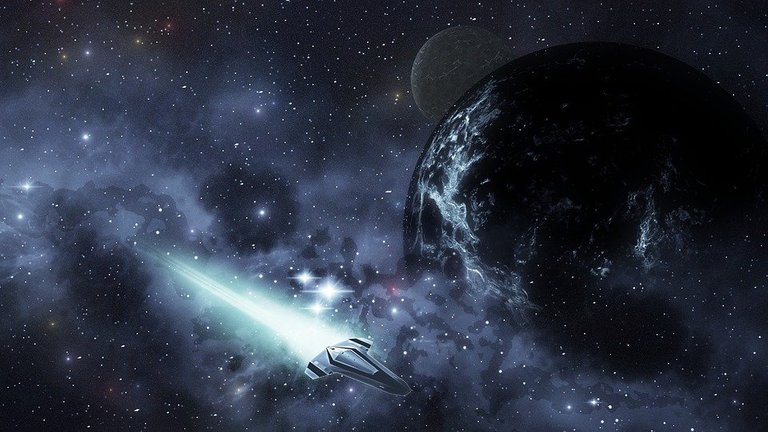 Source
How to enter?
For this first contest the conditions are quite simple, you just have to submit your original and quality content about this genre.
Literature:
You can write stories, short stories, poems and essays, among other works that fall into this niche, imagination is the limit of each author to present their writings, although this genre also focuses on science you can focus only on the imagination and describe a futuristic world as you wish.
Art:
Art will also be welcome, it can be paintings, drawings, digital art, however, we want to know what each work means, the story the artist expresses behind the artwork, even make-up, illustrations will be accepted as long as it is based on a science fiction story
Videos:
Videos will be accepted where you can tell us the story or describe the futuristic world in your mind.
Teamwork
In this initiative we want to unite all the expressions that can refer to this literary genre, so the authors can work in teams, one author can make an artistic work and the other author can make a story based on the work of his partner, it would be great to see authors of arts and literature working together in this contest, works will be accepted from individuals or in teams of 2 authors per entry.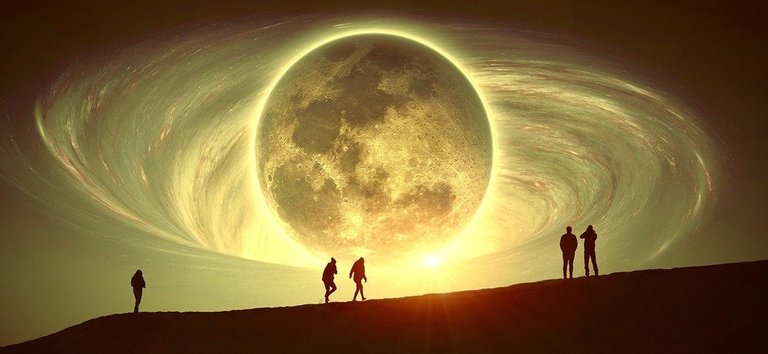 Source
Rules:
Individual Entry
If it is a literary work where the author's own artistic expression is not used, the entry must contain at least 600 words in one language and 1200 words must be bilingual (English is required for each post). If the author submits an original artistic work created exclusively for this contest, the entry may be shorter due to the effort involved in producing an artistic production.
Team Entry
The minimum length of the entry will be 600 words and 1200 bilingual (English is required) regardless of whether a piece of artwork or artistic expression is submitted, due to the sharing of work between authors, i.e. art and writing. (Mention must be made of the other team member, it is allowed to place the other author as the beneficiary of the contest entry post).
The post must be published in this community

One Entry per participant or Team

Moderators may enter either individually or as a team, however, their work will not be eligible for the award.

A minimum of 10 entries must be reached in order to be eligible for awards.

Comment on the work of other authors or teams participating in this competition.

Must be a unique entry never before published elsewhere.
Non-mandatory suggestions
Reblog this post for more people
Add English subtitles to the Spanish videos.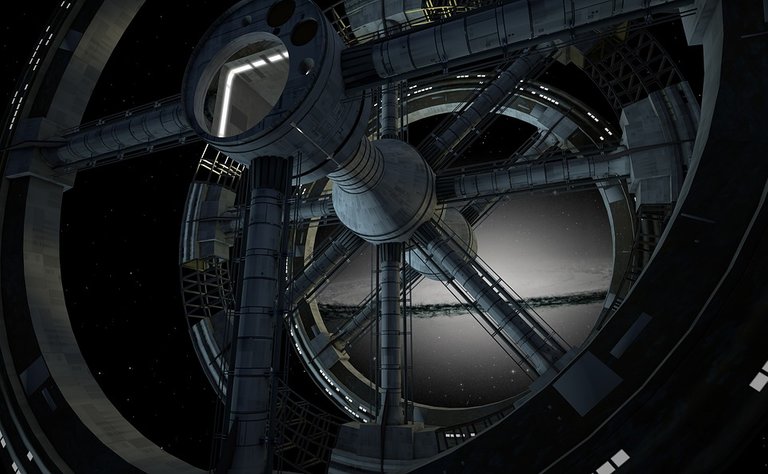 Source
Prize:
A total of 15 HBD distributed to 3 entries will be awarded, the works will be evaluated by our moderators where the quality and effort of the work will be analysed, as well as originality. If any of the selected entries is the work of a team, the prize will be shared between them.
Curation:
The community is new, so at the moment there is no formal support from any curation project, however, by submitting quality work they may be eligible for external curators, we should mention that upvotes are not assured in this initiative.
Timing of this competition:
Entries for this competition will be being accepted after 16 days of publication of this post.
Conclusion
We wish to see quality work and good interaction, above all, we want everyone to have fun creating and consuming the content which will surely be very interesting, looking forward to seeing your work, we wish you all the best of luck.

Image edited in Canva
---
🤖 Primer Concurso de Ciencia Ficción 🤖
[Versión En Español]
Comenzamos el año de la mejor manera, con una tarea pendiente que era retomar el trabajo sobre una comunidad con un nicho especial y al cual muchos de creadores de contenido en la blockchain Hive estarán interesados en aportar valor, se trata de la ciencia ficción, un género literario que desde hace siglos ha cambiado la manera de percibir el presente y el futuro de nuestra especie, así que en esta oportunidad abriremos la puerta para despertar la imaginación de los autores en nuestro primer concurso.
Primer Concurso de Ciencia Ficción
Si bien existen comunidades de escritura y de arte que pueden contemplar trabajos inmersos en la ciencia ficción, en esta comunidad buscamos ampliar esa percepción y unir todo lo que pueda hacer referencia a este fabuloso género.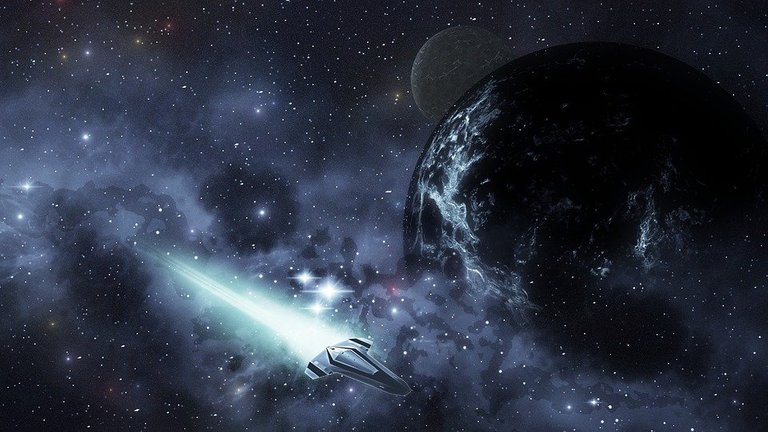 Source
¿Cómo Participar?
Para este primer concurso las condiciones son bastante simples, solo debes presentar tu contenido original y de calidad sobre este género.
Literatura:
Se puede escribir relatos, cuentos, poesías y ensayos, entre otros trabajos que se introduzcan en este nicho, la imaginación es el límite de cada autor para presentar sus escritos, si bien este género también se centra en la ciencia puedes centrarte solamente en la imaginación y describir un mundo futurista como lo desees.
Arte:
También será bienvenido el arte, puede ser pintura, dibujos, arte digital, sin embargo, queremos saber lo que significa cada obra, la historia que expresa el artista detrás del trabajo artístico, incluso se aceptará maquillaje, ilustraciones siempre y cuando se base en una historia de ciencia ficción
Videos:
Se aceptarán videos donde puede contarnos la historia o describir el mundo futurista que se encuentra en tu mente.
Trabajo en Equipo
En esta iniciativa queremos unir todas las expresiones que pueden referirse a este género literario, por lo que los autores pueden trabajar en equipos, puede que uno realice una obra artística y el otro autor realice un relato basado en la obra de su compañero, sería genial ver autores de artes y de literatura trabajar juntos en este concurso, se admitirá trabajos de individuales o en equipos de 2 autores por entrada.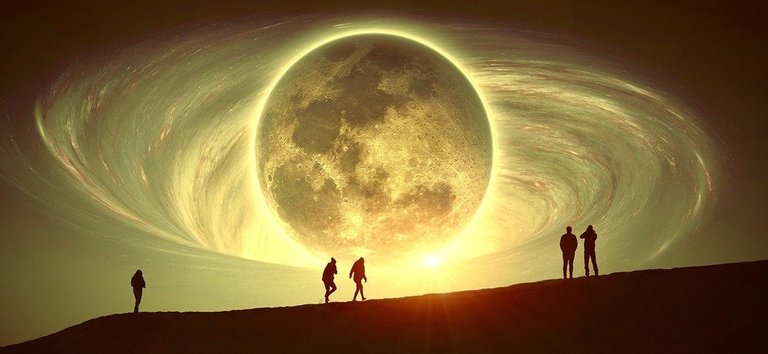 Source
Reglas:
Entrada Individual
Si es un trabajo literario en donde no se realice alguna expresión artística propia del autor, el escrito debe contener al menos 600 palabras en un idioma y 1200 de ser bilingüe (el inglés es necesario para cada post), si el autor presenta una obra artística original creada exclusivamente para este concurso, el escrito puede ser mas corto debido al esfuerzo que implica realizar una producción artística.
Entrada en Equipo
El escrito mínimo será de 600 palabras y 1200 bilingüe (el inglés es necesario) indiferentemente si se presenta una obra o expresión artística, debido a que se compartirían el trabajo entre autores, por ejemplo arte y escritura. (Se debe hacer mención al otro miembro del equipo, se permite colocar al otro autor como beneficiario del post de entrada del concurso)
El post debe ser publicado en esta comunidad

Una Entrada por participante o Equipo

Los Moderadores pueden participar tanto individualmente como en equipo, sin embargo, su trabajo no será elegible en la premiación.

Se debe alcanzar un mínimo de 10 entradas para poder efectuar la premiación.

Comentar el trabajo de otros autores o equipos que participen en este concurso

Debe ser un trabajo único nunca antes publicado en otro sitio
Sugerencias No Obligatorias
Rebloguear este post para que más personas
Colocar Subtítulos en inglés a los videos en español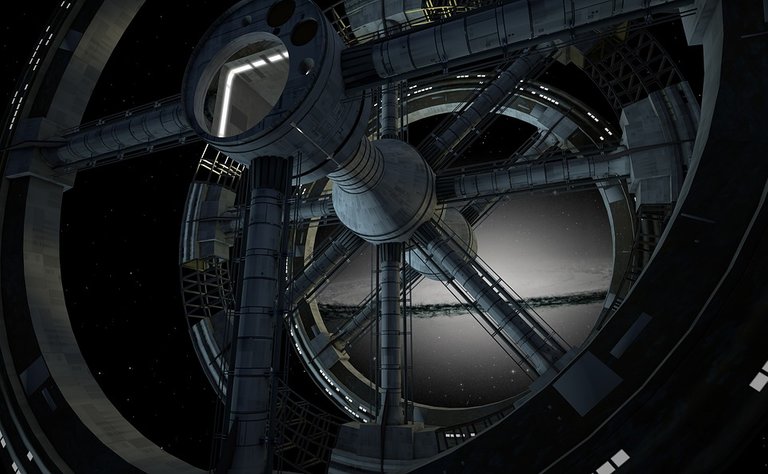 Source
Premio
Se otorgará un total de 15 HBD distribuidos a 3 entradas, los trabajos serán evaluados por nuestros moderadores donde se analizará la calidad y esfuerzo del trabajo, así como también originalidad. Si alguna de la entradas seleccionadas es trabajo de un equipo, se repartirá el premio entre ambos.
Curación:
La comunidad es nueva, por lo que por los momentos no se tiene el apoyo formal de algún proyecto de curación, sin embargo, al presentar trabajos de calidad pueden ser elegibles para los curadores externos, debemos mencionar que no se aseguran los upvotes en esta iniciativa.
Tiempo de este Concurso:
Se estarán aceptando entradas para este concurso luego de 16 días de publicación de este post.
Conclusión
Deseamos ver trabajos de calidad y buena interacción, sobre todo, queremos que todos se diviertan creando y consumiendo el contenido que seguramente será muy interesante, deseosos de ver sus trabajos, les deseamos mucha suerte a todos.

Image edited in Canva