---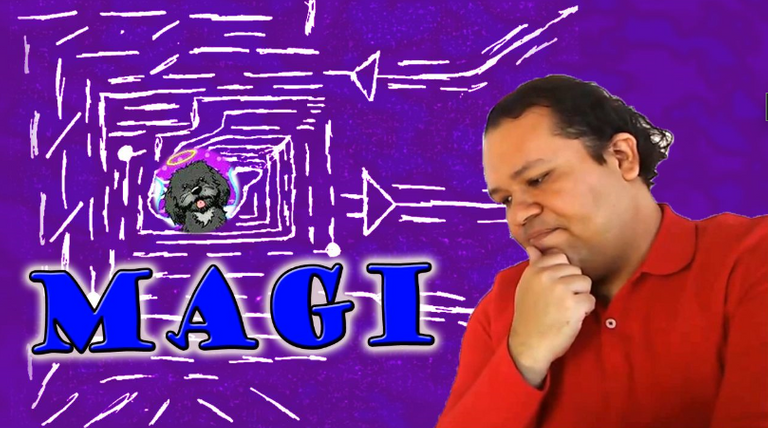 Drawing made by me of MAGI edited with PhotoShop
Hello good cybernetic and futuristic guys of the Science Fiction community, I'm trying to let my imagination fly to what I could upload content to the community and this is one of my first steps.
As a child in the 2000's I saw the anime Evangelion in the now extinct Locomotion and in one of its chapters names a concept that would be new to me, a Super Computer whose principle of operation is the personality of its creator, that computer that called my attention is called MAGI.
Its creator Naoko Akagi uses three fundamental aspects of her personality as inspiration and deposits them in MAGI to make decisions since the objective of MAGI the super computer is to protect Tokyo 3 from the attack of the Angels, the names of these three partitions of the computer and the human element deposited in them with essence in its creator are the following:
GASPAR: Essence of Woman.

MELCHOR: Essence of Scientist.

BALTASAR: Mother Essence.
Hola buenos muchachones cibernéticos y futuristas de la comunidad de Science Fiction, estoy tratando de dejar volar mi imaginación a lo que pudiera subir de contenido a la comunidad y este es uno de mis primeros pasos.
De pequeño en la época de los 2000 vi el anime Evangelion en ya el extinto Locomotion y en uno de sus capítulos nombra un concepto que sería nuevo para mi, una Super Computadora cuyo principio de Funcionamiento es la personalidad de su Creadora, esa computadora que tanto llamo mi atención se llama MAGI.
Su creadora Naoko Akagi usa de inspiración tres aspectos fundamentales de su personalidad y los deposita en MAGI para la toma de decisiones ya que el objetivo de MAGI la super computadora es proteger Tokyo 3 del ataque de los Ángeles, los nombres de estas tres particiones de la computadora y el elemento humano depositado en ellas con esencia en su creadora son los siguientes:
GASPAR: Esencia de Mujer.

MELCHOR: Esencia de Científica.

BALTASAR: Esencia de Madre.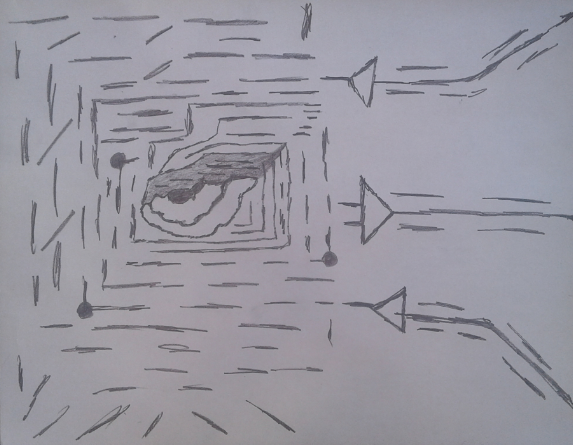 Drawing made by me of MAGI
These three parts of Magi generate such an interaction that they control every aspect of the city, not only its defense, based on the aspects Mother, Woman and Scientist. In an analysis of this computer I think that its successful characteristics is that it will do everything necessary to LOVE and PROTECT that goal, that objective or being that MAGI has, in this case the city.
Its disadvantage is that we add humanity in this computer and if something we know about humanity is that it is not perfect and we notice it because MAGI ends up beyond the city is LOVING and PROTECTING Gendo Ikari the love of his creator Naoko.
As a Mother she repeats the mistakes of her creator since Ritsuko, Naoko's daughter, repeats the same mistakes of her mother by falling in love with Gendo and this manipulates her to continue managing MAGI in her favor, an aspect in which Balthazar fails because he leaves aside what his daughter represents which is the same mistake Naoko made.
As everything in life, there are advantages and disadvantages, MAGI's POWERFUL ADVANTAGE is its scientific aspect because it is the element that adds rationality to MAGI for the best decision making and thus avoid the sacrifices that can cause Love which is the aspect of Woman and that of Blind Protection at all costs which is the aspect of Mother.
Estas tres partes de Magi generan una interacción tal que controlan todo aspecto de la ciudad, no solo su defensa, basándose en los aspectos Madre, Mujer y Científica. En un análisis de esta computadora pienso que sus características acertadas es que hará todo lo necesario para AMAR y PROTEGER esa meta, ese objetivo o ser que tenga MAGI, en este caso la ciudad.
Su desventaja es que agregamos humanidad en esta computadora y si algo sabemos de la humanidad es que no es perfecta y lo notamos porque MAGI termina mas allá de la ciudad es AMANDO y PROTEGIENDO a Gendo Ikari el amor de su creadora Naoko.
Como Madre repite los errores de su creadora ya que Ritsuko, hija de Naoko, repite los mismos errores de su madre al enamorarse de Gendo y este la manipula para que siga manejando a MAGI a su favor, aspecto en el que Baltasar falla porque deja de lado a lo que representa su hija que es el mismo error que cometió Naoko.
Como todo en la vida, hay ventajas y desventajas, LA PODEROSA VENTAJA de MAGI es su aspecto científica porque es el elemento que le agrega racionalidad a MAGI para la mejor toma de decisiones y así evitar los sacrificios que puede causar el Amor que es el aspecto de Mujer y el de Protección Ciega a toda costa que es el aspecto de Madre.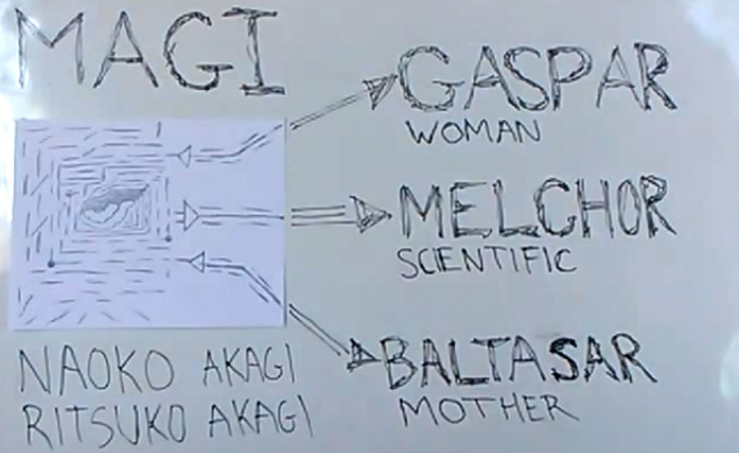 I present this super computer called MAGI to the community and its principle of operation which is psychological, this is the attribute that called my attention because there are quantum computers but there are no computers that can take these essences of a human and it is not easy what is named in the anime because only the fact of mother represents a lot for an artificial element.
I consider that this is close to the soul because when we analyze artificial intelligences, what separates us from them to my mind is the concept of soul, that consciousness because I think humans have programming, an algorithm and MAGI is a little closer to that basis or human algorithm.
Let me read in comments what you think of my thoughts about this computer and what would be the three elements that you would put in it, in my case it would be the scientific aspect, son and creative.
I dedicate each and every one of my posts and videos to my little dog named princess who we used to call her chiquito, she is no longer with us but from heaven she will see that her existence was valuable and the most beautiful thing that will exist in my heart and soul.
Presento esta super computadora llamada MAGI a la comunidad y su principio de funcionamiento que es psicológico, este es el atributo que mas llamo mi atención porque existen computadoras cuánticas pero no existen computadoras que logren tomar estas esencias de un humano y no es fácil lo que se nombra en el anime ya que solo el hecho de madre representa mucho para un elemento artificial.
Considero que esto se acerca al alma porque cuando analizamos inteligencias artificiales, lo que nos separa de ellas a mi pensar es el concepto alma, esa conciencia porque pienso los humanos tenemos programación, un algoritmo y MAGI se acerca un poco mas a esa base o algoritmo humano.
Déjenme leer en comentarios que tal les pareció mi pensar sobre esta computadora y cuales serían los tres elementos que depositarían en ella, en mi caso sería el aspecto científico, hijo y creativo.
Dedicados todos y cada uno de mis post y videos a mi perrita llamada princesa que le decíamos chiquito que ya no está con nosotros pero desde el cielo ella verá que su existencia SI fue valiosa y lo más bonito que existirá en mi corazón y en mi alma.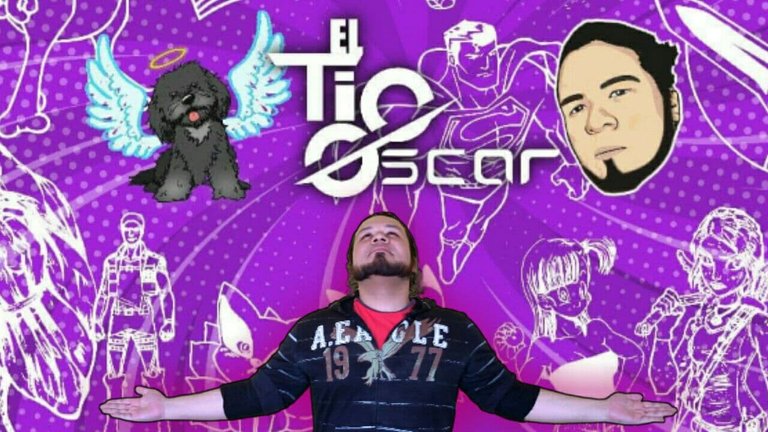 ---
▶️ 3Speak