¡Saludos! Hoy traigo algo sobre reparación, en este caso de unos altavoces que si bien pueden ser usados de muchas maneras, estos suelen verse comúnmente junto a una PC.
Para comenzar los destapé, sus tornillos estaban visibles y en total son 8, lo hice porque estaban un poco flojas las cornetas y tuve que ajustarlas. Aunque el problema principal estaba en el cable, que estaba roto por dentro por causa de una mala manipulación al meter y sacar el plug.
Entonces procedí a cortar el cable y tomar una punta estéreo que compré para sustituir la punta. Para ello usé mi navaja, una tijera y mi destornillador. Lo que ven a la izquierda son las "patas" de los altavoces, van colocadas debajo de ellos y no necesitan tornillos, calzan como un rompecabezas, por así decirlo.
Greetings! Today I bring something about repair, in this case of some speakers that although they can be used in many ways, these are commonly seen next to a PC.
To begin with I uncovered them, their screws were visible and in total there are 8, I did it because the horns were a little loose and I had to adjust them. Although the main problem was in the cable, which was broken inside because of a bad manipulation when inserting and removing the plug.
I then proceeded to cut the cable and take a stereo tip that I bought to replace the tip. To do this I used my pocket knife, a pair of scissors and my screwdriver. What you see on the left are the "legs" of the speakers, they go under them and do not need screws, they fit like a jigsaw puzzle, so to speak.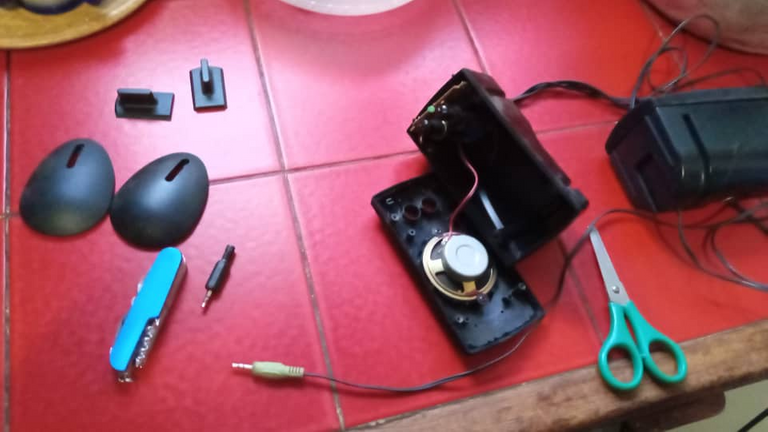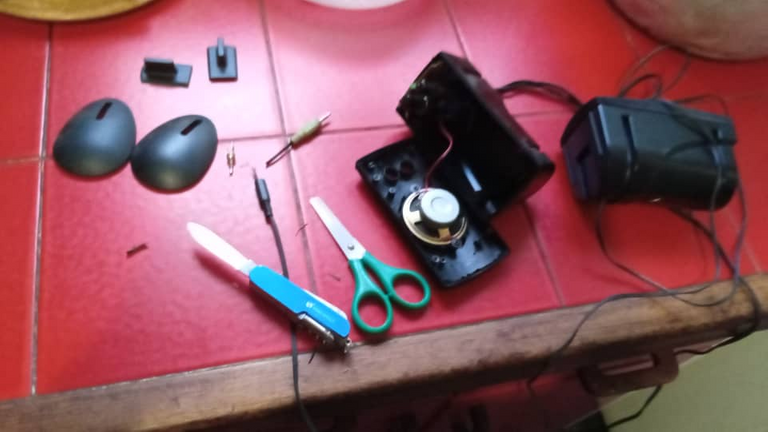 Para la soldadura, como no tengo un soporte adecuado, es decir una estación, tuve que optar por la improvisación. Lo que ven debajo es un gancho de carpeta de esos que suelen sostener las de color marrón en las oficinas, solo que le retiré el gancho que se usa para abrir y cerrar, de modo que no estorbara al soldar.
Al pelar los cables encontrarás uno rojo, uno blanco y detrás de cada uno una porción de cobre, es decir, como un cable sin recubrir. Debes unir ambas porciones de cobre descubierto, ese tercer "cable", irá en la placa más larga del nuevo plug, es decir, en la parte de atrás. El rojo y el blanco irán como lo ves en la imagen de abajo. Esta la tomé de un sitio aparte porque se veía mejor que la foto que tomé.
Recuerda colocar la parte plástica que cubrirá el plug antes de armar todos los cables, sino no podrás colocarla y todo estará soldado, de modo que tendrás que empezar de 0, incluso si ya funciona bien.
Los altavoces quedaron funcionando muy bien, para que la nueva punta no tuviera tanto movimiento en la zona que se rompió de la anterior, decidí colocarle un poco de teipe.
For the soldering, as I don't have a suitable support, that is to say a station, I had to improvise. What you see below is a folder hook of those that usually hold the brown ones in the offices, only that I removed the hook used to open and close, so that it would not get in the way when soldering.
When stripping the wires you will find one red, one white and behind each one a portion of copper, that is to say, like an uncoated wire. You must join both bare copper portions, that third "wire", will go on the longer plate of the new plug, i.e. on the back side. The red and white will go as you see in the picture below. I took this one from a separate site because it looked better than the picture I took.
Remember to place the plastic part that will cover the plug before assembling all the wires, otherwise you won't be able to place it and everything will be soldered, so you will have to start from 0, even if it already works fine.
The speakers were working very well, so that the new tip would not have so much movement in the area that was broken from the previous one, I decided to put some teipe on it.
---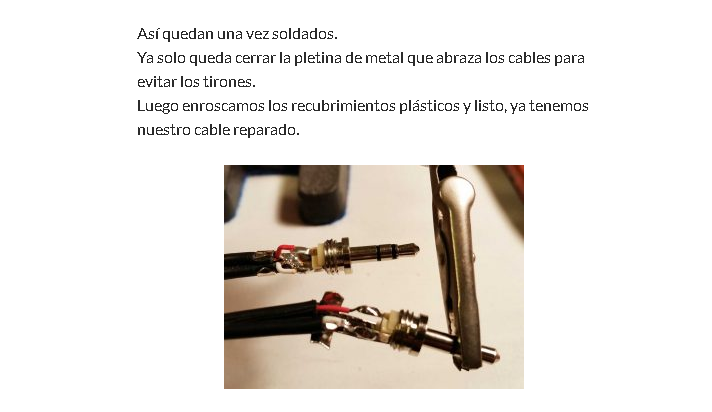 Source/Fuente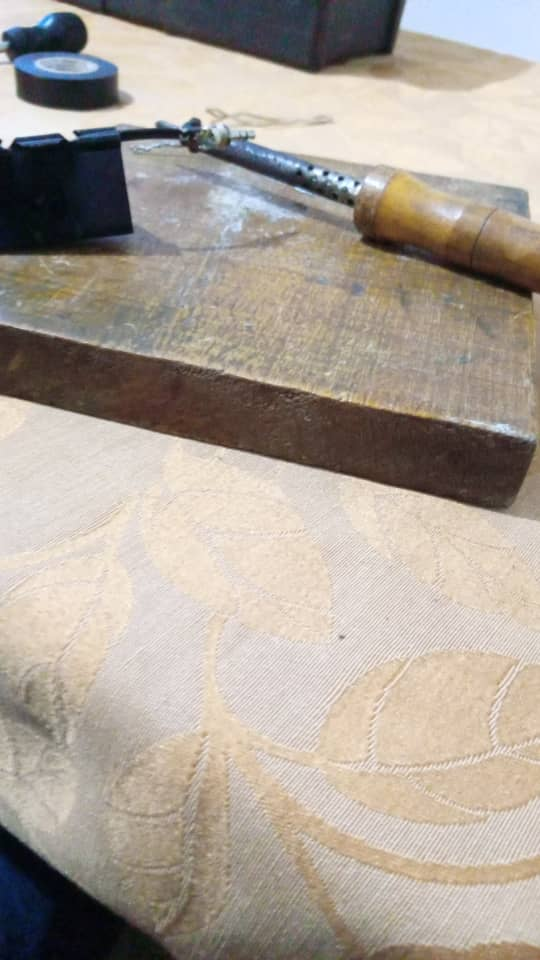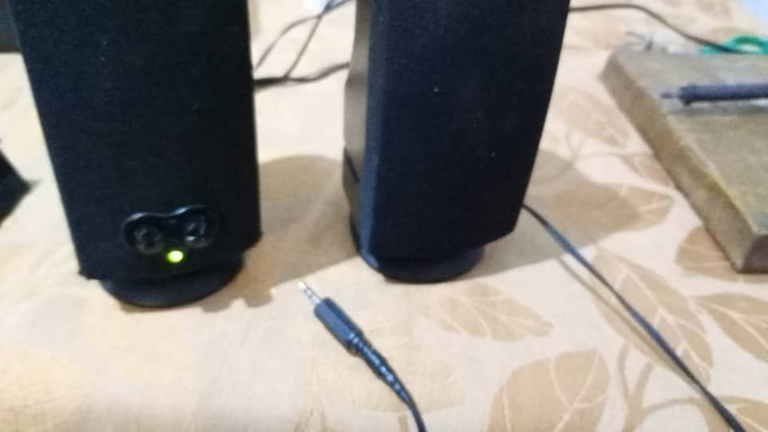 Y bueeeno, eso ha sido todo, espero que les esa de ayuda. Recuerden descartar antes de proceder a cortar, puede que el problema no esté en la punta, mejor ir seguro que perder tiempo valioso. Si deseas ver el resto de mi contenido de este tipo (Formateos y reparaciones) Acá abajo te dejo los links.
And well, that's all, I hope this is helpful. Remember to discard before proceeding to cut, maybe the problem is not in the tip, better to be safe than wasting valuable time. If you want to see the rest of my content of this type (Formatting and repairs) Here below I leave the links.
---
| Nombre de la publicación / Name of the post | LINK |
| --- | --- |
| ¡Tenemos tus archivos! (Experiencia con Ransomwares) | 1 |
| Formateando una PC del 2009 | 2 |
| Formateando otro dinosaurio | 3 |
---
Puedes seguirme por acá si lo deseas:
You can follow me here if you want: