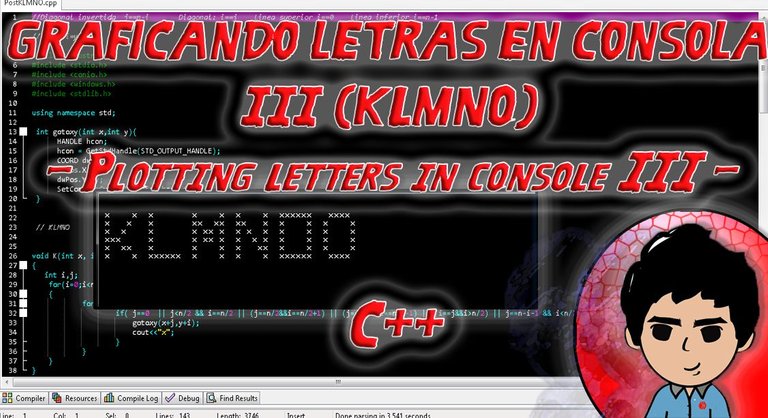 ¿Qué tal? hoy toca proseguir con la serie en la que la meta es cubrir todas las letras del abecedario. Esto para poder optar a tener esta nueva herramienta completa con la que podemos dar un toque curioso a nuestros programas.
How are you? Today it is time to continue with the series in which the goal is to cover all the letters of the alphabet. This to be able to opt to have this new complete tool with which we can give a curious touch to our programs.

Para la "K" las condiciones son: "j==0" para la línea izquierda vertical, "j<n/2 && i==n/2" para la línea central, "j==n/2 && i==n/2+1" para el punto superior a la línea central que complementa la diagonal (considero esto una pequeña mejora estética, podría omitirse o cambiarse), "j==n/2 && i==n/2-1" cumple la misma función pero debajo de la línea central. Para la diagonal superior "j==n-i-1 && i<n/2" y para la diagonal inferior "i==j && i>n/2".
Para la función de la letra "L" solo tuve que usar "j==0" para la línea vertical e "i==n-1" para la línea inferior", partiendo de la "C" solo habría que quitar la línea superior y de la "O" sería la superior y la vertical derecha.
La "M" tiene un patrón similar con respecto a las diagonales, sin embargo existen diferencias por su posicionamiento. Como ya sabemos "j==0" para la vertical izquierda, "j==n-1" para la vertical derecha. Para la primera diagonal de la M tenemos "i==j && i<n/2+1" y "i+j==n-1 && i<n/2+1" para la segunda diagonal.
For "K" the conditions are: "j==0" for the left vertical line, "j<n/2 && i==n/2" for the center line, "j==n/2 && i==n/2+1" for the point above the center line that complements the diagonal (I consider this a small aesthetic improvement, it could be omitted or changed), "j==n/2 && i==n/2-1" fulfills the same function but below the center line. For the upper diagonal "j==n-i-1 && i<n/2" and for the lower diagonal "i==j && i>n/2".
For the function of the letter "L" I only had to use "j==0" for the vertical line and "i==n-1" for the lower line", starting from the "C" only the upper line would have to be removed and from the "O" would be the upper and the right vertical.
The "M" has a similar pattern with respect to the diagonals, however there are differences in its positioning. As we already know "j==0" for the left vertical, "j==n-1" for the right vertical. For the first diagonal of the M we have "i==j && i<n/2+1" and "i+j==n-1 && i<n/2+1" for the second diagonal.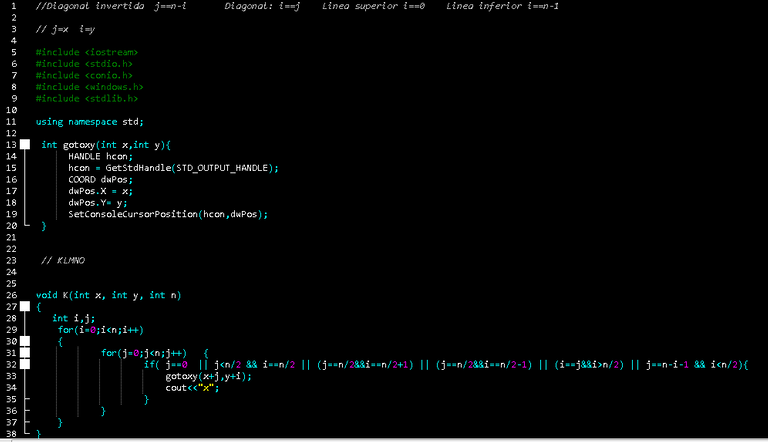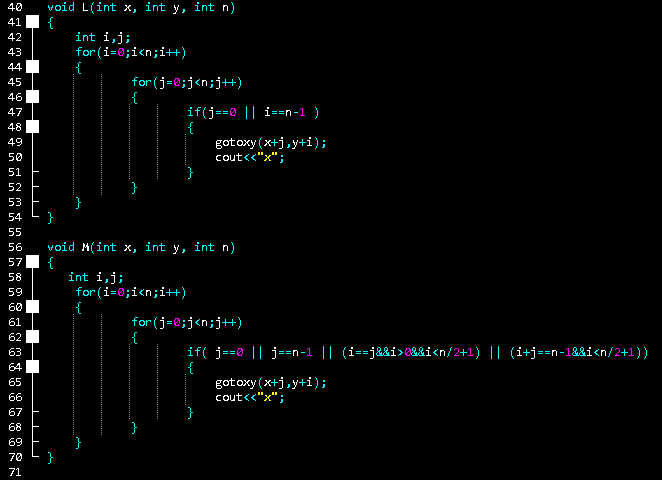 Toca la letra "N", en las condiciones está "j==0" y "j==n-1" nuevamente para la línea izquierda y la derecha vertical. Como solo requiero una diagonal está "i==j && i>0 && i<n-1" que puede sustituirse por simplemente "i==j".
Para la letra O usé el mismo patrón que para el "0" en la serie en la que explicaba como graficar números en consola, sin embargo añadí una versión un poco más estética "O_2", en esta limito las líneas para dejar espacios en las esquinas, de modo que se ve más circular. Esto lo logré añadiendo intervalos del tipo "x>0 && x<n-1" (donde x es j o i según sea el caso), de modo que comenzaban las líneas en 1 y finalizaban antes del último punto.
Finalmente llamo a las funciones, colocándolas a la misma altura en y pero separándolas un poco en x para que no se sobrepongan. El "system("cls")" no es necesario, solo que tengo esa rara costumbre de tenerlo a la mano por si acaso. El getch es para la pausa de siempre. Como recordatorio recurrente y hasta quizás fastidioso, cabe mencionar que si estás un poco perdido por el hecho de que no expliqué ciertas cosas sobre las librerías o los ciclos for, debes pasar por los post anteriores respecto a esta temática para entrar en mejor contexto (Serie "graficando números" y las partes I y II de esta nueva en la que graficamos letras).
Touch the letter "N", in the conditions there is "j==0" and "j==n-1" again for the left and right vertical line. Since I only require one diagonal there is "i==j && i>0 && i<n-1" which can be replaced by simply "i==j".
For the letter O I used the same pattern as for "0" in the series where I explained how to plot numbers in console, however I added a slightly more aesthetic version "O_2", in this one I limit the lines to leave spaces in the corners, so it looks more circular. I achieved this by adding intervals of the type "x>0 && x<n-1" (where x is j or i as the case may be), so that they started the lines at 1 and ended before the last point.
Finally I call the functions, placing them at the same height in y but separating them a bit in x so they don't overlap. The "system("cls")" is not necessary, I just have this weird habit of keeping it handy just in case. The getch is for the usual pause. As a recurring and perhaps even annoying reminder, it is worth mentioning that if you are a little lost by the fact that I did not explain certain things about libraries or for cycles, you should go through the previous posts on this topic to get a better context (Series "plotting numbers" and parts I and II of this new one in which we plot letters).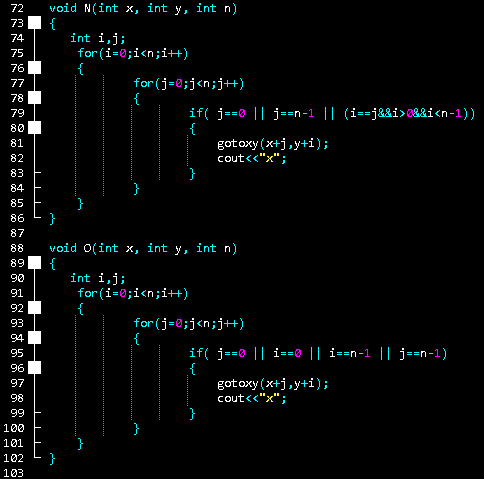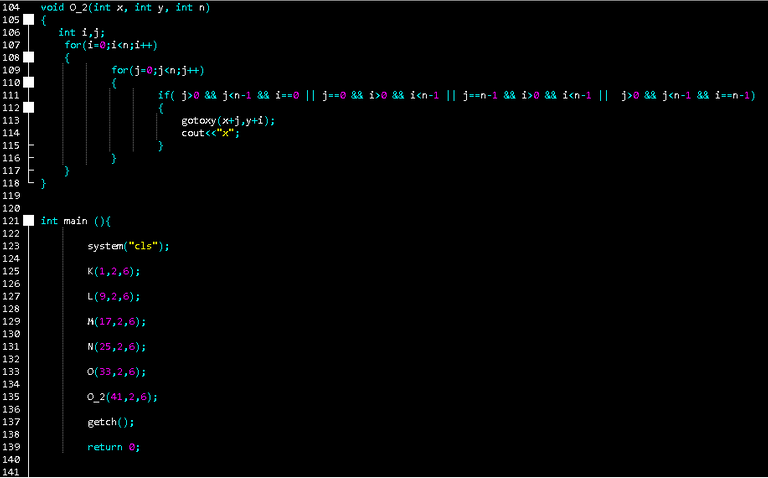 ¡Y bueno... Eso es todo por hoy! Ojalá esta tercera parte te aporte nuevas letras para tu proyecto o te ayude en aquello que quieres implementar o aprender. Ya hemos cubierto 15 letras ya queda menos para cumplir la meta, me salté la "ñ" porque resulta un poco problemática, pero en la próxima entrega la traeré.
Si te interesa otro tutorial de programación acá te dejo los links a los que he realizado hasta ahora:
And well... That's all for today! Hopefully this third part will bring you new letters for your project or help you in what you want to implement or learn. We have already covered 15 letters and there are less to meet the goal, I skipped the "ñ" because it is a bit problematic, but in the next installment I will bring it.
If you are interested in another programming tutorial here are the links to the ones I have done until now:
---
| Nombre de la publicación / Name of the post | LINK |
| --- | --- |
| Calculador de datos para un triángulo rectángulo en C++ | 1 |
| Concecionario de autos, ejercicio en JAVA | 2 |
| Calculador de edad básico C++ | 3 |
| Inversor de números de tres cifras | 4 |
| ¿Cuántos números de 3 cifras existen cuya suma sea 10? - ¡Respondiendo a otro usuario! C++ | 5 |
| Calculadora simple, cifra menos significativa y portada simple C++ | 6 |
| ¡Vistazo a BeatUDO! JAVA | 7 |
| Comprobar si un número de dos cifras es primo C++ | 8 |
| Conversor de pulgadas a 7 unidades distintas C++ | 9 |
| Comprobar si un número es capicúa (Máx 5 cifras) C++ | 10 |
| Comprobador de caracteres C++ | 11 |
| Calculadora de índice de masa corporal C++ | 12 |
| Calculadora de factoriales C++ | 13 |
| Conversor (Grados Celsius - Fahrenheit - Kelvin) C++ | 14 |
| Calculadora de longitud, diametro y área de una circunferencia C++ | 15 |
| Graficando números en consola (0-3) C++ | 16 |
| Graficando números en consola II (4-6) C++ | 17 |
| Graficando números en consola III (7-9) C++ | 18 |
| Calculadora de ecuaciones cuadráticas C++ | 19 |
| Dados digitales C++ | 20 |
| Fichas biográficas de próceres C++ | 21 |
| Calculadora de divisores C++ | 22 |
| Calculadora de divisores II C++ | 23 |
| Graficando letras en consola I (ABCDE) C++ | 24 |
| Graficando letras en consola II (FGHIJ) C++ | 25 |

---

---
Puedes seguirme por acá si lo deseas:
You can follow me here if you want: