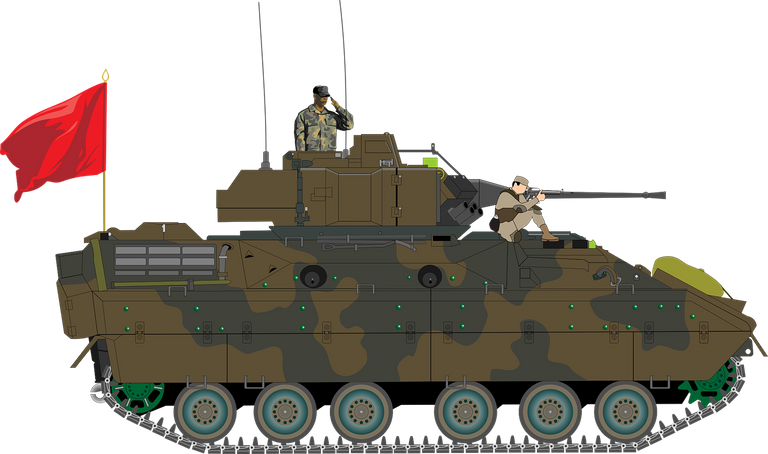 Image by OpenClipart-Vectors from Pixabay
Looking back when I was much younger, I was fascinated by those kinds of action-packed movies that includes the operations of the military. There are also other ones that involve detectives trying to solve a complex case and even risking their lives in the process. But I will say I am more inclined to love the work of a detective than that of the military. Well, for the purpose of this context, I will be sticking with the military.
Just today, I found out the meaning of the paramilitary. What I only knew were the examples of paramilitaries that exist in my country such as the Boys' Brigade, Man of War, etc. Nothing more. So, according to Wikipedia. com,
A paramilitary is an organization whose structure, tactics, training, subculture, and (often) function are similar to those of a professional military, but is not part of a country's official or legitimate armed forces.
This basically means that their activities resemble that of the military but they are of civilian origin.
I believe you can deduce from what I have talked about above that I would love to join the military if it were compulsory. For the paramilitary, I only prefer the Boys' Brigade due to my love for drums if the military was not an option. Back to the main thing, there are mainly three parts of the military in my country, as is the rest of the world, I believe – the Army, Navy, and Airforce. Basically, they are in charge of the land, waters, and air respectively.
However, I do not think I have just one preference entirely among the three. Maybe, if it could be combined into one like that of the US Navy SEALS, I will definitely go into it head-on. But If I were to choose just one, the Navy will be an option. I have a range of reasons for that. One of them includes the fact that I may not be in close contact with enemies most of the time, basically, assaults are launched from the warships and all. I know you are thinking what if the assault was against my side? Well, I am sure we would have been taught how to swim and survive in the waters in case of severe conditions. But mainly it is because I do not want to die. I know that is funny. I know right.
However, if some things were either taken away or changed, the Navy would be the best place for me. Now, I heard that Navy personnel go on long journeys and spend months on the waters and see their families probably once a year. Honestly, I do not want that. How would I be living among the waters that have dangerous sharks for months and have minute time with my people?
In another way, I would love to work as a sniper in the Army. I believe snipers do not go out as often as normal ground officials. A sniper most times do their deeds - assault - from far distances and come in less contact with enemies. So, the less the better.
The military has other departments in their organization, you know, not everyone goes to war. We have some who work at their hospitals, intelligence systems, machinery, etc. I believe it will be all better working in any one of these war-less zones than the ones I mentioned earlier on. Again I say, the less the better.
The state of security in my country seems to not be getting better by the day, and some people have even come up with theories that some of the evil perpetrators are on par with some people in the security agencies. A bad one for that speculation to even occur. So, I believe for security to be stepped up, it starts with those in charge – the military, police, etc. The military needs to ensure that their activities are more secure and allow for fewer interactions from the public so as to ensure success in their endeavors. Also, ensuring that the funds meant for defense are not misappropriated by unscrupulous persons as had once happened a long time ago, I believe when there are necessary resources available, for the personnel to do their jobs will be of utmost importance.
---
This is my entry for the Hive Learners week 29 edition 2 topic which you can check out here.