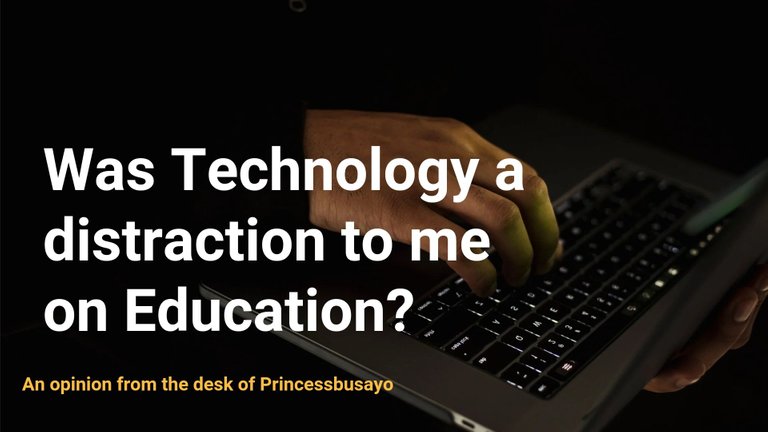 A ready-made template edited on Canva
Technology has made schooling more efficient in the aspect of students searching and getting information quickly and accurately: more computers, smartphones, etc, making learning easier. Through search engines and e-books, traditional textbooks have been somewhat replaced, all because of technology.
Another aspect of technology that has been efficient in Education is that, instead of getting or searching for a qualified or competent personal tutor, students can easily get help or solutions through educational videos — anywhere and at any time.
Technology has also started adjusting the roles of teachers and students/learners as it has contributed immensely, to ways of learning, communication and working collaboratively.

I wouldn't say it affected me positively alone without adding the negative sides it had on me while being a student in school because the truth here is that, at the end of the day, these gadgets make me half-present in the classroom. While the lecture is going on, students including me are always finding ways to text or chat, surf the web, post on social media and see what is happening around the globe.
Smartphones, laptops and other devices create a distraction in the classroom unless you self-regulate it: this means you find a way to balance both so one wouldn't affect the other, but not all students would want to adhere to this method because they have been carried away with the news going on everywhere that they do not want to miss out on any, even if it means affecting their grades.
Students' attention is divided between two tasks — what the teacher is trying to teach and what the student is trying to do on the device, trying to catch up with the latest update, thereby leaving one to be mixed up and figuring out what the teacher said last.

The above situation is what I have experienced and I was able to caution myself in the long run when I discovered it would affect me if I don't do something about it. Yes, it affected me positively and at the same time, in a negative way until I realized the damage I was bringing on myself.
It is only when I do not caution myself and know when its time to study, that these gadgets are a distraction to me, but when I can time myself, by prioritizing the most important at that moment, giving room for studies only would make a person fully focused and there wouldn't be any distraction whatsoever.

Yes, they were because just as I have said earlier that they help in easy understanding, communication and getting information quickly. I remembered a time like that when a lecturer explained a particular topic, leaving no room for questions as he was just in a hurry, through the help of technology (my smartphone), and comparing different explanations online, I understood greatly which helped me add more of my opinions during the examination which I passed.

Teachers and lecturers won't explain everything to the students, but with these devices, one can go extensively in exploring more information on the web to understand better, which helps in adding to one's knowledge. I believe Education has a great future already with technology being introduced to make things easier between teachers and learners, but it could only constitute a lack of concentration and focus when one is addicted to it.
Also; it might affect an individual when he or she depends solely on technology to do everything for such a person. It's just like someone being given fish to eat and not taught how to catch a fish using his logic and reasoning. Such a person might not value his or her ability, but when one can learn and knows how to catch a fish, then, it would be easier to grasp a lot of knowledge.

The same with technology and education. You can't rely much on technology to give you all information, exploring on your own will contribute to one's knowledge.
In conclusion, technology has a positive impact on education and would make it great and easy to interact with if only one regulates it to one's advantage.
Thanks for your time on my blog.