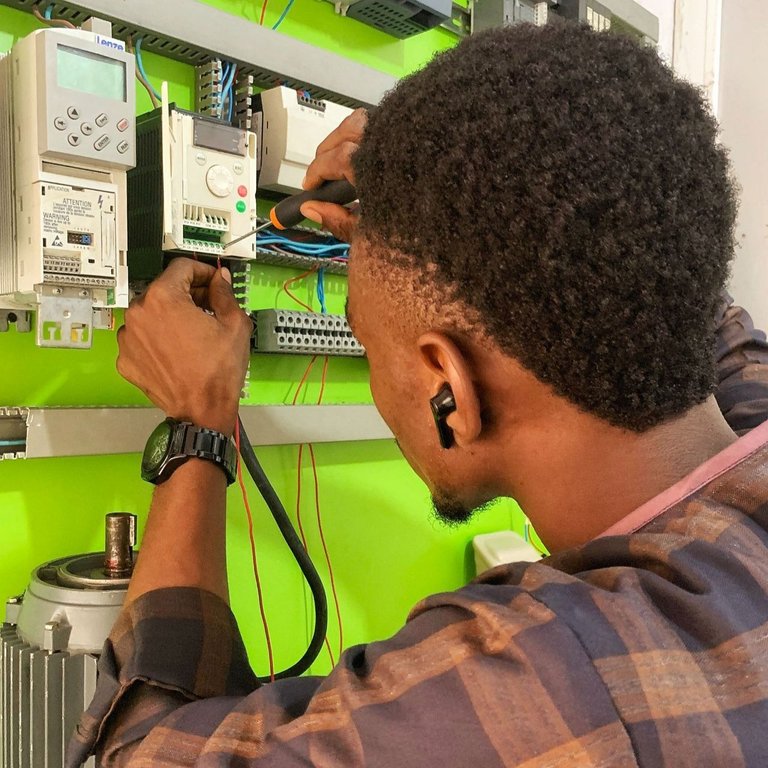 ---
"While I was younger, I was always fascinated by electronics and stuff like that. I would take appliances apart just to know how they work, or maybe fix them if they are broken. " I know this is an absolute cliche now as a lot of people say this when they are asked about their passion for engineering-related things. But I am going to use it (I already have.)
You see, the biggest influence on why I am an engineer (to be) is the things that I loved as a kid. I loved cartoons, but that's unrelated. But the majority of the cartoons I loved were about science and all that stuff. One of my favourites is Dexter's Laboratory.
All that science stuff kind of made me, you know, fascinated and inquisitive about how things work, particularly electronics. I started with our household appliances. I would pick up damaged appliances, as they were the only ones lil engineer Olujay I was licensed to work on at that time, and then begin disecting.
There was this one time when our DVD player got faulty and I felt I could revive it. I took it to my lab (I wish) and I performed my operation on it. My mother never really held me back from "trying." She would always let me gratify my inquisitiveness.
After several hours (not really) of operations, the verdict (being dramatic) was to be given. I had finished and it was time to test.
I plugged it in, and the next thing we knew was that we were not going to have power for the night. My "machine" blew our fuses. And that was how lil engineer Olujay (not) fixed the DVD player, but blew the electricity in the house.
---
Actually, I did not stop there. Not that I went on blowing fuses after that, but that did not discourage me. I went on to love electronics more and more. And I think that somehow we have a natural instinct for it. I grew up to know something naturally.
Of course, no one comes to this world with pre-installed libraries. There are some things that simply must be learned; there are no two ways about it. But the fact that I had this natural flair for electronics always gave me an edge in learning about them, or anything related, as I grew older.
Growing up, I never really thought of looking for someone to help me fix appliances of ours, at least not at first. I usually try to diagnose the problem myself and then go on to fix it. And most of the time, I do get to fix the problem.
This natural flair that I had made things pertaining to electronics not so hard to understand.
---
Fast forward to many years later, and lil engineer Olujay is now much older.
Around this time last year, in September 2021, I was on industrial training as a requirement for my course of study; mechatronics engineering. And I was working for an automation academy. I simply had to learn and then serve as an apprentice. But I quickly learned and fast, as I was naturally interested.
It is an automation company that deals with systems that run on PLCs (Programmable Logic Controllers). An example would be the automated process of filling bags of [powdered] milk with milk; precision and ingemination are high in demand.
Then came a time when we needed a much bigger training kit to be built for particular classes. I was given that job to build one with the company's materials and tools.
It was not something I easily executed, but I was more than eager to try it as I had been silently praying for a chance to do stuff like that. Let me share with you a few photos from this particular project I was assigned.
---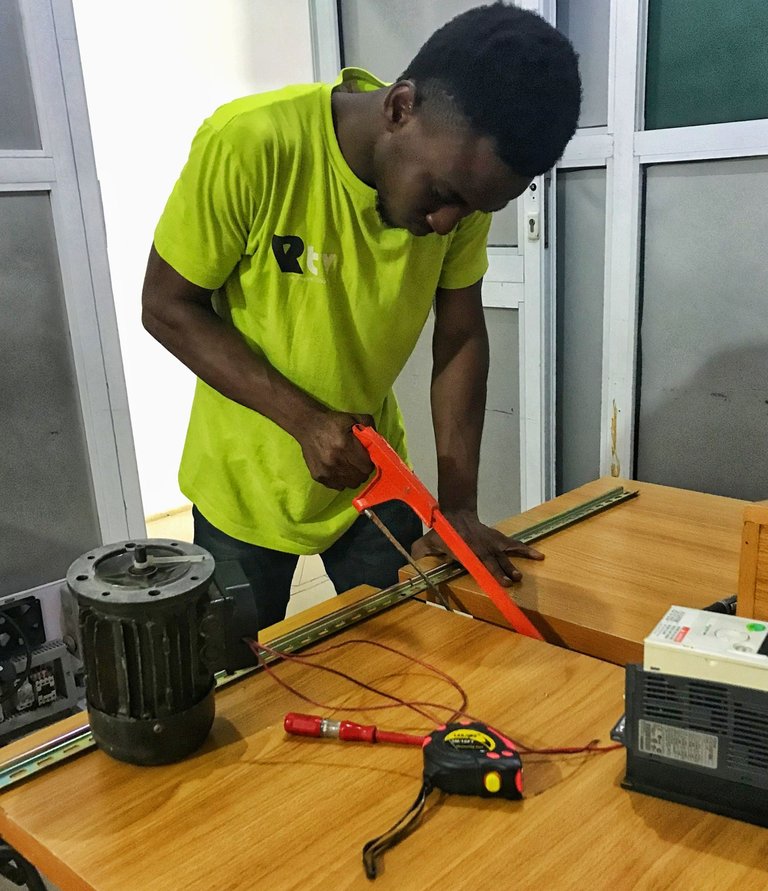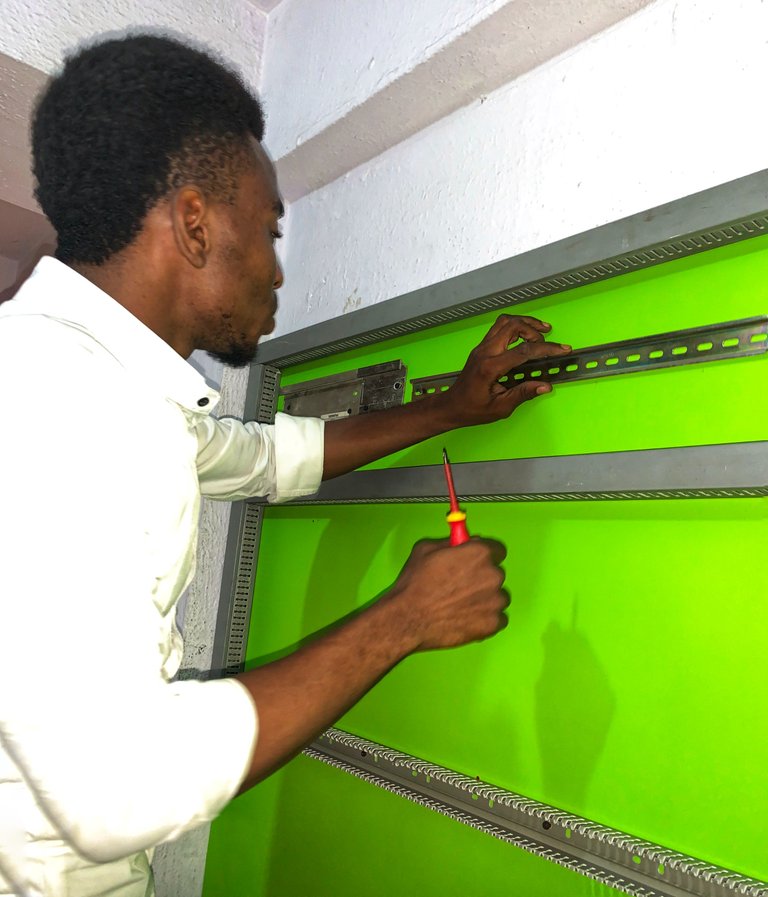 ---
This was when I started out with the project. I had to cut some frames, metal rails (for mounting the controllers and IO devices), and then a trunk to contain the wires that I eventually installed. I then went on to mount everything.
---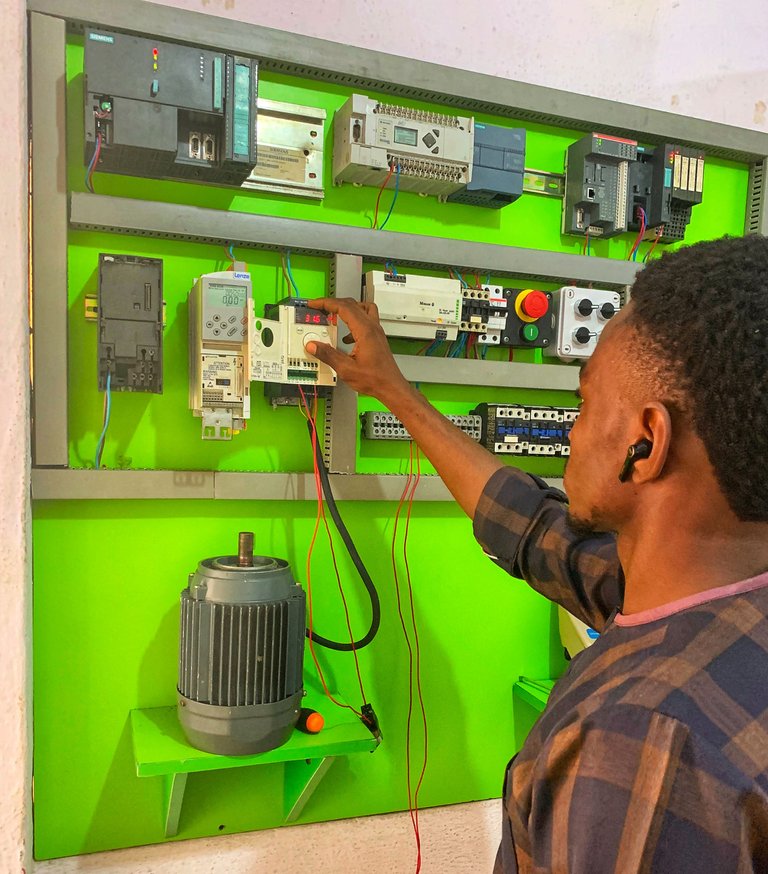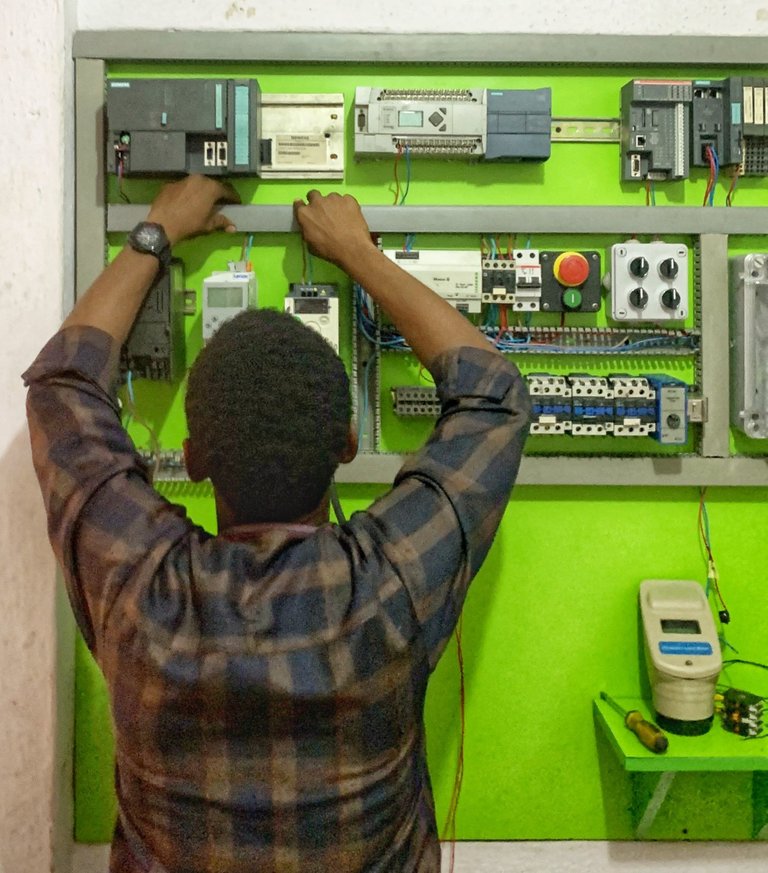 ---
Clearly, a lot went on from the previous stage before all this. I mounted many of the components, installed the drives (Variable Frequency Drives), PLCs (Programmable Logic Controllers), contactors, and then the rest.
---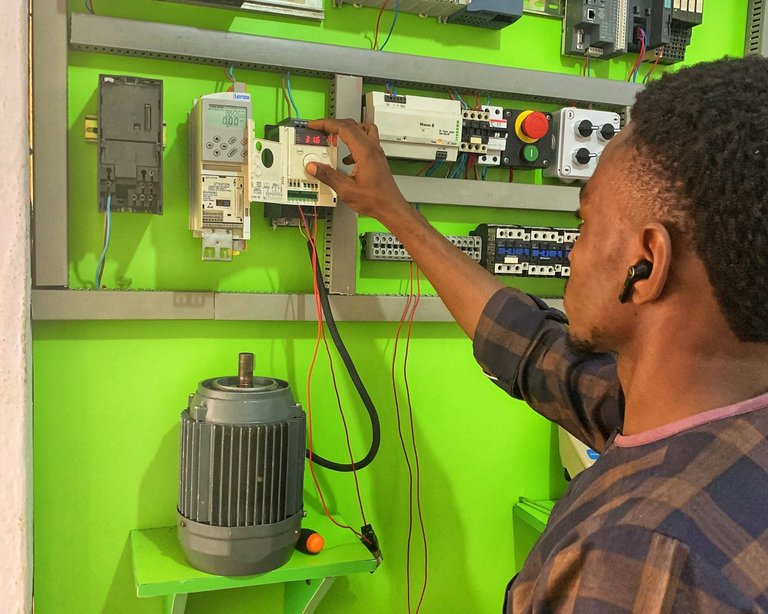 ---
And here's me checking that everything's in place. It took a lot of troubleshooting to actually get everything working. But in the end, I finished the project.
---
Being able to understand concepts surrounding engineering systems without much hassle is something not everyone can do. And of course, I have an even deeper understanding now as I study mechatronics engineering at university.
I do not believe anyone is born with some innate knowledge of any subject in life, but I do agree that some things do come naturally to some people, but not so much for others.
---

ℍ𝕖𝕪, 𝕚𝕗 𝕪𝕠𝕦 𝕖𝕟𝕛𝕠𝕪𝕖𝕕 𝕥𝕙𝕚𝕤 𝕡𝕠𝕤𝕥, 𝕜𝕚𝕟𝕕𝕝𝕪 𝕝𝕖𝕒𝕧𝕖 𝕒 𝕔𝕠𝕞𝕞𝕖𝕟𝕥, 𝕣𝕖𝕓𝕝𝕠𝕘, 𝕠𝕣 𝕦𝕡𝕧𝕠𝕥𝕖. 𝕀𝕥'𝕝𝕝 𝕤𝕦𝕣𝕖 𝕓𝕖 𝕒𝕡𝕡𝕣𝕖𝕔𝕚𝕒𝕥𝕖𝕕.

T͜͡H͜͡A͜͡N͜͡K͜͡ ͜͡Y͜͡O͜͡U͜͡ ͜͡F͜͡O͜͡R͜͡ ͜͡S͜͡T͜͡O͜͡P͜͡P͜͡I͜͡N͜͡G͜͡ ͜͜͜͜͡͡͡͡B͜͡Y͜͡