Recently, we've been hearing and even seeing a lot of updates on artificial intelligence especially CHATGPT and if you are observant, you will realize that a lot of people have been frowning against the idea of bloggers especially on hive using it for creating their contents. Some weeks back I saw a whale make a post warning hive users to beware from using CHATGPT in making their contents or they will attract a downvote from him. At some point I was even wondering why anyone would employ the use of artificial intelligence in creating a Content and still want to call it an original content.
---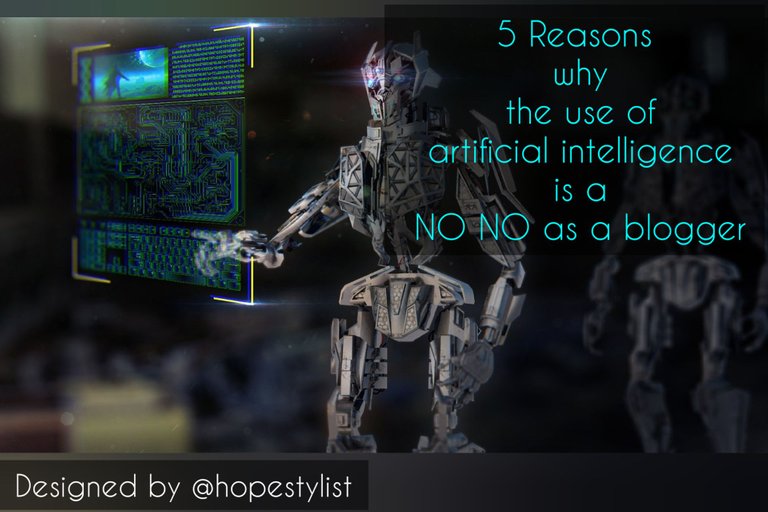 ---
Today I will be opening your ideas to five reasons why you should not even dare think of employing the help of an artificial intelligence to create a content and publish it anywhere not to even mention Hive. As humans, we do love it when we get things done with little or no effort and be successful with it and I think that is one of the main reasons why anyone would use an artificial intelligence to get his or her work done. So these little tips I'd be sharing will help you have a rethink when trying to use an artificial intelligence to do a job for you.
---
---
This one may sound lame to you but then it's fine if it does, I know it's just a matter of time and you will realize it is a thing. Getting help from an AI is not a problem at all but then bringing it into your blogging career is a not so wise idea because it's a matter of time before you feel so lazy to do things on your own. In life, it's easy to feel comfortable with something over time and when that thing is no longer there, it becomes a problem to bounce back. As a blogger, the more you blog, the better you become but when you always get assisted, you become stagnant.
---
---
The more you seek assistance from an AI, the more you become short of ideas especially as a novice in blogging. I know a whole lot of us here on hive were never content creators but because of how the hive blockchain was built around originality, it has helped a whole lot of us become experts in blogging about almost anything. But then, just imagine if hive as a blockchain doesn't value original contents, do you think you would have been this good at what you do today? For me, my answer is no, because I never really saw myself become a writer even though I went to school to do a course for it. I was that bad in creating a content, but not anymore as I keep growing every day as I blog.
---
---
As I said earlier, here on hive, a lot of people are beginning to go against those who make use of artificial intelligence for creating their contents and if you ever find yourself in such a mess, trust me it won't be good for your reputation at all. Don't you know that people love coming to your content because of the originality they perceive from it? Even some persons have counted you worthy to be in their autovote and you want to use AI to create a content? Trust me, that will make them look bad so it is not really about just your reputation but that of others as well.
---
---
---
Artificial intelligence are machines that are being programmed by somebody like you, a human and at some point of employing their services, they may run out of fresh ideas (that's if they had any fresh ideas initially) and they start searching everywhere for help and to you, you might think the content is still original but it's a matter of time before the hive watchers visit you, hehe. I'm not saying we don't get idea from others we do but then these AI are mostly programmed which means they have limits so it's totally not wise to have them help you create a content. I always say, the fact you go to check if your post is plagiarized using plagiarism checker means your post is not original, take it or leave it. That's the work of hive watchers not you for your own content.
---
---
The last reason why you shouldn't be found using AI as a blogger on hive is because you get rewarded for it. As I mentioned in my third reason, a lot of people have been fortunate to get some whales add them to their autovote and whenever they make most of their contents, they get good rewards whether or not the content is worth it but then that is a even bigger problem because people are watching and like I said it's not good for your reputation and that of those that support you. These people supported you mostly because they saw your value, remember.
These are just a few out of many other reasons why you should avoid using AI for creating contents on hive and if possible anywhere. Feel free to leave your questions, corrections and contributions as all of them are highly recommended.
Until next time, stay AWESOME!!!
Thumbnail designed using Inshot Image source || Second photo Image source